The prolific DIY master Hong Sangsoo returns to Berlin with another playful comedy of manners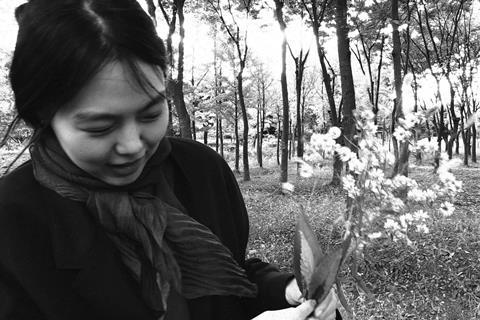 Dir/scr. Hong Sangsoo. South Korea. 2022. 92 mins
What kind of film would a novelist make, wonders a character in Hong Sangsoo's latest feature. You, meanwhile, wonder just how irony-laden this question is, given that so few notable novelists have made good films (and just as few film-makers written good novels). However, the affinities and differences between screen and page are teased out to subtly stimulating effect in The Novelist's Film, the latest comedy of manners from South Korea's phenomenally prolific DIY master, here assuming producing, photography, editing and scoring roles on his 27th feature as writer-director. As usual, the term 'always the same, always different' applies to Hong's work, and in this case, some small-scale but surprising formal twists, and much playfulness, will keep his admirers happy.
Some small-scale but surprising formal twists, and much playfulness, will keep his admirers happy.
The latest in a run of female-­focused studies from Hong, including last year's Cannes title In Front Of Your Face (the prolific Hong also screened Introduction at the 2021 Berlinale), the film begins with a woman browsing in a bookshop, (her elegantly gloved hands are a telling feature throughout), only to step outside when a row erupts offscreen. Sitting outside the shop, located in a quiet town somewhere outside Seoul, the woman is revealed to be a famous novelist, Junhee (Lee Hyeyoung, returning from In Front…). The bookshop owner, Sewon (Seo Younghwa) is an old friend of hers, with whom she has lost touch, and Junhee says she has come to town specifically to see her. They sit down to tea with Sewon's young assistant, and in a curious, extended digression, Junhee asks the young woman to give her an impromptu lesson in sign language.
Junhee decides to go sightseeing, and at a famous local tower, encounters someone she knows – film-maker Hyojin (long-serving Hong regular Kwon Haehyo), accompanied by his wife. The encounter takes an uneasy turn when it emerges that Junhee is still resentful about Hyojin's aborted project to adapt one of her works. Out walking, the trio runs into actress Kilsoo (Kim Minhee, another constant in Hong's recent work, and typically fizzing with humorous energy). As the narrative continues to pass the baton, Junhee decides to hang out with Kilsoo. Before long, the two women are best buddies and Junhee decides that she's going to make a film with the now retired young star, with Gyeongwoo (Ha Seongguk), the film student nephew of Kilsoo's husband, doing the camerawork.
But what kind of film will Junhee make? She's not sure, but it doesn't matter: she'll come up with a story when it is needed. In the meantime, she'd simply be delighted to get Kilsoo back on screen again, and perhaps fire up her own lapsed creativity in the process. For a novelist, however, Junhee doesn't seem too hot at devising narrative – while, ironically, her old friend and momentary flame, elderly poet Mansoo (Ki Joobong), thinks up a story off the top of his head, only to forget it in an instant. That, of course, happens in the mandatory Hong Sangsoo soju-quaffing scene, which this time comes late in the film, and in which it's Kilsoo who conks out at the table.
Typically, nothing much appears to happen in Hong's film, shot largely in accentuated harshly digital black and white. Yet it's crammed with incident, much of it seemingly inconsequential. Junhee peers through Hyojin's fancy telescope, affording us an aerial view of a drab piece of parkland (possibly Hong's in-joke about his own propensity to incongruous zoom shots), and a little girl, who might have wandered into the film by accident, staring solemnly at Junhee and Kilsoo (and Hong's camera) through a café window. The seemingly casual dialogue is also rich in themes and repetitions: Junhee, Kilsoo, Mansoo and Hyojin all seem to hit turning points in their creative careers one way or another; there's much comic musing on the significance, and the sound, of the word 'charisma'; there are recurring references to fame, and the prickly vanity of the celebrated; while the question of words and images comes to the fore in the sign language sequence.
Hong also teases us with questions that remain resolutely unanswered. What's going on in that angry phone call heard at the start of the film? Why, if Junhee has specifically come to see Sewon, does she give her so little of her time and attention? Who is the mutual acquaintance that Sewon's assistant reminds Junhee of? And exactly what kind of film is the short that Junhee ends up making? Spoiler alert: we see two extracts from it at the end, one in black and white, one in colour, although one or both may be an out-take or a moment from the shooting. They certainly add a further note of teasing perplexity – as does the delicious and completely surprising moment that follows. You may never have thought you'd read this phrase but - Hong Sangsoo Post-Credits Sting Alert!
Production company: Jeonwonsa Film Co.
International sales: Finecut, sales@finecut.co.kr
Cinematography: Hong Sangsoo
Editor: Hong Sangsoo
Music: Hong Sangsoo
Main cast: Lee Hyeyoung, Kim Minhee, Seo Younghwa, Park Miso