Ken Loach returns to Cannes with his ensemble swansong about Syrian refugees arriving in a small town in the North of England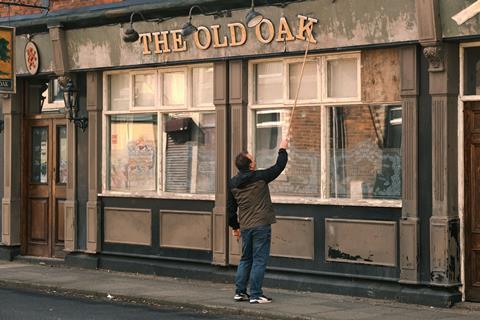 Dir: Ken Loach. UK, France, Belgium. 2023. 113 mins.
Ken Loach, now 86, has announced that The Old Oak will be his final film – and, after seven decades as Britain's tireless socio-political chronicler, he could hardly have delivered a more resonant, timely or indeed angry swansong than this feature which takes up arms against the decay of national compassion. Teaming up again with writer Paul Laverty, the two-time Palme d'Or winner returns to the Cannes Competition with an impassioned riposte to the xenophobic immigration policies of Britain's current Conservative government. An intimate but ambitiously mounted ensemble piece, The Old Oak ranks among Loach's foremost state-of-the-nation dramas.
The setting is the North of England, in 2016, notes a caption. More specifically, we are near Durham, in a village that has never recovered from the mine closures of the 1980s. Tommy Joe 'TJ' Ballantyne (Dave Turner) runs dilapidated pub The Old Oak, where locals gather daily to drink glum pints and lament the decline of a once-thriving community.
As the film opens, a coachload of Syrian refugees arrives in the village, where they have been allotted housing – only to receive a hostile reception from some residents, whose embitterment at years of economic neglect expresses itself in racist scapegoating. This episode is viewed through the eyes of one newcomer, a young woman named Yara (Ebla Mari), whose black-and-white photos – strikingly created for the film by Joss Barratt – provide a forceful opening montage that is something of a stylistic departure for Loach.
Loach and Laverty make us empathise with the sorrows of TJ's clientele before it emerges that some of these affably downbeat characters are unreconstructed racists. By contrast, TJ, seen welcoming the Syrians at the start, refuses to let his regulars use the pub's back room for an anti-immigration meeting, earning their enmity. Then he befriends Yara and, with her and Laura (Claire Rodgerson) – a local woman involved with helping the Syrians – begins to host free lunches to help the immigrants and struggling locals alike, with a further view to cement mutual understanding.
Like Loach's 2014 Irish period drama Jimmy's Hall, The Old Oak is the story of a gathering place and what it can mean to a community. In this case, the venue is charged with history, as TJ's long-closed back room is a living shrine to the struggles of the 1984-5 Miners' Strike – triggering a commentary on the way that the dismantling of the mining industry both fragmented communities and sowed the seeds for the racist attitudes of Brexit Britain. The film's title also carries symbolic weight: the 'Old Oak' evoking strength, rootedness and a convivial notion of 'Merrie England', whereas this film's social oak is blasted, poisoned and in serious need of repair.
Where some Loach-Laverty films have offered too easy emotional reassurance in the face of social ills, their concluding trilogy of North-Eastern dramas have been harder-edged in recognising the difficulty of overcoming challenges. The politically realist melancholy of I, Daniel Blake and Sorry We Missed You is very much in effect in a film that resists simple solutions or facile gratification – notwithstanding an unapologetically lump-in-throat subplot involving TJ's pet dog.
What makes The Old Oak particularly rich is that, while focusing on a central protagonist – as in I, Daniel Blake, a careworn late-middle-aged man is the drama's moral centre – this film is very much an ensemble piece. It not only depicts the meeting of two different communities but also offers a chorus of individual voices, embodying their own contradictions and nuances. One example is TJ's old friend and customer Charlie (film and TV regular Trevor Fox), whose long-term woes excuse nothing but partly explain why he is inclined to side with the pub racists, whose mouthy ringleader Vic is pithily acted by Chris McGlade.
It could be argued that the film somewhat under-represents the Syrians – the film's social diagnosis by necessity focuses on the distorted attitudes of their host community. As Yara, Mari is a brisk, personable presence, even if her character feels underdeveloped. Overall, the casting produces some punchy, natural ensemble interplay, with former firefighter and union official Turner providing a genial but careworn energy at the heart of the drama. There's also charismatic support from real-life charity organiser Rodgerson as Laura, on hand to give a hefty nudge when TJ's will is flagging.
Overall, this is a powerful statement about tough times that have no clear end in sight, although the final sequence flies the flag – and indeed, the procession banner – for hope and solidarity in images that bring the fiction back into the frame of real-world Britain.
Production companies: Sixteen Films
International sales: Goodfellas, ecastro@goodfellas.film

Producer: Rebecca O'Brien
Screenplay: Paul Laverty
Cinematography: Robbie Ryan
Editing: Jonathan Morris
Production design: Fergus Clegg
Music: George Fenton
Main cast: Dave Turner, Ebla Mari, Claire Rodgerson, Trevor Fox, Chris McGlade