A young girl attempts to build a relationship with her duplicitous estranged mother in this melancholy drama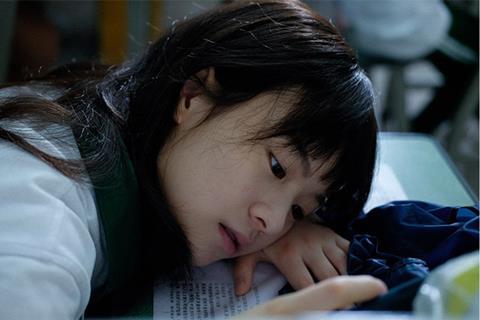 Dir/scr: Shen Yu. China. 2020. 104mins
The debut of writer/director Shen Yu, The Old Town Girls wraps a melancholy coming-of-age story in intriguing noir packaging, following the reunion of a teenager with the long-absent mother who returns with both personal and financial debts to pay. An air of tragedy always lingers when a child realises that their parent cannot be trusted, and this Tokyo-premiering feature doubles down on that scenario. Since being left with her father as an infant, the shy Shui Qing (Li Gengxi) has rarely felt secure, which the mercurial Qu Ting's (Wan Qian) reappearance only heightens. Thanks to a film that is never as clearcut emotionally as it might seem, the audience shares the high-school student's festering tension.
Crisp, airy images (as lensed by director of photography Wang Shiqing) cannot mask the characters' lurking sorrows
Narratively, The Old Town Girls is hardly full of surprises, but it treads constantly shifting ground — reflecting Shui Qing's desperation to believe in Qu Ting despite all signs to the contrary, nodding to Qu Ting's shady motivations for making a comeback — which will likely help the movie continue to earn festival berths. This is a mostly gripping film where no one ever knows where they truly stand, but everyone eagerly and stubbornly pretends otherwise. Smartly, Yu lets that juxtaposition guide much of the story, and the movie's tone.
Last seen in fellow Chinese neo-noir The Wild Goose Lake, Wan Qian anchors an opening sequence that recalls that feature's slipperiness, pushing viewers in one direction before pulling them in another. The audience first meets dancer Qu Ting in a frenzied state, following the apparent kidnapping of Shui Qing and her classmate Ma Yeuyue (Zhou Ziyue) and a subsequent ransom demand for two million yen each. But when Qui Ting and the girls' fathers (Shi An and Pan Binlong) drive to the Daokou police station — against a pleading Qu Ting's wishes — the mood is uneasy and unsettled rather than heartbroken or distressed.
We wont see Qui Tin again until after after The Old Town Girls has surveyed the now-safe Shui Qing's modest existence. When the latter arrives home from school one afternoon, only to be asked by her stepmother to stay out of the house so that everyone else can have a nice family dinner, the tender resignation that washes across her face speaks volumes. At a noodle bar the next day, however, she spies a sight that brightens up her malaise; Qu Ting, who dresses in yellow, drives a yellow car and even bunks down each night on a yellow chaise lounge at a local theatre. It's not a subtle touch, but she certainly demands both her daughter's and the audience's attention.
Although Shen Yu, Fang Li and Qiu Yu Jie's script sifts through dark and murky relationships and motivations — spanning not only Shui Qing and Qu Ting's strained bond, but the pretty, placid Ma Yueyue and her factory-worker father's complicated home life, too — much of The Old Town Girls takes place in daylight. Reminiscent of Angels Wear White, those crisp, airy images (as lensed by director of photography Wang Shiqing) cannot mask the characters' lurking sorrows.
While the film's bigger swerves into crime-thriller territory can feel forceful, this is still a sensitive tale acutely attuned to the unhappiness that has both kept Qu Ting and Shui Qing apart and that draws them slowly back together. Its two central performances are crucial, with Wan Qian playing capricious, often childish yet nonetheless magnetic with pivotal, almost teasing depth, and Li Gengxi conveying the type of inner fortitude that only constant disappointment can forge. And, though afforded a more passive part, there is quiet gravity to Zhou Ziyue's often-smiling Ma Yueyue — as there is to this shrewd and layered feature overall.
Production company: Laurel Films
Contact: Laurel Films, info@laurel-films.com
Producer: Fang Li, Yang Feifei
Screenwriter: Shen Yu, Qiu Yu Jie, Fang Li
Editing: Hahm Sung Won
Cinematography: Wang Shiqing
Production designer: Zhang Jietao
Music: Peyman Yazdanian
Main cast: Wan Qian, Li Gengxi, Zhou Ziyue, Shi An, Pan Binlong