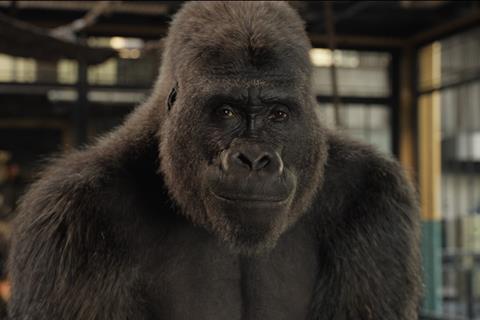 Dir: Thea Sharrock. US. 2020. 94mins.
A gentle family film, The One And Only Ivan starts off as a cuddly talking-animal picture but soon evolves into an emotionally resonant tale about letting go of the past and respecting the natural world. Thanks to Thea Sharrock's graceful direction, this live-action movie never feels heavy-handed, speaking to its young audience without talking down to them. Inspired by actual events involving a caged gorilla who developed a taste for painting, Ivan is modest but heartfelt, boosted by Sam Rockwell's warm voice performance and Bryan Cranston's lovely turn as a circus owner who adores his silverback so much he can't bear to set him free.
Its heart is as big as the mighty silverback in the centre ring.
Disney+ will start streaming Ivan on August 21, and certainly the combination of live-action environments and CGI animals should appeal to fans of last year's Lion King remake. Cranston is the most prominent actor on screen, but the voice cast features Oscar-winners Rockwell, Helen Mirren and Angelina Jolie, who is also a producer. Although Ivan will cater mostly to children, many adults can relate to a film that argues that, eventually, we must allow our children to spread their wings.
Rockwell provides the voice for Ivan, a gorgeous silverback gorilla who is the feature attraction of a mini-mall circus run by the kindly Mack (Cranston). Times are tough for this shabby circus, and so to drum up new business, Mack purchases an adorable baby elephant named Ruby (voiced by Brooklynn Prince) to work alongside the ageing pachyderm Stella (voiced by Jolie). Ivan (who does primitive drawings that he keeps to himself) is initially hurt that Mack has replaced him with Ruby as the main event, but before she dies, Stella makes him promise that he'll break Ruby out and take her back to the jungle.
Adapting Katherine Applegate's 2012 novel, which drew from the story of a lowland gorilla that began painting in captivity, Sharrock (Me Before You) introduces us to this run down but well-loved circus, which has long been Mack's pride and joy. (In flashbacks, we discover that he adopted Ivan as a baby, developing a paternal bond with the animal.) Ivan and his cohorts may reside in cages, but they generally like the life Mack has given them — in part because they don't remember the outside world.
Initially, Mike White's screenplay hints that Ivan will learn that he can't be the alpha forever — sooner or later, he'll have to cede the spotlight — but that's just the first of several nuanced themes that Sharrock explores. Tastefully dramatising Stella's death, Ivan prepares adolescent viewers for different forms of loss that will occur over the 90-minute running time. Whether it's Mack's wife who abandoned him or the dormant trauma within Ivan once he begins to recollect his fraught childhood in the wild, the film delicately probes the notion that everyone must deal with separation — and that living one's life in order to avoid further pain won't keep additional losses from occurring.
Ivan's animals — there are also seals, dogs and parrots — are a combination of CGI and motion-capture, and the effects team niftily mimics these creatures' natural movements rather than anthropomorphising them. Ivan has a regal bearing, but Rockwell imbues the character with vulnerability. Ivan's drawings suggest an intelligence and artistic soul — starkly contrasting with the cruel behaviour of some of the film's peripheral human characters — which allows the film to make a pro-environmental plea that's a touch maudlin but certainly welcome.
As just about the only human on screen, Cranston has the tricky task of working off his virtual costars. But more importantly, he needs to communicate nuanced emotions to young viewers without being patronising. He proves equal to the task, and indeed Mack and Ivan's layered relationship — and Mack's growing realisation that he's selfishly holding his friend back — turns Ivan into a poignant metaphor about parents smothering their children instead of letting them become who they're meant to be.
For all the film's emotional maturity, there's still a fair share of juvenile humour and jokey supporting characters. And the film's laidback tone can be a bit too somnolent. (Ivan was slated for theatrical release before the pandemic, yet the film proves a cosy fit on the small screen.) Despite its unassuming air, this Disney offering has serious things to say about how we treat each other and the world around us. Its heart is as big as the mighty silverback in the centre ring.
Production companies: Allison Shearmur Productions, Jolie Pas Productions
Worldwide distribution: Disney+
Producers: Allison Shearmur, Angelina Jolie, Brigham Taylor
Screenplay: Mike White, based upon the novel by Katherine Applegate
Production design: Molly Hughes
Editing: Barney Pilling
Cinematography: Florian Ballhaus
Music: Craig Armstrong
Main cast: Sam Rockwell, Angelina Jolie, Danny DeVito, Helen Mirren, Brooklyn Prince, Ramon Rodriguez, Ariana Greenblatt, Bryan Cranston