Mark Rylance stars in Graham Moore's handsome period crime drama debut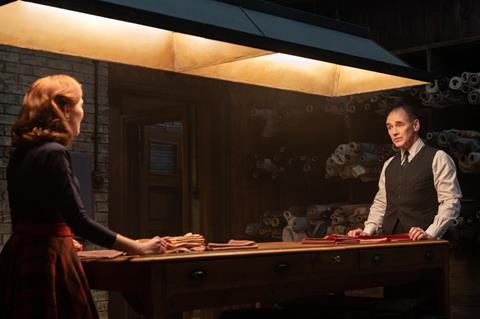 Dir: Graham Moore. US. 2021. 106 mins
Beautifully designed, carefully measured and expertly cut, The Outfit is a handsome debut from director Graham Moore (an Oscar winner for his The Imitation Game screenplay), anchored by Mark Rylance as a master tailor — or "cutter" — who becomes entangled with the mob in 1950s Chicago. A clever puzzle of a narrative with its interlocking plot pieces, and set entirely inside a couple of shadowy rooms, Moore's debut is a chamber piece with an impressive Rylance joined by less than a handful of other actors including Simon Russell Beale. It might initially look like an adaptation of a stage play, or even a Covid-19 production of convenience, but slots in well as sophisticated adult fare which would also suit a prestige streamer after it opens in the US in March and the UK in April following its gala premiere in Berlin.
The Outfit expertly plays with the conventions of film noir and the modern thriller
Early on a freezing December's day, English expat tailor Leonard (Mark Rylance) heads into his modest shop in Chicago; we won't see him leave again until the film's end. The intervening hours bring with them events both mundane and explosive, as Leonard becomes increasingly involved with a local mob family — whose patriarch, Roy Boyle (Beale) was his first customer when he arrived, virtually penniless, in America, and to whom he remains loyal.
Loyalty, we will find, is of essential importance to Leonard, and a neat opening sequence tells us everything else we need to know about this man. Tidy and meticulous, he methodically sets about his work with focused intent; a voice-over, which chimes in at key points throughout the picture, details his passion for the precision of his craft. "Heed your patterns, they are there for a reason," he says, pointedly.
It's a credit to Rylance's fine, detailed work that we glean so much of Leonard's character — but not everything, at least not all at once — from the way he quietly observes, the way he moves with such care; never so much as a dropped stitch or a misplaced word. He's taciturn and deferential, sure, but there's a glint in his eye, a palpable sense of history bubbling behind his calm demeanour.
Having long allowed the Boyles to use his shop as a drop-off point for money and communications, to which he turns a blind but keen eye, Leonard — who the gang call 'English' — is powerless to resist when Roy's slick son Richie (Dylan O'Brien) and his rather more down-at-heel associate Francis (Johnny Flynn) barge in after a gunfight leaves Richie with a hole in his stomach. Forced to stitch him up, Leonard is given the responsibility of looking after not just Richie, but also a valuable and much-coveted tape, which supposedly contains the identity of a rat in the Boyle organisation who has been sharing secrets with both their criminal rivals and the FBI.
As the long night wears on, various characters come and go including Roy, desperate to protect his family business by any means necessary, and Leonard's bubbly secretary Mable (Zoey Deutch), who is romantically entangled with Richie and dreaming of a life beyond Chicago.
The Outfit expertly plays with the conventions of film noir and the modern thriller, a clever screenplay from Moore and Johnathan McClain slowly stitching together small moments to reveal intricate details. Seemingly innocuous comments vibrate with meaning. Ordinary objects become loaded guns. And, as secrets are shared, lies are uncovered and it becomes clear that not everyone will survive the night, the tension builds to fever pitch and Leonard's quiet complicity gives way to something altogether more tenacious.
With the story playing out entirely in the intimate three-room setting of Leonard's establishment, stunning production design from Gemma Jackson and Dick Pope's emotive cinematography do heavy duty in evoking not just the period — all polished wood and dark leather, hints of Leonard's Saville Row roots — but also the character's hidden depths. As the light moves from daytime to dusk, shadows shroud the space, turning it from relaxed sanctuary to an altogether more threatening, powder-keg environment. So, too, Rylance shifts his character's demeanour, moderates his behaviour, to stay in calm control of an increasingly volatile situation. It's a thrill to watch such a master craftsman at work.
Production company: Filmnation Entertainment, Scoop Productions/Unified Theory
Worldwide distribution: Focus Features info@focusfeatures.com
Producers: Scoop Wasserstein, Amy Jackson, Ben Browning
Screenplay: Graham Moore, Johnathan McClain
Cinematographer: Dick Pope
Production design: Gemma Jackson
Editor: William Goldenberg
Music: Alexandre Desplat
Main cast: Mark Rylance, Zoey Deutch, Johnny Flynn, Dylan O'Brien, Simon Russell Beale, Nikki Amuka-Bird