Roman Polanski's attempted comedy set in a Swiss luxury hotel proves to be anything but five star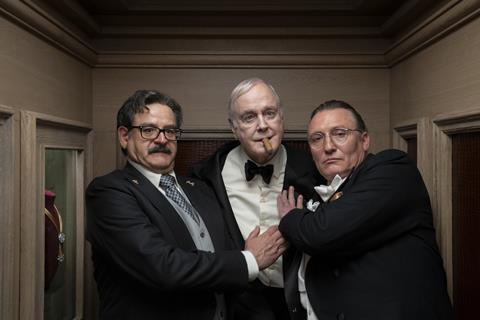 Dir. Roman Polanski. Italy/Poland/France. 2023. 100 mins
It's New Year's Eve 1999 in Switzerland's luxury hotel The Gstaad Palace, and a cast of gargoyles has come to celebrate the dawn of a new millennium – including John Cleese as a Texan millionaire and Mickey Rourke as a financial chancer intent on making money out of Y2K conspiracies. It is important to assess The Palace, 90-year-old Roman Polanski's comedy, at a distance from the controversies swirling around the aged director: separate the artist from the art, etc. The problem with The Palace, however, is that it is not important and it isn't art: it's a Carry On codicil to the career of one of cinema's great auteurs. If anything, it's sad.
A Carry On codicil to the career of one of cinema's great auteurs
Co-written by Polanski with Jerzy Skolimowski and Ewa Plaskowska, The Palace is a misfiring comedy which might just work on terrestrial Swiss TV, or as a curio in one of its co-production markets of Italy, Poland and France. It certainly will not do well in the harsh lights and swirling agendas of the Venice Film Festival Out of Competition slot it has inexplicably been awarded. The best hope is that the circus moves on swiftly for everybody involved.
Adorned with – or strangled by – a jaunty score from Alexandre Desplat, The Palace charts the action on New Year's Eve in Gstaad through the character of harried super-luxury hotel manager Hansueli Kopf (played with a great deal of charm by Oliver Mascucci). Problems in the rooms range from a corpse (Cleese) to a dog with worms who craps on The Marquise's (Fanny Ardant) bed, to the arrival of Mr Crush's (Rourke) simple Czech son with his family. There's also a former adult porn star named Bongo (Luca Barbareschi), a plastic surgeon with a wife suffering from Alzheimer's – cue some wince-inducing dementia sight gags – and some Russians who, in a non-original moment of a particularly derivative film, have cases full of cash and get blindingly drunk at dinner.
It might have been improved by a stronger sense of comic timing but, even still, the humour has the old, musty, scent of the old age home. The women are either blighted by plastic surgery or buxom Russian prostitutes/Texan gold diggers named Magnolia. It's a feast of men in wigs. The presence of Cleese brings to mind Fawlty Towers, which is still a more modern farce than The Palace – and that wound up 44 years ago. Ultimately, it is the kind of film where a dog takes a vibrator out of The Marquise's handbag while she chats up a young plumber. (That's not to mention a penguin lolling around the hotel, leading to the film's final, dreadful joke.)
As a filmmaker, there is always a level of curiosity to see what Polanski does. After all, the last time he came to Venice, in 2019, he won the Grand Jury prize – and eventually 12 Cesar nominations – for An Officer And A Spy, a retelling of the Dreyfus affair and a strong, vital film. There have been ups and downs, of course, in a career which has ranged from Repulsion, Knife In The Water and Chinatown toTess and The Pianist, but there has never been anything like The Palace before. It doesn't even do the hotel any favours. The jangly Christmas colours look lurid and tacky, when all the film wants is to stress how high-end and rich the hotel and its clientele are (vats of caviar, Fendi branding etc). There's even some strange CGI work on the building's exterior shots.
This probably marks Mickey Rourke's biggest role since The Wrestler, if it ever gets distribution. He has been saddled with a wig which constantly tries to upstage him, but the actor, his face a weak facsimile of what it once was, seems as dispirited as the production around him. Likewise, John Cleese has not been in a lot of films recently, for more reasons than his age, and the role of a 97 year-old Texan millionaire is an odd one for the former Python. It's quite a gathering, in Gstaad, of those who have fallen out of favour. Time is cruel, certainly, and The Palace demonstrates how much, but it would be a very hard blow indeed if this were to be the film Polanski is remembered for.
Production companies: Eliseo Entertainment, Rai Cinema, CAB Productions, Lucky BOB, RP Productions
International sales: Goodfellas, feripret@goodfellasfilm
Producers: Luca Barbareschi
Screenplay: Jerzy Skolimowski, Ewa Piaskowska, Roman Polanski
Cinematography: Paweł Edelman
Production design: Tonino Zera
Editing: Herve de Luze
Music: Alexandre Desplat
Main cast: Oliver Masucci, Fanny Ardant, John Cleese, Joaquim de Almeida, Luca Barbareschi, Mickey Rourke