Director Haifaa Al Mansour returns to her native Saudia Arabia for this story about an aspiring female politician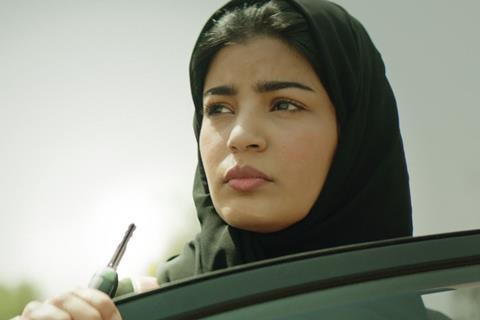 Dir. Haifaa Al Mansour. Germany/Saudi Arabia. 2019. 101 mins.
Saudi Arabian drama The Perfect Candidate makes its intentions known right at the start by placing its heroine behind the wheel of a car; in director Haifaa Al Mansour's homeland, women were not granted driving licenses until last year. Returning to local themes after her 2017 international costume project Mary Shelley, Al Mansour again takes up the cudgels for Saudi women, as she did in her acclaimed 2013 feature Wadjda, in which it was a 10-year-old girl who tested the fault lines in national attitudes. The Perfect Candidate comes at a time when certain Saudi restrictions on women may be loosening – but not enough, the film passionately argues.
Never entirely transcends its nature as a polemical pamphlet
The story of a doctor and aspiring politician taking on her culture's patriarchy is a committed, admirable and necessary piece of dramatic argumentation, even if overall it comes across as rather four-square in its polemical intent, and short on surprises and filmic poetry. It should, however, have significant repercussions and stir debate in the Arab-speaking world, while gaining festival platforms and modest commercial exposure.
Set in a small Saudi town, the film stars Mila Alzahrani as Maryam, a young doctor who works in emergency in the local clinic. She's clearly more than competent as a medic and a manager, although her work is likely to be hampered by the sexism both of certain male colleagues and of patients such as the elderly man who refuses to be treated by a woman. Leaving for a conference in Dubai, where she hopes to land a more prestigious job, Maryam learns there is an irregularity in her travel permit – just one of the obstacles shown here to impede women's progress – and has to consult a male contact to get her papers changed.
As a result, she unexpectedly finds herself standing as a candidate for her town's municipal council, in which role her prime mission will be to fix the muddy road that is a hazard for visitors to her clinic. Trying to promote herself, she gets help – in turns enthusiastic and semi-reluctant – from her two sisters, teenage Sara and photographer Selma (actor and Saudi social media star Dhay). Meanwhile, their father Abdulaziz (Khalid Abdulrhim), a singer and oud player, is out on the road with his traditional band. His travels and travails are alternated with Maryam's story, showing a different set of problems in Saudi society: at one point, the band faces the prospect of cancelling a concert, following threats from music-hating Muslim hardliners.
Maryam's cautious emergence as a public figure is portrayed in more or less broad strokes, sometimes comically, as when an ostensibly serious TV interview is conducted by a lamebrain male host dumbfounded by the idea of a female politician. Other aspects of Saudi culture are worked for pithily rebellious effect: culturally barred from speaking directly to a tentful of potential male voters, Maryam addresses them over a video link, from the room next door, but eventually walks in to confront them directly.
The Perfect Candidate has its share of piquant ironies – like the confirmed disapproval of kid sister Sara, not yet ready to carry the struggle forward into the next generation, and the fact that a roomful of women ignores Maryam as determinedly as men do. These touches apart, the film never entirely transcends its nature as a polemical pamphlet - and despite strong presence in those scenes where Maryam speaks truth to power, Alzahrani doesn't quite have the charisma to make her substantially more than a representative figure. Visually, the film is solid but lacking in a distinctive signature to lift it out of the realist commonplace. The musical sequences, however, both from Dad's ensemble and from assorted female singers including Alzahrani herself, give the film a fluidity and celebratory energy that, as straight drama, it otherwise lacks.
Production companies: Al Mansour Establishment For Audiovisual Media, Razor Film, Norddeutscher Rundfunk
International sales: The Match Factory, info@matchfactory.de
Producers: Roman Paul, Gerhard Meixner, Haifaa Al Mansour, Brad Niemann
Screenplay: Haifaa Al Mansour, Brad Niemann
Cinematography: Patrick Orth
Editor: Andreas Wodraschke
Production design: Olivier Meidinger
Music: Volker Bertelmann
Main cast: Mila Alzahrani, Dhay, Khalid Abdulrhim, Shafi Al Harthy