Dir. Stephen Frears, US-UK 2015, 113 mins.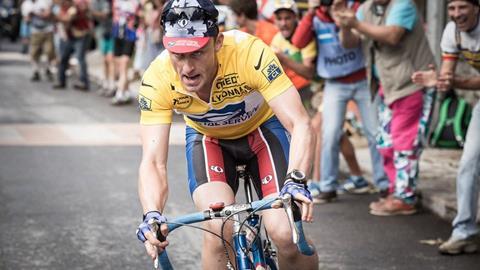 Shot in 2013, Stephen Frear's The Program is an adaptation of sorts of the memoirs of Irish journalist David Walsh (Chris O'Dowd),whose campaigning work helped to expose drug-cheat cyclist Lance Armstrong (Ben Foster), seven times winner of the Tour De France. For all that it promises the thrill of high-speed racing, the crush of the peloton, and the drama of disgrace, The Program works best when it deals with this fascinating case of investigative journalism which saw Walsh doggedly pursue his target through 13 years and the temporary loss of his own reputation.
Armstrong is given only ambition to play with and no family, friends or even celebrity fiances to flesh the character out
Frears examines in almost-forensic detail the process by which Lance Armstrong, possibly the biggest drug cheat sport has known, chemically engineered his own and his US Postal Service team's performance. But Frears' long-delayed feature (formerly called Icon) is ultimately unbalanced, fascinatingly dogged in the set-up but left to make a speedy rush for the exit as it crashes off track in the last half-hour. Ben Foster delivers a jaw-clenched performance which makes it clear why Armstrong reacted so viciously to Walsh but leaves the viewer puzzled as to how he might have inspired a whole team of cyclists to become infamous drug cheats – it's the sort of role Woody Harrelson would once have delivered with a mix of charm and steel.
There is much in here, however – almost too much - to engage gears as Frears faithfully, meticulously chronicles the events which led to Armstrong's rise and fall – the brazen competitive streak, his early cancer and the industrial-level cheating supervised by the disgraced Michele Ferrari (played as a transparent fraud by Guillame Canet in a pantomime wig, sunglasses and tracksuit) and team trainer Johan Bruynel (Denis Menochet, sleazily-well-judged).
Premiering at Toronto, The Program would seem, from its title, to be aimed largely at an American audience still repelled and fascinated by Armstrong's astonishing fraud, only ever held to account on Oprah Winfrey's TV show although he was, according to the US anti-doping body, responsible for 'the most sophisticated, professionalised and successful doping program that sport has ever seen'. Frears' flawed film will certainly have an international appeal, although whether that's in theatres or in the home arena is up for debate. Momentum Pictures signed for North America on its Toronto bow, and it will go out in the UK via StudioCanal.
Parallel to The Program's more obvious drugs hook, its All The Presidents Men investigation conducted by a sympathetic O'Dowd as David Walsh holds out the most promise but is more disappointingly abridged. The people who helped Walsh, such as masseuse Emma O'Reilly (Laura Donnelly) the Andreau's (Elaine Cassidy and Edward Hogg) and, eventually, Mennonite cyclist Floyd Landis (Jesse Plemons) were viciously targetted by Armstrong and his team in real life, but The Program spends a lot of time on multiple sequences involving EPO transfusions, Armstrong's cancer charity and a peculiar focus on the cyclist mis-remembering how he reacted to his own cancer treatment.
Dustin Hoffman turns up late in the proceedings as an insurance broker who joins with Walsh, but the film by then is juggling a lot of strands to diminishing returns. A voiceover is introduced and abandoned. We're told what we already know and ultimately, the film's two lead characters remain its most elusive – the dogged Irish sports journalist who was ostracised for a decade and Armstrong himself, given only ambition to play with and no family, friends or even celebrity fiances to flesh the character out.
Stylistically, Frears barely leaves a shot unslashed by diagonals, whether they occur naturally from the road and the line of the bicycle to shifting the camera on its side or shooting from the knee up. Working on location in France and Texas, DoP Danny Cohen gets into the peloton and manages to convey the truly awesome physicality of the Tour although bisecting the frame when square-jawed Lance is at home, contemplating nature and his empty life, or an empty hotel room, or an empty house, could be catalogued as taking a visual motif a slash too far. Playing the film out to Leonard Cohen's Everybody Knows is a nice touch.
Production company: Working Title
International sales: StudioCanal
Producers: Tim Bevan, Eric Fellner, Tracey Seaward, Kate Solomon
Cinematography: Danny Cohen
Screenplay, John Hodge, from the book Seven Deadly Sins by David Walsh
Editor: Valerio Bonelli
Production design: Alan Macdonald
Music: Alex Heffes
Main cast: Ben Foster, Chris O'Dowd, Guillame Canet, Jesse Plemons, Lee Pace, Denis Menochet, Edward Hogg, Dustin Hoffman