A successful TV actress is stretched to breaking point in this drama from Argentina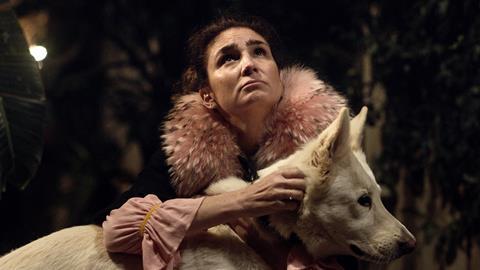 Dirs: Valeria Bertuccelli, Fabiana Tiscornia. Argentina-Denmark. 2018. 107mins.
An elegant, insightful exploration of the often pugnacious relationship between ambition and self-belief, anchored by a strong central performance from award-winning Argentine actress Valeria Bertuccelli — who also makes her writing and directing debut - The Queen of Fear combines humour and emotion to explore the emotional complexities of modern living. Picket up for sales prior to Sundance by Visit Films, it should capture further festival attention thanks to Bertuccelli and an accessible narrative; events celebrating female directors and stories will likely pay particular attention. Spanish-speaking audiences will surely respond to Bertuccelli's magnetic, comedic presence.
Tonally, the film runs from absurdist comedy to emotional drama, and often delves into darker, psycho-noir territory
Successful Argentinian TV actress Robertina (Rober to her friends, Tina to her public) lives up to the film's title from the moment we first see her, waking panicked in the night when the lights in her beautiful Buenos Aires home suddenly go out. Refusing to believe it is anything other than foul play, she endures a tense meeting with four men from the alarm company before sobbing alone on the doorstep, in the dark of night.
In the first of the film's effective sharp cuts, we are thrust, suddenly, into the bright light of the following morning, Robertina's paranoia buried underneath a stylish, just-about-composed facade. She leaves her similarly immaculate home, where a mob of gardeners and cleaners are her only company in her husband's absence, to head to the theatre where she is rehearsing her upcoming one-woman play (the details of which remain painfully unclear to everyone, including Rober, until final-reel curtain-up). On arrival, however, she is immediately summoned home by a phone call from her housekeeper, who is in tears over a minor domestic drama.
The push-pull nature of Rober's life effectively established, she is already balancing on an emotional knife-edge when a spanner is thrown into the works by the news that her dear friend Lisandro's (Diego Velázquez) cancer has returned. She drops everything to fly to Denmark and spend time with him; although it soon becomes clear that this act may be as much about self-preservation as selfless friendship.
The Queen of Fear is written and co-directed (with Fabiana Tiscornia, making the step-up from assistant director on the likes of The Headless Woman and The Clan) with bare-faced, self-aware honesty by Bertuccelli, drawing on her own 20-years-plus experience of the splendour and silliness of the acting profession. It is a film full of colourful, idiosyncratic details — Rober's ongoing battle of wills with her gardener, her determination to wrestle a huge skeletal tree into the theatre — which, anchored by Bertucci's scatty, charming performance, develop into a vibrant character study.
Yet Queen of Fear runs deeper, as it mines the universal truths of modern womanhood in which attempting to have it all can result in some difficult choices — even if children are not involved. While we may only glimpse Rober's public persona in the (eerily photoshopped) posters for her show, or the lines of fans outside the theatre, she is clearly eminently successful; yet her psychological fault lines run deep. Indeed, the pressure to succeed in such a public forum, and to decide which parts of her life she needs to prioritise, puts untold stress on Rober's own mental health to the point where, when she finally walks on stage to a packed house, we have no idea whether she will fly, or fail.
Tonally, the picture runs from absurdist comedy — Rober swings above the stage in a harness, barking confusing directions at a bemused stagehand — to emotional drama, and often delves into darker, psycho-noir territory as her anxieties threaten to entirely overwhelm her. While this is all very much performance driven, technical credits are strong. Cinematographer Matias Mesa and editor Rosario Suarez work in particularly harmonious tandem; tight focus, angled shots and fast cuts capture both to the highly-orchestrated, fast-paced world in which Rober operates, and the disorienting, decidedly unglamorous way in which she unravels.
Production companies: Reicine, Patagonik
International sales: Visit Films info@visitfilms.com
Producers: Santiago Gallelli, Benjamin Domenech, Matias Roveda, Juan Vera, Juan Pablo Galli, Christian Faillace
Screenplay: Valeria Bertuccelli
Cinematography: Matias Mesa
Production design: Mariela Ripodas
Editor: Rosario Suarez
Music: Vincentico
Main cast: Valeria Bertuccelli, Diego Velázquez, Gabriel Eduardo 'Puma' Goity, Dario Grandinetti