Colm Bairead's Berlin award-winning debut feature opens the Dublin Film Festival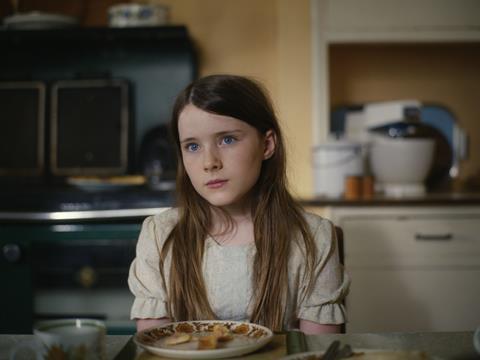 Dir. Colm Bairead. Ireland, 2022, 94 mins.
There's an unusual assurance to Colm Bairead's feature debut, a Gaelic-language story set on a country farm during a summer of slow transformation for the titular character. The Quiet Girl is adapted confidently and faithfully from Claire Keegan's short story 'Foster', published in 2010, and first encountered by Bairead in 2018. Even though the director has been making Irish-language short films and documentaries for close to two decades, his debut is still an unexpectedly beautiful assembly of narrative, image and sound which takes its cue from the title to build quietly to an emotional catharsis.
Should be seen as a classic of its kind
That restraint, the belief in the importance of small, understated things, make The Quiet Girl far more impactful than the sum of its parts. A winner at the Berlinale's Generation youth-focused sidebar, Bairead's debut now goes on to open the Dublin International Film Festival, presumably the start of a lengthy festival and awards run for a title which should be seen as a classic of its kind. Although it occasionally slips when it comes to its devotion to the child's-eye perspective, the sparseness of the story and Bairead's painterly compositions find their perfect fit with Kate McCullough's (Arracht or Monster) sympathetic camera working in Academy Ratio and an intuitive score by Stephen Rennicks.
Audiences in Ireland will certainly be familiar with 'Foster' - it is a school exam text in its novella form. It's 1981 and Cait (Catherine Clinch), the Quiet Girl (or Cailin Ciuin), is perhaps seven or eight years old, quiet and ignored at home, behind at school, self-contained by necessity and essentially unloved. She wets the bed at night. Her ever-expanding family is poor; slices of bread at lunch, the hay not brought in, her mother is pregnant yet again and her father is a quietly threatening womaniser, drinker and gambler. Cait's mother's family offers to take the child in for the summer, but she doesn't know where she's going until she's in the car, or how long she will stay.
Dirty and matted, Cait stumbles out of her dad's cannibalised Cortina into a country farm and a pebble-dash house which is cleaner and more well-kept than anything she has experienced, and into the company of the older couple Eibhlin and Sean Kinsella (Carrie Crowley and Andrew Bennett), childless, and, like her, quiet. Not much is said. There's an air of mystery, of trying to decipher the circumstances for everyone under this roof in the silence. Sean, in particular, shies away - until he doesn't. Quoting her father, Cait tells Eiblin: "You can have me as long as you like". It becomes clear that they'd like nothing more than a child around, but, when Eiblin says "there are no secrets in this house," she doesn't add that there's plenty left unsaid as well.
For the first time, it seems ever in her short life, Cait is being cared for. In very simple ways, it's true, but it's amazing how a child can blossom in a warm bath, or under a gentle hairbrush, or given the chance to run free. Things seem magical to her, although Bairead and McCullough dial this down in favour of pure naturalism. (Sequences where Cait runs to the postbox are alive; the standard shot would be to fix her gaze, but McCullough lets the eyes wander in joy.) The weeping willows, the shimmering water well, a freezer which keeps everything alive — a 'Tir na n'Og' for food - a biscuit left on the counter, a pound for a choc ice.
Trust a neighbour to bring this delicate house of cards down - at a wake, no less - but The Quiet Girl's village nosey parker is one of the best. ("Is Eibhlin still drinking? Does she use butter or margarine in her pastry?"). And the radio is advertising uniforms in a back-to-school sale. Summer is over.
It's easy to compare Carla Simon's Summer 1993 to The Quiet Girl; both premiered in Generation and were about an uncomprehending young girl sent away from home to the country. Both are skilled pieces of work, debuts, using local dialect, but in different ways. The Quiet Girl is thoughtful, spiritual in its stillness but alive with the hum of the land and the emotions it guards. Editing by the experienced John Murphy finishes the work with a precision that also smoothes this rites of passage story. Certainly, this is a quiet film, but it speaks in high volumes.
Production company: Insceal
International sales: Rosa Bosch, rmbosch@gmail.com
Producer: Cleona Ni Chrualaoi
Screenplay: Colm Bairead, based on the short story 'Foster' by Claire Keegan
Cinematography: Kate McCullough
Production design: Emma Lowney
Editing: John Murphy
Music: Stephen Rennicks
Main cast: Catherine Clinch, Carrie Crowley, Andrew Bennett, Michael Patric, Kate Nic Chonaonaigh