Sherin Khankan attempts to establish Europe's first mosque led by female imams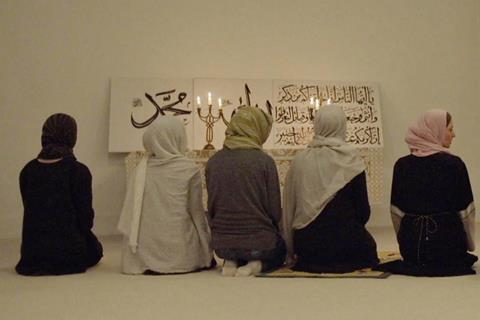 Dir: Marie Skovgaard. Denmark. 2019. 88 mins
Sherin Khankan is a woman on a mission in The Reformist (Reformisten). Her decision to establish Europe's first mosque led by female imams is pursued with a quiet, steely determination that slices through centuries of tradition and widespread opposition. Marie Skovgaard captures ever step of her struggle in a timely documentary that should generate debate and attract sustained interest following its world premiere at CPH:DOX.
This well-crafted film is never less than involving and thought-provoking
Khankan is a charismatic figure, which makes the documentary all the more compelling. A reasonable woman with a very liberal approach to the Quran, she is supremely confident in her mission. In one early encounter, she is asked by the Head Of The Danish Islamic Centre Waseem Hussain whether she believes that the wearing of the veil is mandatory. She has not been wearing a veil during their television debate. She argues that her interpretation of the veil is very different to his and that she is wearing an "inner hijab".
Throughout the film the battleground over faith often comes down to a matter of interpretation. Khankan is seeking a "progressive, spiritual interpretation" of the Quran. She is tolerated by some, but rarely embraced.
Her plan begins to gather momentum with the establishment of the Mariam Mosque in Copenhagen. Dotted throughout the film are case studies of those who come to her seeking help. Many of them remain anonymous. Every request becomes a test of how far she is willing to go. She is asked to grant Islamic divorces, perform interfaith marriages and preside over a same sex marriage. She is often a last resort after others have claimed that such services would be impossible under the Quran. Her instinct is always to say yes and deal with the consequences later.
There is a reckless quality to Khankan and a moment of reckoning always seems inevitable. Rushing into action and making decisions unilaterally puts her at odds with a mosque board who are cautious and inclined to choose their battles with more care. "It's hard to find theological arguments to support gay marriage," remarks one member.
Despite growing opposition within her board, Khankan remains resolute. Texts and messages appear on screen to reveal the disquiet about what she is doing. She is an admirable figure but one who seems isolated by her ambition and all too clearly the star attraction within the whole enterprise.
Skovgaard's debut feature observes Khankan over a number of years, depicting her global travels and quieter moments as she swims the wild waters off Copenhagen. There is a polished, lyrical quality to the vision of Copenhagen in a film that tends to emulate the subject's belief in forward momentum rather than backward glances. We discover that Khankan is the daughter of a Muslim father who fled Syria and a Christian mother from Finland. She is a divorced mother of four. We never quite learn what has prompted her to become an imam or why she pursues her dream with such single-minded determination.
There feels like one or two pieces of the jigsaw missing in The Reformist and that Skovgaard hasn't been able to push Khankan on key matters. Still, Khankan remains a fascinating figure and this well-crafted film is never less than involving and thought-provoking.
Production company: House Of Real
International sales: First Hand Films gitte.hansen@firsthandfilms.com
Producer: Jesper Jack
Cinematography: Mathias Nyholm Schmidt, Marie Skovgaard, Sun Hee Enselstoft
Editing: Rasmus Nyholm Schmidt, Biel Andres
Music: Philippe Boix-Vives
Featuring: Sherin Khankan, Hicham Mouna, Waseem Hussain