Ai Weiwei follows up Human Flow with a deeper exploration of the modern refugee crisis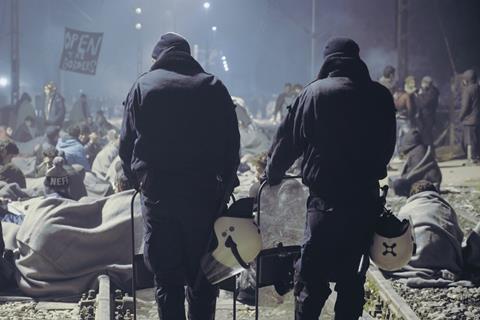 Dir: Ai Weiwei. China, Germany. 2019. 79mins
Ai Weiwei's follow-up to Human Flow (2017) deepens his exploration of the modern refugee experience. The Rest offers a potent expression of high hopes meeting grim realities as those who have fled Syria or Afghanistan seek a fresh start in a Europe filled with hostility. The combination of Ai's reputation and the subject matter should guarantee extensive festival exposure for and the likelihood of an event-style theatrical release.
The Rest is not entirely one-sided, but is is a film marked by a sense of disbelief at the general treatment of refugees
More focused and specific than Human Flow, The Rest ventures from the Greece-Macedonia border to southern Italy and the Calais jungle, gathering testimony from those most directly caught up in the refugee crisis. Ai Weiwei remains behind the camera throughout, removing any distraction that his presence might have caused.
Distilled from 900 hours of footage, and deftly edited by Wang Fen, the film pieces together individual experiences and stories into a bigger picture of people trapped by circumstances beyond their control. Having fled from persecution, barrel bombs and the nightmare of Syria, thousands can neither return home nor envisage a future in a Europe of closed borders, makeshift shelters, tear gas attacks and mounting xenophobia.
There are telling images of Dogancay Cemetery filled with remains of unidentified children drowned at sea, and of a wheelchair being manhandled through a muddy field on the impossible journey through Greece. Direct to camera interviews provide some of the most emotional material. One refugee recalls the seething resentment at his presence in Greece. Humble requests for food and water are met with the barrel of a shotgun and the instruction to keep moving. In the end, he found it safer to survive in the forest than seek help in towns. Another man waits for any news of the 13 family members believed to have drowned at sea. The people smuggler who arranged their passage is given a two-month prison sentence,
There are those who seek to help refugees. One official in Lesvos is haunted by a container carrying 45 bodies.In Cassibile, southern Italy, Father Carlo talks of his attempts to "restore broken dignity" and of the opposition he has faced. A bullet in an envelope is delivered to his church.
The Rest is not entirely one-sided, but is is a film marked by a sense of disbelief at the general treatment of refugees. Ai does not find stories of happy endings, family reunions or those who have welcomed refugees with open arms. Instead, there is a litany of disillusionment and despair. Like Human Flow, it becomes a lament for the lack of compassion in the world and the stubborn refusal to acknowledge the common humanity that unites "us" and "them". The situation is summed up in one interview with a callous resident of Dikili in Turkey who is outraged that "we can't eat fish now because of the dead bodies in the sea".
Often at the mercy of political expediency, demonised by the media and subject to a Kafka-esque nightmare of bureaucratic rules and procedures, it is little wonder that many of the refugees in The Rest are sustained by the hope that one day they can return home.
Production companies: AWW Germany GmbH, FART Foundation
Contact: AWW Germany Gmbh
Producer: Ai Weiwei
Cinematography: Ai Weiwei, Niels Benoist, Huang Wenhai, Konstantinos Koukoulis, Renaat Lambeets, Li Dong Xu, Lv Heng Zhong, Johannes Waltermann, Ma Yan, Zhang Zanbo
Editor: Wang Fen
Music: Karsten Fundal