Saoirse Ronan and Annette Bening light up Michael Mayer's screen version of the Chekhov play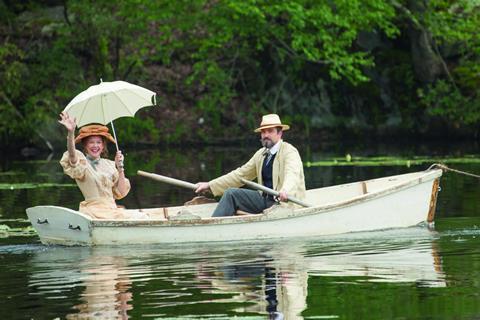 Dir. Michael Mayer. US. 2018, 98 minutes
The Seagull, Anton Chekhov's classic play about failed hopes and tangled attractions, is solid and satisfying in Michael Mayer's intimate retelling for the screen. Standouts in the ensemble cast are Annette Bening at the top of her game and an exquisite pre-Lady Bird Saoirse Ronan, who should bring new exposure to this wry look at pre-Bolshevik Russia.
Mayer avoids conventions of the stage in his third feature
Any film with Ronan now will connect with a younger audience that might not otherwise watch a screen adaptation of a play that was required reading at school. The young star's name on the marquee means more right now than Bening's and Ronan offers the chance to take The Seagull beyond the Chekhov purists when it opens in the US via Sony Pictures Classics on May 11, although the purists shouldn't mind too much.
Still, Mayer and screenwriter Stephen Karam have structured their streamlined script around Bening's character of Irina Arkadina, a vain and self-involved diva. We witness the fanfare around Irina's performances in the film's overture and we see posters for those shows on the walls of the country house where the action (with lots of talk) unfolds.
Irina doesn't miss a chance to demean her son, Konstantin (Billy Howle), an over-serious young man with a taste for the pompous avant-garde and for young Nina (Ronan), a local girl aspiring to the theatre who performs his bombastic outdoor one-person show. Irina inadvertently (more likely deliberately) causes Konstantin to stop the play when she wonders in stage-whispers what's happening on the makeshift platform in the woods.
As the ball gets rolling, we learn that Konstantin loves Nina, that lonely Masha, the estate manager's daughter (Elisabeth Moss), loves Konstantin, and that Nina is awed by the visiting writer Boris Trigorin (Corey Stoll), who encourages her attention, which stokes Irina's jealousy.
Checkhov completed The Seagull in 1895, when Russians would soon have more important things to worry about. Mayer filmed his version of The Seagull in 2015 in a villa sited on a wooded bluff a above quiet isolated lake. Staircases to the grand house make for dramatic descents to the woods or the water when characters fume out of a quarrel.
Ronan, first the source of Konstantin's desire, and then of his jealousy and anger, is a natural for the wide-eyed child, thrilled to be among a worldly crowd and drawn to the fame of Trigorin more than to the writings that she hasn't read.
Mayer's first shot of her is a tactile close-up of a girl seen through the manor's front door, squinting into a world that she knows nothing of. When Mayer returns to a similar shot in the play's final act – two years later – it's a gestural distillation of what characters have and haven't learned.
Stoll plays Trigorin as a mildly smug man who has been down this road before with young girls, humble-bragging about the monotony of writing, and absorbing endless questions about a writer's enviable freedom. In one of the film's choice moments, he agrees to stay at the house for an extra day, to soak in praise and nurture a potential love tryst, only to be convinced to leave by the wily Irina, who's a more experienced flatterer than Nina. Bening, the veteran actress, steals the show here.
Best known as a director of musicals that started on the margins and reached Broadway (Spring Awakening, Hedwig and the Angry Inch), Mayer avoids conventions of the stage in his third feature by keeping his actors in motion or in shadowy interior close-ups. The play's condensed fourth act may feel like a shadow to Chekhov devotees, but the playwright's view of these Russian dark ages comes through clearly.
Production companies: Laluchien, Mar-Key Pictures, Artina, KGB Media, Hyde Park International
International sales: Hyde Park Entertainment carl@hydeparkentertainment.com
Producers: Jay Franke, David Herro, Robert Salerno, Tom Hulce, Leslie Urdang
Screenplay: Stephen Karam
Production design: Jane Musky
Editing: Annette Davey
Cinematography: Matthew J. Lloyd
Music: Nico Muhly, Anton Sanko
Cast: Annette Bening, Saoirse Ronan, Corey Stoll, Elisabeth Moss, Mare Winningham, Jon Tenney, Glenn Fleshler, Michael Zegen, Billy Howle, Brian Dennehy