A middle-aged Iranian man struggles to grow up after the death of his mother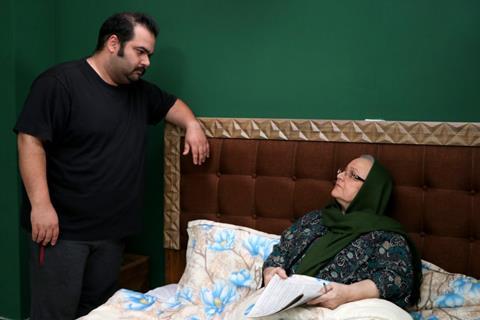 Dir. Noushin Meraji. Iran. 2021. 85 mins.
Given how many films and TV programmes there are called The Son (over 20 this century alone) it might have made commercial sense to find an alternative translation for Iranian drama Pesar. But the filial condition – the fact of being a son, being trapped in that role, being barely able to function as anything other than a son – is so centrally the theme of Noushin Meraji's drama that the title is more than justified.
Meraji has made a spare, controlled but somewhat theatrical piece
Still, the choice won't help the export chances of this bleak, compact chamber piece, premiering in the Moscow International Film Festival. Writer-director Meraji, making her feature debut after several shorts, executes it confidently, and Soheil Ghannadan impresses with an unsettling, affecting lead performance. But the downbeat register, a rather stagey style and the familiarity of the theme could restrict The Son, despite marking Meraji as a promising talent.
Ghannadan plays Farid, a middle-aged, overweight man who has moved into a new apartment with his elderly mother (Nahid Haddadi), after selling their old house. It seems, however, that Farid has mismanaged the family finances; it doesn't make sense to rent excessively upmarket accommodation, especially when Farid insists on his mother buying him a car with their limited funds. Currently without a job and possibly never employed, Farid has never made an independent life for himself, although it is not made explicit whether he is mentally disturbed or simply, in some less classifiable way, unworldly. But he is petulant and needy, and only has two pleasures in life – taking photographs, often intrusively, and endlessly watching The Godfather, the only film he appears to know. In contrast, older brother Farhad left Iran for the US years ago, causing much resentment on Farid's part.
Forming a naïve and unhealthy attachment to young female neighbour Golnoosh (Donya Heydari) – who, despite everything, attempts to befriend him – Farid increasingly shows signs of imbalance. Things come to a head when – in line with a plot trope that has fuelled countless Gothic dramas – his mother dies and Farid goes into a state of obsessive denial. An encounter with a sex worker, who comes home with him, shows Farid to be completely unaware of the realities of adult sexuality; something that Meraji works to uncomfortable, subtly comic effect, given the necessary discretion required by Iranian cinema. Meanwhile, Farid forms a connection with the building's doorman (Atabak Naderi), in whom he detects a kindred solitary soul, although it's surprising that the latter fails to read the signs of the mother's absence – although that may be Meraji's comment on the alienated distance between city dwellers.
Eventually, the long-absent Farhad (Mohtaba Fallahi) pays a visit, and the film slips into another register, exploring sibling tensions which intensify when Golnoosh proves friendlier to his brother than Farid would like. A last-act reveal feels awkward, even borderline farcical, with Meraji not quite handling the balance between macabre, potentially black-comedy tendencies and a more sombre psychological perspective. In general, Meraji skilfully avoids pathos; but while the extended closing shot, suggesting cathartic closure, is finely played, viewers may not buy the emotional resolution on offer.
All in all, The Son feels rather like a succession of acutely written, well-acted scenes that each convince in their own right but don't quite knit together into a convincing overall portrait either of Farid or of a malaise in male identity (here given a specifically Iranian inflection but nonetheless universally resonant). Meraji's psychological portraiture walks a delicate tightrope – some viewers may balk at feeling empathy for Farid, and simply regard him as deluded and creepy – but Ghannadan uses his physical bulk and bearlike softness to strong effect in a vulnerable man-boy character who in some ways bears comparison with the troubled protagonist of Jafar Panahi's Crimson Gold.
Dispensing with music until the end, and sticking largely to the coldly luxurious interiors of Farid's flat – with occasional brief forays outside – Meraji has made a spare, controlled but somewhat theatrical piece, her long takes sometimes making for too deliberate pacing. The acting is strong all round: Heydari's bemused Golnoosh; Haddadi, making the nuanced most of the age-old archetype of the over-protective parent; Fallahi as an alpha male eventually panic-stricken once he realises how troubled his brother is.But this is very much Ghannadan's film, the actor evoking a mixture of slobbishness, sensitivity and rage. His performance brings shading to a nexus of male vulnerabilities that may be in danger of becoming over-familiar but that in the age of embittered 'incels' has a new unsettling currency.
Production company: Fard Pictures
International sales: Persia Film Distribution, info@persiafilmdistribution.com
Producer: Mehdi Fard Ghaderi
Screenplay: Noushin Meraji
Cinematography: Ali Shourvarzi
Editor: Ramin Najafi
Music: Arman Meraji
Main cast: Soheil Ghannadan, Nahid Haddadi, Donya Heydari, Atabak Naderi