Marine Francen's feature debut is the winner of the New Directors prize at San Sebastian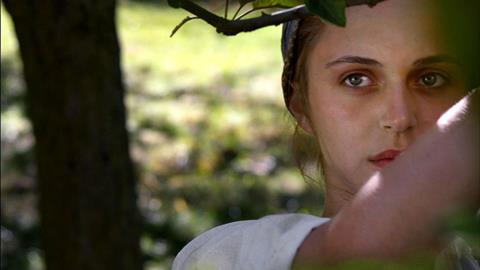 Dir: Marine Francen. France-Belgium. 2017. 98mins
Marine Francen's seductive first feature, winner of the prestigous New Directors award at San Sebastian, infuses a gentle, nature-loving period piece set in mid 19th-century rural France with a high-concept premise reminiscent of The Beguiled. What happens when all the men disappear from a remote village community that needs to procreate and regenerate in order to survive? And if a man did somehow turn up, who would he belong to, if not all the young and fertile women who had been deprived of their partners?
You want to take certain shots and hang them on the wall
Ravishingly shot in boxy 4:3 format, with quietly authoritative performances by an almost exclusively female cast, The Sower will benefit from both critical support and positive word of mouth on its November 15 French release, and has the potential to nuzzle into a few other arthouse-friendly territories too, not least thanks to the allure of its stunning landscapes and peasant-chic interiors (the film was shot in the lofty village of La Garde-Guérin in the northern Cévennes).
The film's only real flaw is the relentless beauty of every single shot. And yet this is not quite a case of style over substance. Based on a novella written by a rural schoolteacher in 1919, The Sower carries the title not of that book ('L'homme semence') but of artist Jean-François Millet's celebrated 1850 painting The Sower (Le semeur). For Francen's debut is painterly through and through, imbued with the palette and the aesthetic of Millet and fellow Realists (like Gustave Courbet) who shocked certain members of the Paris Salon and the wider French establishment in the 1850s by taking as their subjects poor, disenfranchised peasants and workers. There's an artistic homage in framings of peasant women at rest during the harvest - you want to take certain shots and hang them on the wall – but we're also reminded that beneath Millet and Courbet's golden light and Arcadian imagery lay an unspoken critique of France's repressive social order.
That repression arrives in an impressionistically shot thunder of galloping horse's hooves in the film's breathlessly edited opening sequence. It's 1851, a succinct opening caption informs us, and astride the horses are troops sent by France's autocratic President, Louis-Napoléon Bonaparte, to round up and arrest all the men of a remote mountain village for their Republican sympathies.
With the men gone, the women and children are left to bring in the harvest alone, and they take possession too of the pace and feel of the film, which settles into the slow rhythms of seasonal tasks and quiet, watchful sorority cooperation and tensions. Some have seen their life partners snatched away; others, like the reticent but inwardly strong Violette (a radiant Pauline Burlet, most recently seen in The Past), suddenly have no chance of experiencing physical love, or becoming mothers. Hence the pact made between Violette, her more sexually experienced friend Rose (Géraldine Pailhas) and other village women of marriageable age: the first man who appears in the village will be shared between all.
The lucky guy, the intense Jean (Alban Lenoir), claims to be a travelling blacksmith. The engaging way he is warily accepted into the community, then warily circled by those women who resent the rapport he strikes up with Violette, is where parallels with The Beguiled are most keenly felt. But here the approach is more subtle - at times excessively so, in a film that keeps overt dramatic conflict at arm's length.
The feminist subtext of the film's literary source material is woven subtly in with both nature and politics. There's something primal in a landscape where fields of corn have been reclaimed from wild nature and need to be scythed, threshed, tamed, while nature surges inside a female community cut off from sexual outlets that would never have been discussed openly back in the 'man time' as they are now. And if the village's utter isolation feels unlikely, that's because The Sower is in one sense a dream, the enactment of a myth that goes back to Ancient Greece and beyond.
Production companies: Les Films du Worso, Versus Production
International Sales: Celluloid Dreams, info@celluloid-dreams.com
Producers: Sylvie Pialat, Benoît Quainon
Screenplay: Marine Francen, Jacqueline Surchat, Jacques Fieschi, based on the novella 'L'homme semence' by Violette Ailhaud
Cinematography: Alain Duplantier
Production design: Mathieu Menut, Olivier Geyer
Editor: Minori Akimoto
Music: Frédéric Vercheval
Main cast: Pauline Burlet, Géraldine Pailhas, Alban Lenoir, Iliana Zabeth, Françoise Lebrun