Melissa McCarthy and Kevin Kline star in this bereavement drama directed by Theodore Melfi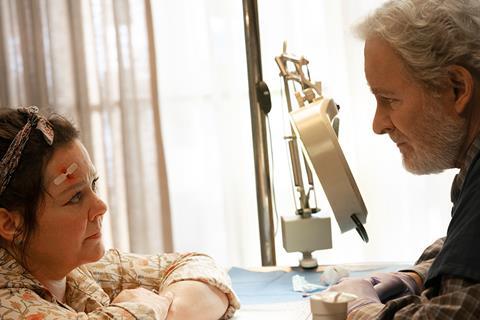 Dir: Theodore Melfi. US. 2020. 104 mins.
A tale of grief that succumbs to sentimentality, The Starling has its affecting moments as it examines a marriage in turmoil after the death of a child. Melissa McCarthy can be touching as she plays a wife in mourning who is also reeling from the fact that her traumatised husband is recuperating in a psychiatric clinic. But although the Oscar-nominated actress shares some lovely scenes with Kevin Kline, a therapist-turned-veterinarian who helps put her life back together, Hidden Figures director Theodore Melfi overdoes the touchy-feely mawkishness, resulting in a film which lacks the emotional subtlety that such delicate material requires.
The actors lend sincerity to the proceedings, but the film keeps cheating to achieve its dramatic payoffs
Screening as part of the Toronto Film Festival, this Netflix release hits US theatres on Friday September 17 before landing globally on the digital platform September 24. McCarthy, reuniting with her St. Vincent director, will be the main draw, delivering a change-of-pace dramatic role along the lines of Can You Ever Forgive Me? Ultimately, though, The Starling may appeal chiefly to older viewers, especially those susceptible to a story in which an troublesome bird proves pivotal in jolting our despondent protagonist out of her stupor.
McCarthy plays Lilly, who is still in shock after the death of her infant daughter Katie a year ago. Her husband Jack (Chris O'Dowd) is in even worse shape, retreating to a mental health facility to deal with his sorrow. Alone in her big empty house, Lilly is determined to get on with her life, starting with cultivating a garden — a plan that puts her in conflict with a territorial starling, which keeps attacking her. Meanwhile, Lilly is advised that perhaps she, like Jack, should see a specialist, and is referred to Larry (Kline), who used to be a psychiatrist but now works as a vet.
Matt Harris' screenplay aspires to be a sensitive examination of how people learn to make peace with unimaginable tragedy, and there are certainly scenes in which the fragile emotional state of these characters leads to bittersweet insights. But Melfi has never been an especially understated filmmaker, and with The Starling he's nearly as aggressive as the titular bird, assaulting the audience with the picture's themes and moral. Much like Benjamin Wallfisch's on-the-nose score, Melfi telegraphs his big dramatic moments in such a way that viewers may feel pulled around by the ear, forced to feel whatever the director demands at that particular moment.
Even so, the cast can sometimes locate what's inherently moving about this scenario. McCarthy capably handles the script's comedic digressions — she's a master of the sarcastic aside — but she's also adept at navigating Lilly's conflicted mindset. On the one hand, Lily is still grieving for her child, but with Jack out of commission, she has been forced to soldier on, sublimating her sorrow into being productive around the house and at her job. O'Dowd's character never feels entirely realistic — Jack veers unpredictably from glum to unhinged, depending on what the narrative needs from him — but the two actors have a weathered rapport that suggests a loving married couple trying to find their way back to each other.
The Starling's more rewarding relationship is the tentative bond that develops between Lilly and Larry, who quit therapy for his own reasons but reluctantly becomes a sympathetic ear for this struggling woman. Kline has such effortless charm and gravitas that he gives this cloying picture a little grace, and he and McCarthy are enjoyable sparring partners. But the script ends up going down contrived paths, stranding what is potentially endearing about this budding friendship.
Then there's the matter of the starling. Interacting with Lilly on several occasions, the bird becomes a crucial supporting character — not to mention an obvious metaphor for life's unexpected difficulties — which requires the filmmakers to use special effects to bring it to life. And while the digital trickery is sometimes seamless, too often it's clear that what we're seeing is fake — a liability that only underlines what's generally phoney about The Starling.
For a drama about the importance of being honest about one's emotions, the picture doesn't miss a chance to be cutesy or saccharine, resorting to Hollywood cliches about acceptance and forgiveness that pound the viewer over the head. The actors lend sincerity to the proceedings, but the film keeps cheating to achieve its dramatic payoffs. Unfortunately, actual grief is far messier than this too-tidy film acknowledges. That sad fact clips The Starling's wings.
Production companies: Limelight, eOne, Boies/Schiller Entertainment, Goldenlight Films
Worldwide distribution: Netflix
Producers: Kim Quinn, Theodore Melfi, Chris Parker, Dylan Sellers
Screenplay: Matt Harris
Production design: Stephanie Hamilton
Editing: Peter Teschner, Matthew Friedman
Cinematography: Lawrence Sher
Music: Benjamin Wallfisch
Main cast: Melissa McCarthy, Chris O'Dowd, Timothy Olyphant, Daveed Diggs, Skyler Gisondo, Laura Harrier, Rosalind Chao, Kim Quinn, Loretta Devine, Kevin Kline