Mark Cousins' latest video essay is also his most personal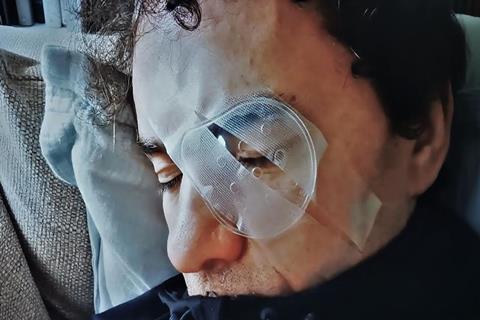 Dir/scr: Mark Cousins. UK. 2021. 87mins
Mark Cousins gets personal for The Story Of Looking, an intimate essay film in which the cinema historian uses his own imminent eye surgery to riff on the very nature of seeing. Drawing inspiration from his 2017 book of the same name, the documentary is by turns touching and thought-provoking, as the Story Of Film auteur compiles classic film clips as well as self-shot footage — although the effect isn't meant to be an exhaustive study of an endlessly fascinating subject. Most likely, the project simply allowed Cousins to calm his nerves before going under the knife, and the results are looser and more emotional than we usually get from him.
The Story Of Looking feels especially vulnerable and revealing
Premiering in Telluride after screening as a work in progress at Visions du Reel, The Story Of Looking is Cousins' second film to debut at a major festival this year. (This summer's Cannes unveiled The Story Of Film: A New Generation.) This new picture runs less than 90 minutes — slim by his standards — and features the filmmaker in front of the camera fairly frequently. And while he's always put a lot of himself into his projects, The Story Of Looking feels especially vulnerable and revealing; here, he's naked both metaphorically and literally.
The film's casual nature is introduced in its opening shot, which finds Cousins in bed shirtless in the early morning, talking directly to camera. Soon, we learn that, tomorrow, he'll be having surgery for a cataract — and that he suffers from macular degeneration. The possibility that the procedure might not go well, coupled with the fact that his eyesight is getting progressively worse, prompts him to consider his relationship to looking; particularly in how it relates to watching movies.
Thus begins a free-floating dissection of the stages of a person's ocular development — as babies, for instance, images are out of focus — and Cousins discusses how light, colour and other factors impact our reaction to what we see in cinema, and in life. There's an inherent poignancy to his meditations that often isn't felt in his more rigorous filmic explorations: we know that these observations are stirred by his fear that he may never be able to see again in the exact same way. As such, The Story Of Looking is a bittersweet reverie — and a possible farewell to filmgoing, his burning passion.
As usual, Cousins makes intriguing connections between films and ideas, tackling the act of "looking" from several angles. The Story Of Looking proves to be a minor and melancholy companion piece to another essay film, Theo Anthony's All Light, Everywhere, which more provocatively questioned how much we truly understand by what we take in through our eyes. By comparison, Cousins' picture is warmer and more reflective, pondering how seeing allows us to remember — looking at a personal memento can prompt a memory of a long-gone friend — and to gauge the changing world around us. That last point is driven home quite effectively by the director juxtaposing similar shots of Ingrid Bergman in Casablanca and Autumn Sonata, filmed more than 35 years apart, and marvelling at how film can be a chronicle of human beings' inevitable ageing process.
The Story Of Looking is sometimes playful — Un Chien Andalou's infamous eye-slicing scene is mischievously included — but also despairing, as Cousins presents images of atrocities, wondering about our responsibility to look at such sights. And he's also frank about how cinema records the human body, which inspires him to remark on the parts of his own body that he likes and doesn't like. To that end, he includes footage of himself naked (save for his shoes) lying peacefully in a stream, commenting in voiceover that he doesn't mind being seen that way. Life, he seems to be suggesting, isn't just about seeing things but being observed ourselves.
That sense of connection — people looking at other people, who are looking back at them — is at the heart of The Story Of Looking's wistful investigation. In the film's final stretch, Cousins goes in an unexpected direction, and although the gambit may not be wholly successful, it thematically and emotionally reinforces the project's overall thesis that we "see" differently at different phases of our life. Anyone with eyes will surely be affected.
Production company: BofA
International sales: First Hand Films, stories@firsthandfilms.com
Producers: Mary Bell and Adam Dawtrey
Editing: Timo Langer
Cinematography: Mark Cousins
Music: Donna McKevitt