Shunned by society, the Black and Latina trans sex workers of 14th Steet in Manhattan led dangerous lives in Kristen Lovell's personal testament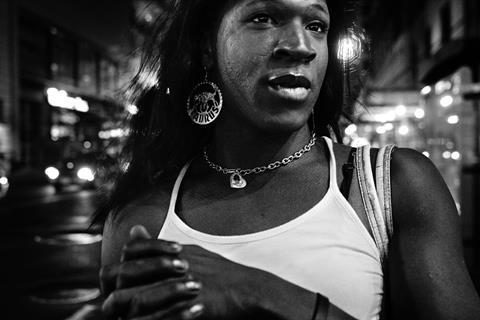 Dirs. Kristen Lovell, Zackary Drucker. US. 2023. 85 mins.
Kristen Lovell has skin in the game of the story she tells, making The Stroll, an oral/archive history of the trans sex workers of New York's Meatpacking District, a raw and tender memoir. Together with co-director Zackary Drucker she assembles her fellow survivors, trans Black and Latina women who walked 14th Street during the 80s and 90s and beyond, for an elegy, in a way, to a time of exclusion and derision that was also a place of community and defiant sisterhood. The spirit of so many who were lost infuses her piece.
They truly had no-one but each other, and that love still shines through
The Stroll is both a history of trans sex workers in New York and of the gentrification of the only home they knew. It is not particularly fact-focused – we don't get a roll-call of the dead, no biographies or where-are-they-now's, or who's-to-blame or even what precisely happened to the missing. There's no overt mention of AIDS or the crack epidemic. But somehow, Sarah Kinney's camera is able to pick up all the pain of the exclusion, rejection, imprisonment and survival of the trans community as former streetwalkers return to their old gentrified haunts in towering heels, fire-engine-red jumpsuits, and ambitious wigs.
Winner of a Special Jury Award at Sundance (for the clarity of its vision), HBO's The Stroll opens London's BFI Flare Festival and will be of considerable interest to LGBTQ+ events and festivals, not to mention those who remember the New York which is so redolently depicted here. It is, in a way, a companion piece to 2017's The Death And Life Of Marsha P. Johnson, which was picked up by Netflix and became a vital reference point in the continuing struggle for transgender rights.
The Manhattan of the 1970s and 80s is legendary for its mean, dirty streets – but few ventured down to 14th street (the stretch between 9th Avenue and the Hudson they called The Stroll) unless they were looking for a particular kind of sex to have in alleys between the hard-core gay clubs and the frenzied meat-packing business which meant the area stank of blood and decaying flesh. Sometimes the two collided, when clients were serviced in the back of unlocked meat vans.
There aren't as many photographs or as much video footage as you might imagine of the area at that time (although, in a way, that makes sense). But Lovell, herself the subject of a documentary shot there in 2007 (Queer Streets, which she uses), is well able to muster her resources – in the shape of 11 of her fellow survivors, some of whom, like Lady P and Ceyenne, spent more than 20 years on 'The Stroll' and have the polaroids to prove it.
Through their recollections, that sad yet defiant time drifts back into focus, energised by some delightful animations which depict the girls as Wonder Women. There's not a whole lot of joy here, though, as Lovell recalls being abandoned by her family, fired by her bosses and hustling in order to survive. It was a violent business between the tricks, the cops, the hard beds of the precinct jail, and, as successive mayors from Rudy Giuliani to Michael Bloomberg cracked down on 'vice', to prison. One interviewee recalls getting out after a 12-year jail term to find all her friends were dead.
The documentary makes frequent, loving reference to pioneer Sylvia Rivera, who, with Marsha P Johnson, was vocal in the fight for trans rights (together they founded STAR, or Street Transvestite Action Revolutionaries), and set up Sylvia's Place in Hell's Kitchen as a sympathetic haven and safe space. The T in LGBT back then was often an afterthought, as footage of Sylvia makes clear, and that's a polite way of describing it.
Bloomberg initiated a 'three strikes and you're out' policy, which, with 9/11, eventually saw the girls off the streets as the luxury stores and the Highline came in, delivering monied Manhattanites into a new playground. It's hard to be nostalgic for the bad times, but you can see clearly how that meant the loss of a second family to these survivors, who now had no means to make a living.
Editing is very sympathetic to that emotion. Information is gently delivered, not screamed. The same cops who would round up the girls would also demand free sex acts. The repressive law dubbed 'walking while trans' is explained, just another indignity for women who were refused treatment in hospital and carried hammers in their purses. Worst of all, possibly, is a video Lovell and Drucker have unearthed of Ru Paul using The Stroll as a runway, mocking its sex workers as he sashays on down. They truly had no-one but each other, but that love still shines through the decades of pain and hardship.
Production companies: Kingdom Reign, Polar Pictures
International sales: Warner Bros Discovery/HBO
Producers: Matt Wolf
Cinematography: Sarah Kinney
Music: Stenfert Charles
Editing: Mel Mel Sukekawa-Mooring