Crunchy debut about a locust farm which was set for Cannes Critics Week and bought by Netflix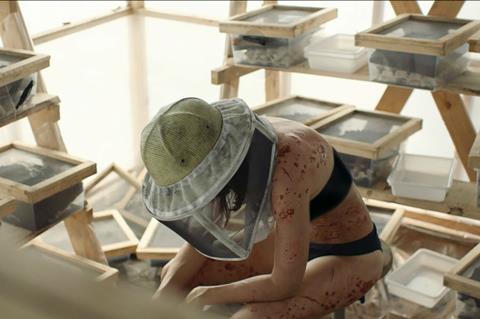 Dir: Just Philippot. France. 2020. 100mins
Horror is an under-exploited genre in French cinema but first-time director Just Philippot's The Swarm (La Nuee) boasts convincingly perturbing effects work in the service of a story packed with angst-producing contemporary concerns. Although selected for Cannes 2020 Critics Week, festivals — except for Sitges where it won Best Actress and the Special Jury Prize — will forego this juicy big-screen item as Netflix has acquired the film for all territories except China, Spain and France where it opens November 4th. This ambitious effort may turn overly convenient in its plot points before the end but it is still an impressive debut with perfectly incorporated digital and mechanical effects and an unnervingly gung-ho central performance.
Not for the squeamish but fun for fans of body horror with Cronenbergian intellectual underpinnings
Widowed mom, Virginie (Suliane Brahim), has converted the family farm into a small, labour-intensive breeding facility for edible locusts, a crunchy source of protein that can be ground into flour. It will help the planet and, ideally, sustain this three-person family unit. But, like farmers most everywhere, she can't get a fair price for her wares, which means she won't turn a profit, let alone afford the insects' customary diet. When she accidentally discovers the locusts thrive – bigger, peppier and mutating — on human blood, watch out.
Not for the squeamish but fun for fans of body horror with Cronenbergian intellectual underpinnings, the film asks how far a matriarch should go to nourish her own children and her entrepreneurial spirit.
Teen daughter Laura (Marie Narbonne) is at loggerheads with her mother. She's tough but gets bullied at school due to her Virginie's foray into breeding insects, such a radical departure from recognizable crops and agrarian codes. Younger son, Gaston (Raphael Romand), is a sweet boy who loves his pet goat. Viewers may be excused for assuming the goat may not be around to take a bow. And then there's the nosy neighbor who's always looking for his dog.
Hard work is supposed to pay off. Families are supposed to be loving and supportive. The only kindness here is the neighbouring vintner, Karim (Sofian Khammes), a generous man of North African heritage who fancies Virginie (although her greatest physical desire is for a good night's sleep). Ironically, once she's on the treadmill of sacrifice, her meant-to-be healthy and non-invasive livelihood tips over into many of the traps that make commercial farming practices so objectionable. In striving to be the best possible mother, Virginie gets addicted to her work and puts herself and her children at risk.
What distinguishes the film is how creepy-crawly the critters are, authentically inspired by how locusts go from neutral behaviour to the swarming plague phase. At first harmless, borderline laconic grasshoppers content to loll in their tents morph into something far more agitated and aggressive. Ominous details are planted with visual flair and sound design is outstanding.
Escalating social desperation makes the tale pertinent, insects that go bump in the night make it original. There are lots of French films that concentrate on food, but none quite like this.
Production Companies: Capricci, The Jokers
International Sales: Wild Bunch, ediederix@wildbunch.eu
Producers: Thierry Lounas, Manuel Chiche
Screenplay: Jerome Genevray, Franck Victor
Production Design: Margaux Demain
Editor: Pierre Deschamps
Cinematography: Romain Carcanade
VFX Supervisor : Antoine Moulineau for Digital District
Music: Vincent Cahay
Main cast: Suliane Brahim, Sofian Khammes, Marie Narbonne, Raphael Romand