Sally El-Hosaini's striking real-life drama opens the 47th Toronto International Film Festival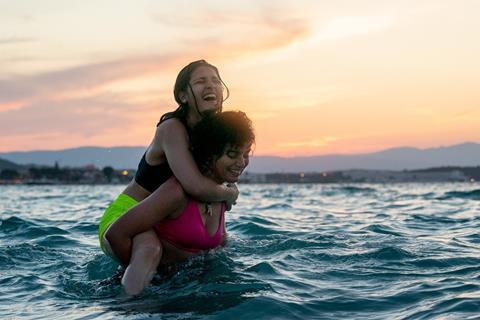 Dir: Sally El Hosaini. UK. 2022. 134mins
It has been a decade since British filmmaker Sally El Hosaini made her debut feature My Brother The Devil, a portrait of two young Egyptian immigrants making their mark in London's gangland. Since then, she has worked on TV dramas including House Of Saddam and Babylon, and tried to get a Jim Jones film off the ground, but The Swimmers sees her remain focused on the same themes of displacement, prejudice and survival, this time with a much broader cinematic canvas. This real-life story of professional swimmer Yusra Mardini, who escaped the war in Syria with her sister Sara and went on to become an Olympic athlete, opens both the Toronto Film Festival and Zurich before bowing on Netflix on November 23, where it will likely find an appreciative audience. An awards-qualifying theatrical run is planned for select UK and US cinemas, and the film's exceptional craft is particularly worth showcasing.
Its impact comes not only from the real-life events it's depicting, but also the way in which it frames this now-familiar tale
Fluid, immersive cinematography, from Christopher Ross, is a standout from the opening scene. It's 2011, and the camera opens on the dusty, beige skyline of Damascus, Syria — a colour palette we're used to seeing associated with the Middle East — only to pan down to a brightly coloured local swimming pool, full of rowdy young people having fun to the strains of Western pop music. It's a view of Syria (actually shot in Istanbul, Turkey, a country which stood in for various location in Syria, Greece and Rio) that may seem alien to Western audiences, and nothing in the scene suggests what lies ahead; aside from an inflatable toy striking the surface like a missile, a moment which will be repeated, far less innocently, later in the film. Indeed, the contradiction between what the region once was, and what it will become thanks to years of warfare, is at the heart of El Hosaini's film, which examines the Syrian refugee crisis through the experience of sisters Sara (Manal Issa) and Yusra (Nathalie Issa).
The pair enjoy a close relationship, and performances by Lebanese sisters Manal and Nathalie Issa (the former an actress who has appeared in the likes of Memory Box and The Anger, the latter a newcomer) demonstrate a natural, infectious bond that runs the gamut from playful sibling rivalry to, at times, literally life-saving support. Strong, well-rounded, defiant characters from the outset, Yusra and Sara challenge our expectations of what refugees should be; they may be displaced but they are certainly never downtrodden.
The poignant yet grounded screenplay by El Hosaini and Jack Thorne is based on Yusra's own 2018 autobiography, with authenticity further assured by the involvement of Syrian filmmaker Hassan Akkad – who has undertaken the same refugee journey as the Mardini sisters – as associate producer. And while it leans heavily into the desperate drama of the situation, it also makes the valid and thought-provoking point that the war gives the girls an otherwise impossible chance to strike out on their own, to take control of their lives and futures in a place that won't constrict them.
The Swimmers presents its all of its refugees as a group of talented, colourful individuals who don't lose sight of their dreams and desires simply because their worlds are turned upside down. The entire ensemble cast, playing people displaced from places as far-flung as Somalia and Eritrea who join the sisters on parts of their journey, are well-rounded, personable, forthright and hopeful. That they are not waiting to be saved, but taking matters into their own hands despite the substantial odds stacked against them – "70 percent of my drivers make it to Germany" says one of many human smugglers – is portrayed as an act of bravery and heroism, rather than simple desperation.
El Hosaini also rejects the notion that survivors should be defined by their experience, or become spokepeople for their collective trauma. Despite her ordeal, Yusra never loses sight of her Olympic dreams, having been primed for a career in swimming by her coach and father (Ali Suliman) – once a professional swimmer himself, who had to abandon his dreams due to compulsory military service.
Indeed, when the Arab spring starts to make itself felt in Syria – YouTube videos of rising tensions, missiles streaking like fireworks on the horizon – Yusra is content to ignore these potential interruptions to her training, even when Facebook tells them of another death amongst their friendship group. It's only when the realities of war really hit close to home, in an astonishing slow-motion underwater sequence of a missile striking a pool during a competitive swim, that she decides to join Sara and head out across Europe for safety. This includes a trip on a crowded, deflating dinghy across the sea to Greece; an intense extended sequence, disorientingly edited by Iain Kitching, which places the viewer in the vessel and really brings home the horror.
Knowing the end of this story – that Yusra found a swimming coach in Germany and ended up competing at both the 2016 and 2020 olympics as part of a refugee team, while Sara began working with refugee charity in Lesbos (for which she is now facing criminal charges) — doesn't make The Swimmers any less powerful. Its impact comes not only from the real-life events it's depicting, but also the way in which it frames this now-familiar tale; a triumph of human – and particularly female – will against adversity and a celebration of those who would seek a better life, despite the costs.
Production company: Working Title
Producers: Tim Bevan, Tim Cole, Eric Fellner, Ali Jaafar
Contact: Netflix
Screenplay: Sally El Hosaini, Jack Thorne
Cinematography: Christopher Ross
Production design: Patrick Rolfe
Editing: Iain Kitching
Music: Steven Price
Main cast: Manal Issa, Nathalie Issa, Matthias Schweighofer, Ahmed Malik, Ali Suliman