Dir/scr: Hadi Ghandour. 2016. Lebanon, France. 100 mins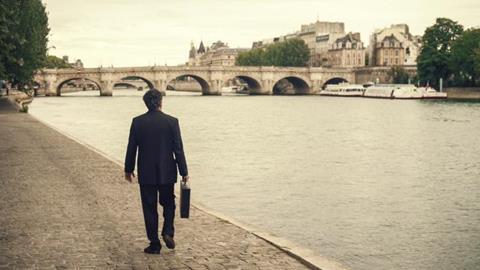 Adnan (Rodrigue Sleiman) lives for travel. He can recite the tourist sights of Rome like a mantra; describe gelato flavours with the confidence of a connoisseur and wax lyrical about the sensory overload of New York. An employee of a provincial travel agency in south Lebanon, Adnan gets a vicarious thrill from the holiday plans of his customers. He looks visibly crestfallen when he feels that a client is not prepared to fully engage in their trip. If Adnan has a slightly romanticised idea of travel, it is probably because he has never left the country of his birth.
While travel is meant to broaden the mind, the opposite seems to be true here,
This ambitious and tonally intriguingly film, which premieres in the First Feature competition at Tallinn's Black Nights Film Festival, should go on to generate further interest on the festival circuit. Theatrical prospects are less certain, but with critical support and astute marketing this tale of the corruption of an innocent abroad could connect with arthouse audiences.
Having set up Adnan as a very likeable central character, first time writer and director Hadi Ghandour then offers his protagonist the opportunity to realise his dream and actually see the world. After his boss breaks a leg while dancing at a wedding, he decides to send Adnan in his place to a travel conference in Paris.
While travel is meant to broaden the mind, the opposite seems to be true here, and Ghandour bravely sacrifices much of the goodwill established for his central character as Adnan goes spectacularly off the rails in Paris. The film explores themes of cultural clashes and the appeal of the unattainable with honesty and humour but, as the picture progresses, it's increasingly hard to muster much empathy for Adnan.
There's a lovely moment early in the film when Adnan, having just been told that he is going to Paris, drives home in a champagne bubble of Francophile joy, oblivious to the traffic chaos of the Lebanese streets. In his heart, he is already in Paris, but it's a fantasy version of the city which bears little resemblance to the grubby realities of his hotel in Pigalle.
Out of his depth at the travel conference, Adnan is further troubled when he visits his cousin Insaf (Aida Sabra), and meets her beautiful and very Parisienne daughter Layla (Donia Eden). Disconcerted by Layla's insouciant sexiness, Adnan veers between barely concealed lechery and a slightly pompous over-protective approach.
Meanwhile, he strikes up a friendship with the proprietor of a Lebanese restaurant and embarks on a night of debauchery which ends with the loss of one of his shoes, eviction from his hotel and the onset of a personal crisis.
Like the Arabic infused music which fills the score, Adnan's experience of Paris has a decidedly Lebanese flavour. Even so, he is so seduced by the city that at one point he considers abandoning his wife and family and staying there, joining the extended Lebanese diaspora.
The theme of an insular worldview blown apart during a business trip has some similarities to that of Mohamed Ben Attia's Berlin Silver Bear-winning picture Hedi. While the central characters of both films act rather foolishly, however, there is a satisfying sense of forward movement in Hedi which is disappointingly absent in the hapless Adnan's story arc.
Production company: Androma Pictures & Inspired Ant
Contact: stevan@andromapictures.com
Producers: Stevan Lee Mraovitch, Romain Richard
Cinematography: Saro Varjabedian
Editor: Bruno Lefevre
Score: Julian Cassia
Main cast: Rodrigue Sleiman, Donia Eden, Aïda Sabra, Romy Melhem, Lubna Playoust, Sébastien Bertrand, Pierre Alam