Dir: M Night Shyamalan. US, 2015, 94 minutes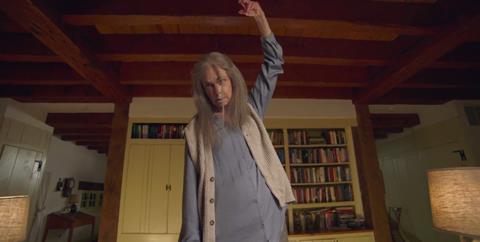 Following a run of creatively disappointing features encompassing Lady in the Water, The Happening, The Last Airbender and After Earth, the time was certainly right for M Night Shyamalan's return to his twisty, genre roots. And teaming up with prolific, mightily profitable Jason Blum on a $5million-budget, single-location, kids-in-jeopardy scary movie seemed like the smart way of going about it – even if The Visit's found-footage format feels several years past its moment of maximum freshness. What results is a marketable slice of hit-and-miss mischief that doesn't suggest a career rebirth so much as a larky side project that will yield more in the way of nervous laughter than quickened pulses.
Shyamalan is not so much winking at the audience as nudging it in the ribcage
To set The Visit in motion, Shyamalan needs a single mum (Kathryn Hahn) who cut off all contact with her parents when she left home at the age of 19. Now the old folks have reached out, and so the grandchildren they have never met – precocious 15-year-old Becca (Olivia DeJonge) and 13-year-old Tyler (Ed Oxenbould) – are set to visit them for a five-day visit at their Pennsylvania farm, several hours' train ride away. Aspiring filmmaker Rebecca is documenting the trip, conveniently handing Tyler a spare camera so that he can provide second-unit coverage.
Ominously confined to a shared bedroom after 9.30pm, the youngsters are soon disturbed by the noisy nocturnal antics of genial oddball and enthusiastic baker Nana (Deanna Dunagan), which includes a fair amount of nudity, projectile vomiting and running around bent over, crashing into walls. Eventually it's explained by their Pop-Pop (Peter McRobbie) that she's suffering from something called Sundown Syndrome, a neurological reaction that allegedly can affect old people. Pop-Pop has his own eccentricities, notably storing all his soiled adult diapers in the woodshed.
The sibling relationship is nicely explored with Tyler recalling to his sister the day five years ago where he froze up on the school football field, linked in his mind to the departure of their father. On the other hand, his improvised white-boy raps – presumably intended to be cutely adolescent – inflict more painful squirms on the audience than anything else that unfolds on-screen. Meanwhile, Nana's behaviour reaches into its torpid nadir when she's depicted smoking inside the house.
After a nifty twist reveals what is really going on, Becca and Tyler's seeming inability to run, run for the hills makes for convenient plotting, and unpersuasive drama. But by the time Becca enters the basement alone – despite her filmmaking ambitions, she's clearly never seen a horror movie – Shyamalan is not so much winking at the audience as nudging it in the ribcage. When the narrative dust finally settles, what's left is a twisted-comedy exploitation of old-timer craziness that leaves a rather nasty taste in the mouth.
As for the cast, it's hard to escape the feeling that Dunagan, who won a Tony for her performance in the Steppenwolf production of Tracy Letts' August: Osage County, deserves better. The same might be said for Oxenbould, on whom is inflicted a humiliation far more unsavoury than anything experienced by him in Disney's Alexander and the Terrible, Horrible, No Good, Very Bad Day. DeJonge, who like Oxenbould hails from Australia, impresses the most with a deftly textured turn – the only actor here who could be deemed to have received a career assist from the latest twist in the perplexing career of the man who 15 years ago scored a double Oscar nomination with The Sixth Sense.
Production companies: Blinding Edge Pictures, Blumhouse Productions
Contact: Blumhouse productions, www.blumhouse.com
Producers: Marc Bienstock, Jason Blum, M Night Shyamalan
Screenplay: M Night Shyamalan
Cinematography: Maryse Alberti
Editor: Luke Franco Ciarrocchi
Production design: Naaman Marshall
Main cast: Olivia DeJonge, Ed Oxenbould, Peter McRobbie, Deanna Dunagan, Kathryn Hahn