Dir: Clément Cogitore. Fr- Belg. 2015. 100 mins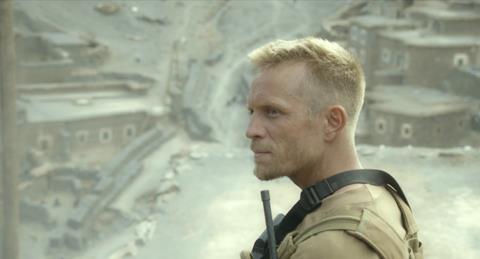 You've never seen a war film quite like The Wakhan Front. A strange mixture of the military, the metaphysical and the downright mysterious, this debut feature by French director Clément Cogitore has a highly suggestive philosophical agenda, but at the same time functions as a gripping, subtly eerie drama which keeps you guessing even while it maintains its supernatural (or theological) undertow simmering beneath the surface.
Cogitore musters an eerie mood that gradually erodes the prevalent masculine rationalism to suggest the encroachment of unearthly forces.
With a strong lead from Jérémie Renier, the film's commercial prospects may be mitigated by Cogitore's refusal of a conventionally satisfying narrative payoff. Then there's the fact that the film is uncategorisable in standard terms - anyone expecting this Afghanistan-set drama to remotely resemble, say, The Hurt Locker is in for a surprise. But carefully handled by distributors, this could find a crossover following between the upmarket and the cult.
The setting is a desolate, rocky region in Wakhan Province in Afghanistan in 2014, near the Pakistan border (the film was actually shot in Morocco). A detachment of French troops, headed by Captain Antarès Bonassieu (Renier), is patrolling a valley inhabited by a village of shepherds and frequented by local Taliban. At the start, local relations are tense but under firm control, and the level-headed, competent Bonassieu seems to be running things smoothly. Then the inexplicable happens: two French soldiers disappear without trace. Then there are further disappearances, among the Taliban too, and no-one can account for what's going on in this landlocked Bermuda Triangle.
As matters escape Bonassieu's control and understanding, the officer's psyche begins to frazzle. Cogitore - writing with sometime Jacques Audiard collaborator and Cowboys director Thomas Bidegain - musters an eerie mood that gradually erodes the prevalent masculine rationalism to suggest the encroachment of unearthly forces.
The use of military tech visuals - including heat-sensitive imaging and night vision - is in striking contrast to the increasing strangeness that creeps in, creating a mood akin to the elusive creepiness of, say, The Blair Witch Project. But rather than merely providing chills, Cogitore has more philosophical themes in mind, and the story's upshot is that humanity's constant warring has finally prompted the natural (or divine) order of things to take an apocalyptic turn.
A distinctive score takes in grinding techno and classical pieces on the viola da gamba, and the theme of visibility and invisibility is brilliantly played out throughout in visuals that show the khaki-clad men constantly disapppearing into (or suddenly surging from) a singularly inhospitable, colourless landscape.
Production companies: Kazak Productions, Tarantula International sales: Indie Sales, neschbach@indiesales.eu
Producers: Jean-Christophe Reymond, Amaury Ovise
Screenplay: Clément Cogitore, Thomas Bidegain
Cinematography: Sylvain Verdet
Editor: Isabelle Manquillet
Production design: Olivier Meidinger
Music: Eric Bentz, Francois-Eudes Chanfrault
Main cast: Jérémie Renier, Swann Arlaud, Kevin Azaïs, Marc Robert