Joe Wright directs the last Fox 2000 production, now on Netflix, with Amy Adams, Julianne Moore, and Gary Oldman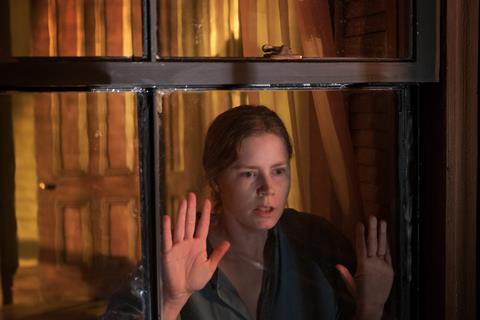 Dir. Joe Wright. US. 2020. 100 mins.
There's nothing inherently wrong with being derivative: The Woman In The Window's source author AJ Finn has forged a lucrative career out of it (sometimes controversially), and the director of this film adaptation Joe Wright could hardly make his debt to Hitchcock's Rear Window any more transparent. But if you're going to serve up warmed-over work, surely there's some sort of artistic honour among thieves involved in doing the best you can with it? The Woman In The Window is far from being a high-water-mark for any of its participants, from producer Scott Rudin on through to a cast which includes Amy Adams, Julianne Moore and Gary Oldman.
It seems more like the work of a set of individuals than a piece of collaborative film-making
This last film from Fox 2000 was sold by Disney to Netflix mid-pandemic last year, meaning the cast will attract the eyeballs the streamer needs, while Wright and his crew escape the harsh glare of theatrical exposure. Commissioned in the race to cash in on other woman/girl-titled stalker-y thrillers Gone Girl and The Girl On The Train (also made by Fox), it was part of Elizabeth Gabler's studio legacy, closed by Disney after the merger. Despite reported re-shoots and re-edits, The Woman In The Window still feels half-finished, as if some key creative under-estimated the high level of craft involved in delivering a passable Hitchcock knock-off and finally just walked away.
Amy Adams, always watchable, even when wearing the same dressing gown for 100 minutes, plays the titular agoraphobic Anna Fox. Separated from her husband and daughter, with whom she chats on the phone every night, she mixes her medication with alcohol, sees a shrink (screenwriter Tracy Letts), hosts a lodger (Wyatt Russell) in her brownstone basement and all but has "unreliable narrator" tattooed on her forehead. She watches the neighbourhood from her window during the day and is the first to notice when the Russell family moves in across the road. Whatever else it may be, this is a premise which insists on not introducing a single new element to the pantheon.
Sooner or later, everyone pays a separate visit to Anna. The Russell's odd son Ethan (Ed Hechninger) is first, followed by Jane Russell (Moore, and, yes, this film is full of Hollywood references). Then angry patriarch Alistair (Gary Oldman) arrives. Each one brings another film in the door: Ethan is doing a twisted weirdo from a direct-to-video horror, Moore gives the film some oomph with her spirited rendition of the dodgy Mrs R as a classic noir double-dealing dame, while Oldman just comes in and out to shout a lot, as if he were still addressing the troops at Dunkirk. Nobody seems connected to each other, never mind the film.
When Anna sees Alastair "murder" Jane through the window, she reports it to the police and, lo and behold, another Jane (Jennifer Jason Leigh) turns up to say that Anna is mad and they have never met.
Whatever they've spent on actors, the producers haven't stinted on behind-the-scenes talent either. Bruno Delbonnel lenses with a heavy accent on the amber murkiness behind the dusty net curtains and Danny Elfman scores with vigor as Anna weaves up and down a spiral staircase in Kevin Thompson's oddly dislocated set. Once again, though, it seems more like the work of a set of individuals than a piece of collaborative film-making.
As master of proceedings, Joe Wright doesn't seem convinced enough to tie the loose ends of the plot up into something that makes sense. A coda set nine months later is puzzlingly pointless and only seems to add to the running time, as if everyone is trying to cut their losses but nobody quite knows how to let go.
Production companies: Fox 2000, 20th Century Studios, Scott Rudin Productions
Worldwide distribution: Netflix
Producers: Scott Rudin, Eli Bush, Anthony Katagas
Screenplay: Tracy Letts, based on the novel by AJ Finn
Cinematography: Bruno Delbonnel
Production design: Kevin Thompson
Editing: Valerio Bonelli
Music: Danny Elfman
Main cast: Amy Adams, Julianne Moore, Gary Oldman, Wyatt Russell, Anthony Mackie, Fred Hechinger