Viola Davis stuns in this all-action, all-female, West Africa-set warrior epic from Sony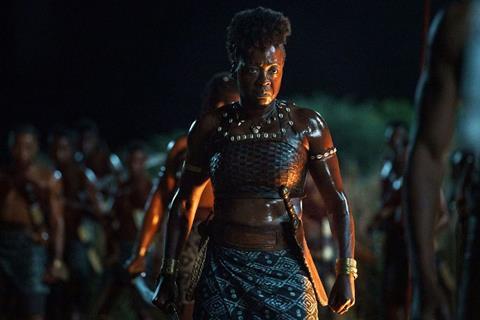 Dir: Gina Prince-Bythewood. US. 2022. 135 mins.
Viola Davis is a formidable force in The Woman King, a historical action-drama that builds to a sustained, emotional climax. This tale of a West African kingdom in the 1820s protected by an all-female team of warriors facing down an enemy with superior numbers and greater firepower is fortified by political commentary touching on slavery, colonialism and sexual abuse. Featuring an exceptional supporting performance from Thuso Mbedu as a young fighter hungry to prove herself, The Woman King doesn't always successfully juggle its myriad narrative ambitions, but director Gina Prince-Bythewood has crafted battle sequences that are exciting and moving at the same time.
A cathartic release that's sometimes overwhelmingly affecting
This Gala Presentation at the Toronto International Film Festival arrives in US theatres on September 16, with the UK rollout planned for early October. Davis, who also serves as a producer, will be a major draw, and she's joined in the ensemble by the likes of Lashana Lynch and John Boyega. Drawn from actual events, The Woman King will be one of the few action films at the multiplex at that time, although the fact that the picture isn't based on I.P. — a rarity these days for a studio — could make it a trickier commercial proposition.
The film takes place in 1823 in the Kingdom of Dahomey, where a young new king, Ghezo (Boyega), has taken the throne, his fearsome army led by the unyielding Agojie warrior Nanisca (Davis). They have a dangerous foe in the Oyo Empire, which desires to eradicate them, but as the Dahomey Kingdom prepares to go to battle with their well-armed enemies, who have horses and muskets, a mysterious young woman, Nawi (Mbedu), arrives as a new recruit for the Agojie army.
This historical epic juxtaposes large-scale action scenes with more intimate character drama, with writer Dana Stevens intertwining two warriors' sagas: the ageing Nanisca (whose visible scars belie the emotional ones no one can see) and the wilful young Nawi, who refused to be married off by her adoptive father and now wants to be a ferocious Agojie fighter. As we will discover, both women have had hard lives, which doesn't mean Nanisca immediately takes Nawi under her wing. Instead, Nanisca serves as a tough-love mentor — although a later shocking revelation will underline just how much they have in common.
Some of the film's twists can veer toward the melodramatic, but they help establish the emotional undercurrents coursing through the story. At the same time, Prince-Bythewood (The Old Guard) keeps a close eye on the cultural and political realities of the era, as Europeans plunder Africa and operate a prosperous slave trade. Whether it's a rival kingdom or these far-off invaders, the Dahomey people are imperilled on all sides, with shifting loyalties adding further complications. Some of the Africans conspire to enslave their neighbours, while the sensitive Malik, played by Jordan Bolger, is an outsider whose mother was from Dahomey but was captured and married off to a white European. Now back in his mother's homeland, he forges a friendship with Nawi, angered by the mistreatment he sees of the African people by the slave traders.
Sometimes, the film's grand canvas can be a touch unwieldy. (There's also a backstory concerning abuse Nanisca suffered years ago when she was taken prisoner.) But once the different story elements eventually slide into place, The Woman King gains momentum, setting the stage for a series of riveting set pieces that are as much about spectacle as they are about the buried traumas that Nanisca and her fellow warriors have endured. When the Agojie go into battle with their machetes at the ready, these women aren't just defending their kingdom but also fighting for female empowerment in a land where women are often treated shabbily. Their explosive war cries are about something deeper than just the thrill of battle — it's an expression of pent-up pain — and Prince-Bythewood gives their hand-to-hand combat a cathartic release that's sometimes overwhelmingly affecting.
Davis stuns in the most physically demanding role of her estimable career, although Mbedu nearly steals the show as the rising warrior Nawi, who will learn what true bravery looks like. And playing one of Nanisca's loyalest lieutenants, Lynch demonstrates the same steely authority that made her so appealing in last year's No Time To Die. Indeed, Prince-Bythewood celebrates these women warriors through impressive fight scenes that are athletic but realistic, eschewing the sort of CGI overkill that has run rampant in recent action films. Much like the Agojie, The Woman King is a scrappy underdog you'd be foolish to underestimate.
Production companies: JuVee Productions, Welle Entertainment
Worldwide distribution: Sony Pictures (eOne distributing in the UK)
Producers: Cathy Schulman, Viola Davis, Julius Tennon, Maria Bello
Screenplay: Dana Stevens
Cinematography: Polly Morgan
Production design: Akin McKenzie
Editing: Terilyn A. Shropshire
Music: Terence Blanchard
Main cast: Viola Davis, Thuso Mbedu, Lashana Lynch, Sheila Atim, Hero Fiennes Tiffin, John Boyega