Dir: Måns Månssson. Sweden/Germany, 2016. 78 mins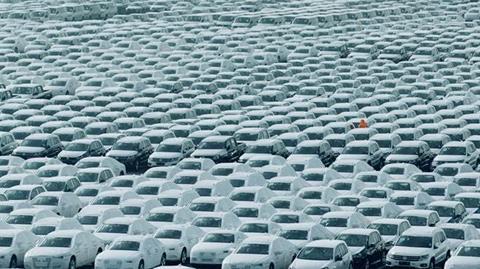 The dehumanising woes of industrial life – as experienced by a disillusioned poet – are given a discreetly stylised treatment in The Yard, a concise, involving feature by Måns Månssson, the Swedish director of 2014's Stranded in Canton. The deadpan execution and laconic narrative style could hardly be more Nordic: Månssson's approach has affinities with film-makers such as Aki Kaurismaki, Bent Hamer and Dagur Kari, with material that might have been heartwrenching handled instead with a stoic matter-of-factness that hovers on the verge of glum comedy.
This is about as glacial a film as one can imagine, both visually and in terms of the inhospitable climate it evokes.
With its engagingly minimal lead performance by Anders Mossling, and an increasingly evident edge of rage in its treatment of contemporary social issues, the film – a tight debut script by Sara Nameth from a novel by Kristian Lundberg – is ultimately a serious business, and an undemonstratively classy affair. A hard sell commercially, Månssson's film – which opened Gotheborg before heading to the Berlinale Forum - should win ample respect on the fest circuit.
Mossling plays a middle-aged man living in Malmö, whose name we never learn, and whose wife is absent (departed? dead?) for unspecified reasons. He's a poet – and, we're given to understand, quite a good one. But par for the course, he'll never be rich or famous: he's seen at the start reading his verse in a cavernous hall, to a mere handful of polite listeners. Thoroughly depressed, he has also committed professional suicide by giving his own recent book a critical pasting.
Unable to feed himself and his uncommunicative teenage son (Axel Roos), the poet finds himself a job – deliberately avoiding the white-collar work he's apparently qualified for, and signing up instead as a low-paid drone at a car import yard. Here, the workers, many of them immigrants, are identified only by numbers – our man becomes '11811' – and spend their time in orange uniforms patrolling a vast yard in which their top halves of their bodies appear in the distance, tiny specks on an ocean of white cars.
The only joy '11811' gets out of life is his occasional nocturnal scuba dives– atmospherically shot, with eerie lights shining out of the sea. His only moment of human contact is when he stands up for an Arab co-worker (Hilal Shonam), who asks him to help out with some private business – a scene which reveals that, no matter how low someone is on the social ladder, there are always others lower down and needier. Eventually, '11811' learns that the only way a worker can get ahead in this job is to inform on colleagues – a theme which makes the film's critique of work culture very much of a piece with a recent French drama, Stéphane Brizé's The Measure of a Man.
Rigorously but unobtrusively stylised, The Yard uses a palette high on pale blues and greys, with the yard of cars a polar white: this is about as glacial a film as one can imagine, both visually and in terms of the inhospitable climate it evokes. The compositions often suggest a succession of sparse comic-strip frames, sometimes with a subtle visual twist; in one scene, '11811' sits alone on a bus, a vertical bar perfectly placed to obscure his face. A shot looking in on a restaurant by night has an elegant touch of Edward Hopper melancholy.
Many of the cast, dressed in orange overalls, are presented as being as interchangeable as the cars they work among – and the only character given a name in the credits, yard foreman Jonas (Bengtsson), embodies a system that specialises in dehumanising its workforce. Lead actor Mossling is dishevelled, unprepossessing and sallow-faced, yet his character's hangdog ordinariness and everyday vulnerability make him increasingly sympathetic, even quietly heroic as he rises above the indignities that the film presents as endemic to the modern working life. The subplot involving his co-worker shows that it's invariably immigrants who get the worst of it – a theme that could hardly be timelier in European cinema. On the soundtrack, dramatic flourishes of Verdi and a background wash of Demis Roussos's Forever and Ever function as ironic asides.
Production companies: Anagram Film & TV, Film I Skåne, Sveriges Television, Lucky Bird Pictures
International sales: The Yellow Affair, miira@yellowaffair.com
Producer: Emma Åkersdotter Ronge
Executive producer: Gunnar Carlsson
Screenplay: Sara Nameth
From the book by Kristian Lundberg
Cinematography: Ita Zbroniec-Zajt
Production designer: Lene Willumsen
Editor: George Cragg
Main cast: Anders Mossling, Hilal Shonam, Robert Bengtsson, Axel Roos