Dir. Lone Scherfig. UK, 2016. 110 mins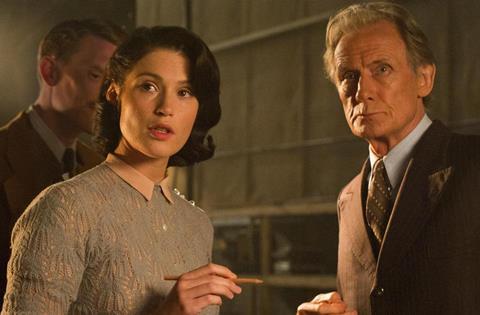 The creation of morale-boosting wartime propaganda films is the fondly-etched heart of Their Finest, a sweetly nostalgic adaptation of the 2009 Lissa Evans novel. Director Lone Scherfig's sentimental approach favours easy laughs and warm romance but the film starts to cut a little deeper in its closing stages.
Bill Nighy is a complete hoot as an endlessly conceited old ham struggling to adjust to the fact that he is no longer the dashing young lead
The subject matter and a top-notch British cast led by Gemma Arterton and the effortlessly beguiling Bill Nighy should have a combined appeal to the same older demographic who have previously savoured Mrs Henderson Presents (2005), My Week with Marilyn (2011) or even this year's remake of Dad's Army.
Initially, Their Finest seems intent on viewing Britain's darkest hours from a lightly feminist perspective as Welsh wordsmith Catrin Cole (Gemma Arterton) is hired to work for the Ministry Of Information Film Division. At the height of the Blitz, she is expected to add a female perspective to films that lift the national mood and encourage everyone to keep calm and carry on. She is soon fighting patronising male attitudes on all fronts from a husband (Jack Huston) who would prefer that she remained at home, to officials who call any film's female dialogue "the slop".
The chance to make a real difference comes when the division is asked to collaborate on a feature film that will inspire the nation and encourage America to enter the war. The story of twin sisters who sailed their family boat as part of the Dunkirk retreat seems ideal. Catrin joins writer Tom Buckley (Sam Claflin) in embellishing reality to devise a screenplay that is "authentic" and "informed by optimism".
Scherfig and her cast of British stalwarts have fun playing up the comic absurdity of pompous politicians and crass bureaucrats and the film is breezily entertaining if a little on the shallow side The recreation of wartime London feels very clean and bright and has clearly been achieved on a limited budget.
Their Finest broadens its scope when production finally begins on the big picture and there are echoes of the Coen brothers Hail, Caesar! in all the ensuing troubles with rampant egos and the woeful efforts of one non-professional actor, handsome but wooden RAF pilot Carl Lundbeck (Jake Lacy). Bill Nighy is a complete hoot as Ambroise Hilliard, an endlessly conceited old ham struggling to adjust to the fact that he is no longer the dashing young lead or always the centre of attention. It is a tailor-made role and Nighy wears it with aplomb, displaying pitch perfect comic timing in his delivery of some choice one-liners. "It's not veal in the pre-War sense," he drily observes of one restaurant dish. It is hardly a role that pushes Nighy beyond his comfort zone but it could be just the kind of supporting performance to catch the eye of a BAFTA voter.
Just when you feel the film has settled for being a jolly little, soft-centred jape, it redeems itself with an unexpected sting, rallying to become a heart tugging salute to all the impossible dreamers who believe in the magic of the movies.Turning full circle, Their Finest also shifts the focus back to Catrin and the way the Second World War provided so many opportunities for women to smash the barriers of sexism and start building a brave new world.
Production companies: Number 9 Films, Wildgaze Films
International sales: HanWay Films info@hanwayfilms.com
Producers: Stephen Woolley, Amanda Posey, Finola Dwyer, Elizabeth Karlsen
Screenplay: Gaby Chiappe based on the novel Their Finest Hour And A Half by Lissa Evans
Cinematography: Sebastian Blenkov
Editor: Lucia Zucchetti
Prod des: Alice Normington
Music: Rachel Portman
Main cast: Gemma Arterton, Sam Claflin, Bill Nighy, Jack Huston, Helen McCrory, Eddie Marsan