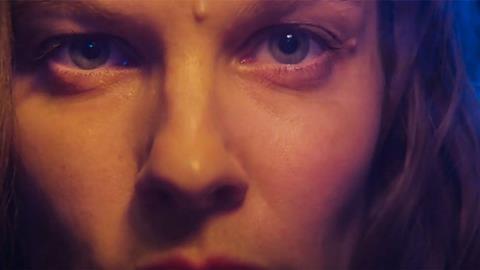 Dir. Nathan Silver. US/France. 2017. 83 minutes
A love-struck American flight attendant spirals into a sado-masochistic fixation with a loutish French bartender in Thirst Street, a tale of obsession directed by Nathan Silver in gauzy hues that recall the 1970s. While he's a prolific indie director, Thirst Street is the first film Silver has shot in France, with some French money and with much of the dialogue in French, often spoken badly by errant flight attendant Gina (Lindsay Burdge from 2017's XX, and A Teacher, 2013).
The script weaponises stereotypes about French phallocratic sangfroid
A voice-over narration by Anjelica Houston gives the film the vocal patina of an emotionless fairy tale, yet the gonzo love story takes you to the far side of Fassbinder. Love hurts, especially when you're wearing an airline scarf. There's enough history and horror here to get the film nerds quite aroused, which means blog support for a strong run on the festival circuit. (Given the current fallout from United Airlines, anything with flight attendants might give a film a special frisson these days.) Arthouse dates could follow, especially if Lindsay Burdge's indie career continues to take off.
The matrix of Thirst Street is crazy love. Gina, whose lover has recently killed himself, has a one-night stand on a lay-over with Jerome (Damien Bonnard, who also plays her earlier lover). He's a barkeep in a strip joint that she and fellow flight attendants found in a guidebook. She's over the moon, and ditches her job to move to Paris, living across the street from this lout with a bad moustache who is as sleazy as they come. Each brushoff from the womanising Jerome is more degrading, as is her treatment when she finds work serving drinks in his basement club - where she's never quite sexy enough for Franz (Jacques Nolot), a boss sour enough to charm Abel Ferrara.
It's a dramatic torch song on the indie cheap as Gina drags herself through the litter of Jerome's world, more of a study in melodramatic self-destruction than anything too realistic.
Silver infuses some novelty into his Perils Of Pauline narrative, thanks to an extreme performance by Burdge, who plays the credulous lovesick naif to the hilt. It helps that the actress has the small-town look of an indie Sandra Bullock, especially in her flight attendant's uniform. (Jerome says that it turns him on, and she learns a few new French words to tell him that she's wearing it.) The 70s look of the film and the occasional campiness distract you from the question of why Burdge would want to play such a deluded, tormented, abject woman, decades into the era of feminism.
Silver's exercise is also propelled by the foulness of the film's villain, Jerome. Bonnard plays the loathsome lothario as more insouciant than purposeful in his abuse, as the script weaponises stereotypes about French phallocratic sangfroid. Mistreatment comes with a shrug, not with a shout.
Anna Brun's production design frames Gina's fixation inside ordinary Paris apartments and Jerome's seedy bar, deliberately eschewing the lyricism of the city. The drama's relentlessness can feel like a youthful academic gambit, yet the film is more a work of heightening intensity, as each degradation tops the next, like musical variations that get more and more challenging to play.
Burdge is game for this mania, and so is Bonnard, yet the wild process of love as horror lacks something at its core, as if a young director is trying his hardest to get the notes right and then play them louder. Silver's immersion in France has plumbed the grit and the gut. We're still waiting for the heart.
Production companies: In Vivo Films, Industry Standard Films, Maudit, PaperMoon Films, Washington Square Films, Yellow Bear Films, Tim Films, The Third Generation, Solab Pictures
International sales: Stray Dogs nathan@straydogs.com
Producers: Louise Bellicaud, Claire Charles-Gervais, Josh Mandel, C. Mason Wells, Ruben Amar, Katie Stern, Joshua Blum, Matthew Ellison, David Solal, Elsa Leeb, Jordan Goldnadel
Executive producers: Jason Dreyer, Todd Remis, David Moscow, Armin Tehrany, Valerie Tehrany, Andrew Morrison
Screenplay: Nathan Silver, C. Mason Wells
Cinematography: Sean Price Williams
Editors: Hugo Lemant, John Magary
Production design: Anna Brun
Music: Paul Grimstad
Main cast: Lindsay Burdge, Damien Bonnard, Esther Garrel, Lola Bessis, Jacques Nolot, Francoise Lebrun, Cindy Silver, Anjelica Huston