A rookie cop tracks a serial-killer cannibal in this disquieting true crime thriller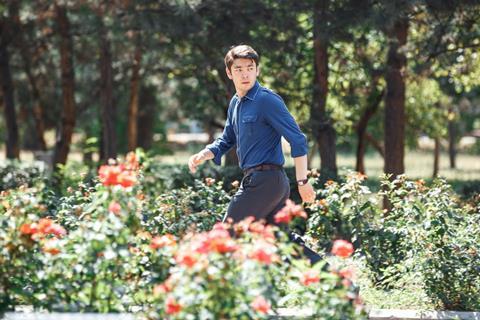 Dir: Ruslan Pak. Kazakhstan/South Korea/Uzbekistan. 2020. 112 mins
The town of Kaskelen in southeastern Soviet Kazakhstan serves as the hunting ground for a cannibalistic killer in Ruslan Pak's disquieting true crime thriller Three. Set in 1979, the film is inspired by the crimes of Nikolai Espolovich Dzhumagaliev, otherwise known as "Metal Fang", who killed and cannibalised at least nine people before being imprisoned in a mental hospital. Despite the potential for grisly shocks, Pak eschews graphic gore in favour of examining the corrosive influence the case exerts on a rookie police officer whose personal and professional foundations are shattered by his encounter with absolute evil.
An engrossing procedural that may not exactly reinvent the wheel but definitely gives it a unique spin
Receiving its world premiere in the New Currents strand of the Busan International Film Festival, Three looks set for further engagements at Asian and genre-focused events, where its status as a co-production between Kazakhstan, South Korea and Uzbekistan will pique curiosity within any lineup. Specialty theatrical exhibition is possible internationally, with strong streaming revenues likely given that Three not only operates within a durable genre wheelhouse but evinces a decidedly off-kilter sensibility which should prompt word-of-mouth recommendation.
After opening with a sinister glimpse of the killer, we're introduced to Sher Sadikhov (Askar Ilyassov), who is starting an internship with the police department. A bit of an outlier in that he doesn't drink or smoke and spends his evenings reading philosophy, Sher is excited by the prospect of a career in law enforcement having been mollycoddled by his over-protective older sister Dina (Samal Yeslyamova), who effectively raised him following their parents' premature passing. However, he gets more than he bargained for when the discoveries of a severed head and an unrelated body with precise stab wounds indicate that a serial killer is on the loose.
Wary of Sher's inexperience, respected veteran Colonel Oleg Snegirev (Igor Savochkin) closely monitors his role in the investigation but recognises the new recruit's intuitive abilities. Working with seasoned inspector Daniyar (Nurzhan Sadybekov), Sher sets about interviewing suspects and monitoring secluded areas after hours, much to the consternation of Dina, who insists the job is far too dangerous. She may have a point as Sher gets a bloody nose on his first shift and is subsequently mauled by a dog, but proves his mettle by promptly bouncing back. However, when Dina becomes the latest woman to go missing, Sher is pushed to the breaking point.
This is a belated second feature from Pak who made a splash on the festival circuit with his well-received debut Hanaan (2011) and really hits his stride here. The narrative confidently unfolds with a deliberate rhythm that befits the time and place, allowing for a measure of observational humour without sacrificing the requisite unease. The investigation develops in a gradual fashion, mirroring a police force that is diligent yet limited in resources. (Dina takes crime-scene photographs with a camera smuggled from Germany.) We see an emphasis on interview methods, including a haunting false confession, while the eventual confrontations with the killer are staged in a clumsily realistic manner. Pak also addresses how the best efforts of these public servants are under-appreciated by an image-conscious state that is more concerned about how news of a cannibalistic killer could negatively impact the 1980 Moscow Olympic Games if they were to come to international attention.
All the performances are solid, with Ilyassov suitably cast as the eager newbie whose unhealthy fascination with particular aspects of the case proves all too consuming. Although the film echoes a litany of South Korean thrillers which have pitted good against evil, and found the former perilously crossing certain lines, Ilyassov's fresh-faced likability makes this an unsettling variation. An especially tense scene in which Sher searches a suspect's house sees Ilyassov nail a heightened mix of sharp instincts and wrenching personal duress. His boyish earnestness plays well off the sternly composed Savochkin, whose sage mentor figure provides concerned advice when needed but is still sufficiently old-school to slam Sher against the wall for entering his office without knocking.
Three feels authentic thanks to Azamat Konakbaev's lived-in production design, while connoisseurs of Soviet posters will have a field day with the striking images and national slogans which are sometimes prominent in the frame but often left partially obscured in the background. Kim Hyung-jun's first-rate cinematography accentuates vintage colours in the initial stretch but gets progressively gloomier, and there are some choice bursts of deep red, particularly when the homely Dina embarks on a fateful night out.
Another plus is the varied yet tonally consistent score by NST (No Son Taek), which segues from melancholic Kazakh themes to discordant strings underpinned by fiendishly nervous percussion. These elements add considerable atmosphere to an engrossing procedural that may not exactly reinvent the wheel but definitely gives it a unique spin.
Production Company: Arslan Film
International sales: M-Line Distribution, sales@mline-distribution.com
Producer: Ruslan Pak
Screenplay: Anna Ovcharov, Ruslan Pak
Production design: Azamat Konakbaev
Editing: Son Yeon-ji
Cinematography: Kim Hyung-jun
Music: NST
Main cast: Askar Ilyassov, Igor Savochkin, Samal Yeslyamova, Nurzhan Sadybekov