Richard Gere is a psychiatric doctor for patients played by Peter Dinklage, Walton Goggins and Bradley Whitford.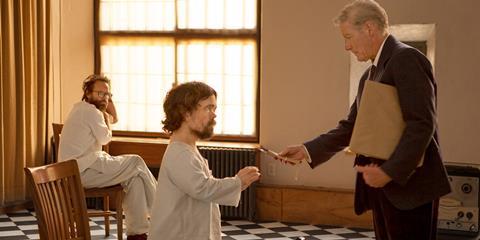 Dir. Jon Avnet. US. 2017. 118mins
Dramatising actual events, Three Christs tells the story of an American doctor trying to make a breakthrough with three paranoid schizophrenics who all believe they're Jesus Christ, but this inert film contains few revelations and little resembling the divine. Richard Gere is mildly compelling as the sensitive, ambitious doctor, while director Jon Avnet overemphasises the tasteful melodrama, resulting in a story with all the strained delicacy of a prestige picture without any of the searing artistry.
The patients don't come across as truly troubled — they seem like thespians taking a stab at 'crazy', which feels condescending.
Three Christs premiered at the Toronto Film Festival, where it will court buyers attracted by the movie's impressive cast. (Peter Dinklage, Walton Goggins and Bradley Whitford are the film's titular mental patients.) There's probably always an audience for dramas set in the world of psychiatric hospitals, but notices probably won't inspire much excitement for this somnolent effort.
Set between 1959 and 1960, Three Christs introduces us to Dr. Alan Stone, who learns that two mental patients at the hospital where he has just taken up residence believe they're the son of God. He meets the brooding Joseph (Dinklage) and the anxious Clyde (Whitford), only to discover that a third patient, Leon (Goggins), also insists he's Jesus. Stone, with the help of an attractive young assistant named Becky (Charlotte Hope), decides that he wants to put the three patients together, curious what will happen when they meet others who share their particular delusion.
Based on a published study concerning three such patients, the film has an inviting premise, and its time period is also engaging given Three Christs takes place in an era when psychiatric care still mostly involved cruel practices such as electroshock therapy and lobotomies. Stone, a fictional character inspired by the study's author, Milton Rokeach, wants to prove that by actively engaging with schizophrenics, real progress can be made — and he sees these three men as a way to advance his theory.
There's not much nuance to the film's narrative, however, which means to expose how Stone, just like his patients, has his own god complex. Gere is too reserved to convince as an egotist, while the individual patients are reduced to psych-ward clichés. Dinklage, Whitford and Goggins are all fine actors, but in Three Christs, there's too much hammy emoting and affected line readings. Put simply, the patients don't come across as truly troubled — they seem like thespians taking a stab at "crazy," which feels condescending.
Avnet, making his first feature since 2008's Righteous Kill after a decade of television directing, slathers solemnity all over the story, hinting at erotic and psychological undercurrents that aren't well-addressed. Quickly, Stone realises that the patients — especially Leon — are falling in love with Becky, which introduces some sexual tension to their sessions. (Simultaneously, Becky is trying to suppress a crush she has on Stone.) Three Christs takes a half-hearted stab at investigating the reasons that drew Stone and Becky to this kind of work — they both have family secrets — and Stone's relationship with his brilliant, alcoholic wife (Julianna Margulies) is also broadly explored. But for a film about plumbing the depths of the soul, it demonstrates shows very faint inquisitiveness about the mysteries of human nature.
In its place, Three Christs assaults the viewer with manipulative twists — chief among them being the death of one of the main characters in a way that's predictable and irritatingly drawn-out. Trite showdowns between Stone and the callous heads of the state hospital play out with minimal tension. And some decent supporting performances, including Hope as an impressionable woman who starts to wonder what she's signed up for, are for nought, overwhelmed by the suffocatingly genteel proceedings.
Production companies: Narrative Capital, Brooklyn Films, Highland Title Group, Ostar, HFP
International sales: CAA, filmsales@caa.com
Producers: Daniel Levin, Molly Hassell, Jon Avnet, Dr. Aaron Stern
Executive producers: Arianne Fraser, Delphine Perrier, Henry Winterstern, Bill Haber, Steven Haft
Screenplay: Eric Nazarian & Jon Avnet, based upon the book The Three Christs Of Ypsilanti by Dr. Milton Rokeach
Cinematography: Denis Lenoir
Production design: Stephanie Carroll
Editor: Patrick J. Don Vito
Music: Jeff Russo
Main Cast: Richard Gere, Peter Dinklage, Walton Goggins, Bradley Whitford, Charlotte Hope, Kevin Pollak, Stephen Root, Jane Alexander, Julianna Margulies