A woman attempts to bring justice against the man she says date-raped her in this accomplished Belgian debut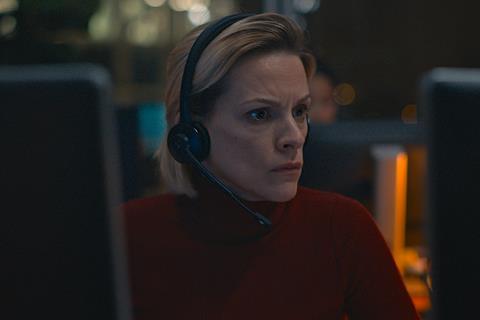 Dir/scr: Delphine Girard. Belgium/France. 2023. 108mins
For a film centred on a violent sexual assault, Through The Night takes a bracingly quiet and measured approach. Continuing a narrative first explored in her 2020 Oscar-nominated short A Sister, debut feature writer/director Delphine Girard is not so much concerned with the event itself but its aftermath, as experienced by three key individuals: the victim, the alleged perpetrator and the quick-thinking emergency responder (a set-up it shares with 2018 Danish thriller The Guilty and its 2021 US remake). With strong central performances and confident handling of an evergreen subject, it may well find further attention from festivals and perhaps curated streamers following its Venice premiere and subsequent Chicago and San Sebastian berths.
Confident handling of an evergreen subject
The film opens with that desperate emergency call although, at first, we are not quite sure what we are witnessing. A car speeds along a dark road somewhere in Belgium, its male driver and female passenger silent — although his speeding, and her ragged breathing, suggest something is decidedly off. The camera sits behind the woman, silhouetted in the dark, as she calls her sister for a seemingly benign, if stilted, conversation. The sequence then replays from the perspective of the woman on the other end of that call; a 911 responder named Anna (Veerle Baetens).
From this propulsive, neon-hued opening, we are thrust into the relative calm of a beige police interview room where the victim, Aly (a restrained Selma Alaoui), is interviewed about her experience. The female officer shows no emotion when Aly says she was raped by the driver of the car, Dary (Guillaume Duhesme). Indeed, the nature of the questioning — "So, it was your idea to go to a bar?" — suggests the uphill battle that Aly will face; particularly as Dary is adamant the encounter was consensual. "I believe you," says the same police office to Aly later in the film, "but for a court it is ambiguous."
This theme of ambiguity, of shifting perspectives, continues throughout the film, which follows Aly, Dary and Anna in the days, weeks and months after the incident; three individual story strands woven tightly together by Girard and editor Damien Keyeux. Occasional flashbacks slowly piece together the night in question, with the truth only revealed late in proceedings. With Dary refuting her claims, it is up to Aly to prove his guilt, and her behaviour does not fit into the traditional role of 'victim.' She defiantly gets on with her life although cracks do appear, highlighted by at-a-remove framing by cinematographer Juliette Van Dormael and fractured editing. She is restless, unable to settle, going through the motions of normality.
Conversely, as he waits for a trial which takes two years to be heard, Dary is seemingly able to trade on his reputation — as a decent man and a loyal son to his mother (a small but memorable performance from Anne Dormal) — to move on with his life, complete with a smitten new partner. Duhesme also gives a layered performance; this is a man driven by deep-rooted frustrations (stemming, it is hinted, from a difficult childhood) who struggles to deal with the psychological fallout as past demons catch up with him.
But Through The Night is not Dary's journey to redemption or atonement, nor indeed Aly's to forgiveness or acceptance – even if a scene in which Anna and Aly finally meet, a cathartic, drink-and-dance-fuelled sequence of solidarity also involving Aly's sister Lulu (Adele Wismes), seems overly-constructed to offer some degree of closure. It is more complicated, nuanced, messy and real than that.
Production company: Versus Production
International sales: Playtim info@playtime.group
Producer: Jacques-Henri Bronckart
Screenplay: Delphine Girard
Cinematography: Juliette Van Dormael
Production design: Eve Martin
Editing: Damien Keyeux
Music: Ben Shemie
Main cast: Selma Alaoui, Guillaume Duhesme, Veerle Baetens, Adele Wismes, Anne Dormal