Andrew Garfield puts on a show for Netflix and Lin-Manuel Miranda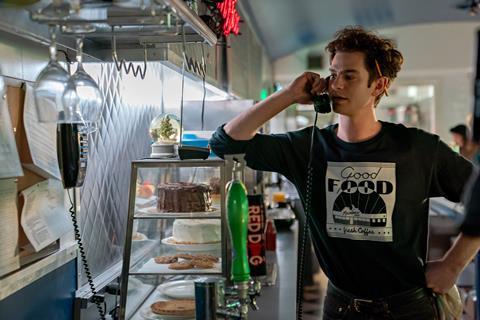 Dir. Lin-Manuel Miranda. US. 2021, 120 mins.
All the world's a stage for Lin-Manuel Miranda, and for his feature directorial debut the creator of Hamilton and In The Heights tracks the frantic struggle of the late Jonathan Larson, who wrote Rent, to get his work seen and shown as he counts down to his 30th birthday in 1990. Broadway is a small world, though, and this energetic, insider-ish musical goes from stage to stage within it. Strenuously heartfelt, Tick,Tick…Boom! belts it out like a pro, but increasingly feels as if it's raising the volume to an emptying room.
Netflix will probably strain for a nomination for Garfield as hard as he stretches himself to portray Larson here
Set for global release through Netflix after opening AFI Fest (in cinemas from November 12 and online from the 19th), Tick,Tick…Boom! has a unique structure and back-story but is essentially a paean to Broadway and the struggle to get a foothold on its stages. Miranda has recreated a quintessentially American, specifically New York world, casting British actor Andrew Garfield, who learned to sing for the role, as Larson. Vocally, it's a pass, and the musical numbers are lively and smoothly choreographed with an eye to naturalism by Ryan Heffington; Garfield strains, though, to differentiate the performer from the performance. The showpieces convince: it's the humanity of the story that doesn't quite resonate as it should.
Miranda himself once performed Tick,Tick…Boom! off Broadway, and Larson's struggle was one he could personally relate to. Dubbed a 'rock monologue' by Larson at the time he created and starred in it, this one-man show was a personal, melodic recollection of his efforts to write a never-produced musical called Superbia. Miranda mixes this show - shot as archival home video - with reconstructions of that struggle, charting the ups and downs of his friendships (mainly with Robin de Jesus), relationship (with Alexandra Shipp), and attempts to get Superbia showcased. Stephen Sondheim (Bradley Whitfield) has a part to play, but there are a lot of cameos and in-house references here, and Sondheim (and a Sunday In The Park With George tribute) is only one of many.
Guiding this elaborate lattice is the assumption that audiences are completely au fait with the world of Broadway and the significance of Rent within it — for example, original Rent performers Vanessa Hudgens and Joshua Henry are showcased here as part of Larson's troupe (in Tick,Tick…Boom! itself…and the workshops for Superbia). They're powerful artists, in a different league to Garfield as a musical talent, and it just about works if audiences buy into the fact that the creator of the music would be scratchier than the professional cast performing it. No overt reference is made to Rent, which was a revolutionary production centred around the AIDS crisis, but both underline Miranda's period film.
Also explicit from the start is the fact that Larson died suddenly of an aortic aneurysm at the age of 35 on the day Rent was first performed, so the theme of the ticking clock, and the constant references to time running out are supposed to add an implied urgency to the film. They certainly provide poignancy, yet Larson obviously didn't know he would die while he was writing Tick,Tick…Boom!, Suburbia or even Rent, so this doesn't really connect emotionally until the end credits when real-life video footage of Larson arrives. Listening to multiple songs with Garfield agonising over turning 30 can quickly get old as well (especially when the actor is clearly older than 29).
Instead, the pathos comes from a heavily-signposted threat of HIV in his friend group, a relationship split, and the success or failure of Superbia. However, if the audience knows about Rent, it's the same crowd which will already be aware that Superbia was never performed and Tick,Tick…Boom! is a fairly good indication of why not. While some of the musical numbers here are fabulously staged, including '30/90', 'This is The life', 'Come To Your Senses', and the cute tribute 'Sunday', others are less than memorable, with clunky lyrics ('how can he make his mark/if he gives up his spark?'). There's a 'breakthrough' sequence with Garfield swimming laps which really does feel like watching a person swim laps, and not in a good way. The 'off-stage' relationships all feel like they're being pitched at the back of the gallery.
For those who swim in the world of Broadway, like Miranda and his collaborators, or worship at the feet of Sondheim — legions, justifiably – Tick,Tick…Boom! will be a natural watch, most likely on the streaming service as opposed to its theatrical awards-qualifying run (Netflix will probably strain for a nomination for Garfield as hard as he stretches himself to portray Larson here). Outside that world, though, it remains a doubtful prospect. The streaming service has requested that advance notices do not reveal some of the cast who make cameo appearances: sadly, the chances are that many viewers new to the scene may not even get that far.
Production companies: Imagine Entertainment, 5000 Broadway Productions
Worldwide distribution: Netflix
Producers: Brian Grazer, Ron Howard, Julie Oh, Lin-Manuel Miranda
Screenplay: Steven Levenson, based on the musical by Jonathan Larson
Production design: Alex Digerlando
Cinematography: Alice Brooks
Editing: Myron Kerstein, Andrew Weisblum
Music (songs and score): Jonathan Larson
Main cast: Andrew Garfield, Alexandra Shipp. Robin de Jesus, Joshua Henry, MJ Rodriquez, Bradley Whitford, Judith Light, Vanessa Hudgens.