Dir. David Kaplan. US. 2008. 99mins.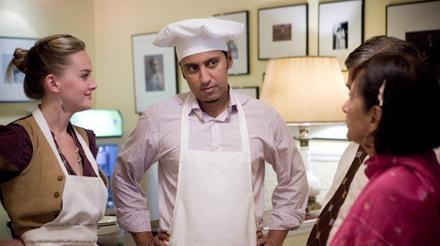 In Today's Special, a first generation Indian chef intent on traveling to France to savour haute cuisine is instead forced to step in and take over his father's ailing "Tandoori Palace" in Brooklyn.
Today's Special works best when dealing with Samir's immigrant parents and friends
A gently charming if not particularly dynamic piece, this seems suited for a TV setting where its amiable qualities might best be devoured. Like its protagonist, sous chef Samir (Mandvi), Today's Special seems to lack the flair or forcefulness to carve out theatrical action, but there's enough in here to appeal to wider cable audiences internationally and secure a happy ending.
Drawing inspiration from a host of foodie rom coms but bringing its own masala to the mix, Today's Special draws a sympathetic performance from British-born Mandvi, who wrote the original play (or one-man show) and is known in the US as an occasional correspondent on Jon Stewart's The Daily Show.
Here he plays Samir, passed over for promotion at an upscale Manhattan restaurant by sneering star chef Steve (Dean Winters). He quits in a huff and makes plans to go to France, but is forced to step in and run the Tandoori Palace when his father suffers a heart attack (amusingly, this dilapidated crustbucket advertises itself as "serving halal and kosher cuisine from the Indian Subcotinant").
The kitchen is a mess and Samir doesn't help by being dismissive and ignorant of Indian cuisine. He has been at odds with his father (Harish Patel) since the death of his older brother in an accidental car crash. Samir's mother, meanwhile, played by renowned chef and food author Madhur Jaffrey, is preoccupied with finding a wife for her sole surviving child. She only ventures inside the Tandoori Palace kitchen once; surprising, given it's now the entire family's livelihood.
When the Tandoori Palace's repulsive and toothless chef storms out, Samir drafts in a roguish taxi driver called Akbar (Naseeruddin Shah) who claims to have cooked for Indira Ghandi and dispenses new-agey words of wisdom along with his recipes. Akbar never seems anything more than a device, however, and one from a not-particularly-inspired menu. A romance between Samir and a fellow chef (Jess Weixler) which could have brought a Crossing Delancey feel to the film also seems warmed over.
Today's Special works best when dealing with Samir's immigrant parents and friends and the weight of expectation on their offspring, the first generation to be born in the US. Samir himself is also effective, caught between two colourful worlds.
Technically, this ticks the boxes while not being notably cinematic.
To sign up for Screen's weekly Reviews Newsletter with all the week's new releases, international openings and full festival reviews delivered free to your mailbox every Friday, please click HERE
Production companies
Inimitable Pictures
Sweet 180
International sales
Inimitable Pictures
+ 1 917 287 6863
Producers
Lillian Lasalle
Nimitt Mankad
Screenplay
Asif Mandvi
Jonathan Bines
Inspired by the play Sakina's Restaurant by Asif Mandvi
Cinematogaphy
David Tumblety
Production design
Darcy C. Scanlin
Editor
Chris Houghton
Rich Fox
Main cast:
Aasif Mandvi
Jess Weixler
Madhur Jaffrey
Harish Patel
Kevin Corrigan
Dean Winters
Naseeruddin Shah