A gentle surrogate comedy starring Ed Helms and Patti Harrison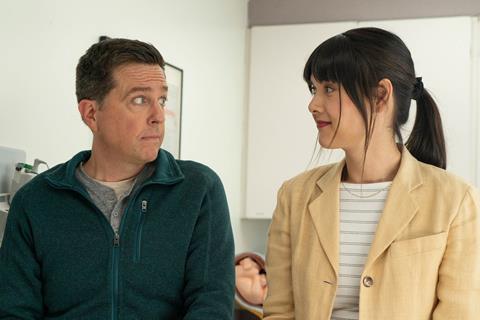 Dir/scr: Nikole Beckwith. US. 2019. 90 mins.
A sweet-natured slip of a film about a single, ageing father-to-be (Ed Helms) and the millennial surrogate mother he chooses (transgender comedian and actor Patti Harrison), Together Together premieres in the US Competition at Sundance Online for director Nikole Beckwith, following Stockholm, Pennsylvania with a pairing that has real chemistry onscreen even as the film they're in adds up to very little. Perfect for the streaming scene that the world is locked into, where its interesting cast and relationship with the work of Woody Allen will draw nods of approval, this three-trimester two-hander is a natural for core Sundance crowds.
Together Together makes for comfortable viewing elevated by Harrison's sparky presence
In fact, Together Together stands to do better internationally than might otherwise have been the case: small US titles have struggled in the past to perform outside their domestic market on the traditional sales chain. And it's a nice progression for Beckwith, even if she struggles to bring her story to 83 minutes without credits. Casting a transgender actor in the lead role is bound to draw more attention to her piece than it might otherwise have elicited.
Working off a sliver of a plot (and budget, judging by the locales), Together Together tells the Allen-esque story of this couple brought together by an advertisement. It starts with an interview, conducted by 45-year-old software developer Matt (Helms, playing a man whose most successful product is the 'Loner' app where you see other people's personal photos without them knowing). It becomes clear during the interview that he's looking for a surrogate mother to carry his longed-for child, and selects Anna (Harrison, the star of the show and the film's true love interest). Anna has some experience in this field, having given up a baby for adoption as a teenager.
Harrison's laconic delivery carries her character, even though loner Anna isn't terribly well-shaded. Estranged from her disapproving family, living alone in California having left her friends behind, she works in a coffee shop with uber-camp barista Jules (Julio Torres, who seems to have taken inspiration from Zosia Mamet's character in Girls). She forms a friendship with the fussy man-child Matt, dominated by his mother but desperate to strike out by himself after a series of failed relationships. He teaches her about Friends, which she's never heard of (because she's a millennial), but when she later delivers a lecture on the age difference between characters in Woody Allen films, including Manhattan, it's clear her tastes are eclectic. She wants her surrogate fee in order to return to college.
Matt is a standard straight guy, in the filmic sense of the word, there to provide a gently geeky counterpoint to Anna's edge. The film is at its most poignant when she comes to realise how lonely she really is, and how much she has missed out on due to one teenage mistake. The fact this mostly goes unspoken is a credit to Harrison and Beckwith's partnership.
Helms, the film's main commercial draw, mostly resists the urge to mug his way through, while supporting characters can be very hit-and-miss, and Beckwith struggles to level the film's deadpan tone with all of them. (Tig Notaro's cameo comes to nothing, for example.) Matt edges closer to Anna as she tries to manage her emotions in advance of the birth; they shop for the baby together, decide to name it Lamp while in utero, as Peanut is "too human", attend self-help groups and a funny, new-agey Lamaze class led by Shaylene (Anna Konkle). This could be termed a will-they, won't-they romance, but there's very little investment on the suspense element of the story, with Beckwith preferring to set her camera back and observe gently.
Dealing in a fairly placid way with the issue of surrogacy (unlike, say, the currently-on-release The Surrogate), Together Together makes for comfortable viewing elevated by Harrison's sparky presence. Furthering the Woody Allen mood, end credits replicate his identifiable typeface, although the music here could do with some jazzing up.
Production companies: Wild Idea, Haven Entertainment.
International sales: Bleecker Street
Producer: Anthony Brandonisio
Cinematography: Frank Barrera
Editing: Annette Davey
Production design: Ashley Fenton
Music: Alex Somers
Main cast: Ed Helms, Patti Harrison, Tig Notaro, Anna Konkle, Nora Dunn, Sufe Bradshaw