The cat, the mouse, and Chloe Grace Moretz, are far more animated than the film they appear in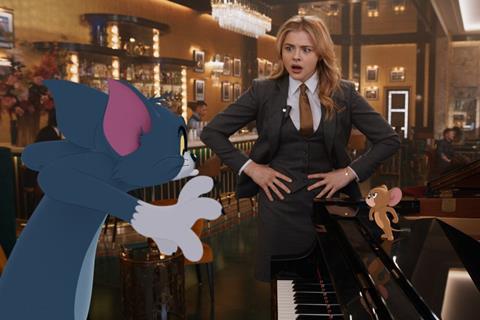 Dir: Tim Story. US. 2020. 101mins.
There's a lot of violent slapstick in Tom And Jerry, but this live-action/animation hybrid is mostly harmless, bringing back the venerable cat-and-mouse combatants for a hyperactive, forgettable escapade. Although the Hanna-Barbera creations get their name in the title, the real star is Chloe Grace Moretz, whose wide-eyed ebullience and irreverent sense of humour help distract from a bland story involving a fancy wedding and a young woman's desire to prove herself. Geared to younger audiences but featuring faded pop-cultural references for their parents, this family picture finds Warner Animation lagging behind its Disney counterparts — a fact Tom And Jerry cheekily acknowledges early on.
Benign silliness
Launching in US theatres and on HBO Max on February 26 after hitting other territories earlier this month, the film is the first major all-ages animation since The Croods: A New Age and Soul, and continues a franchise that started in 1940. (The last theatrical release for these characters, Tom And Jerry: The Movie, came out in 1992.) Moretz's star power will be a plus, and she's joined by Michael Pena and Rob Delaney in a game ensemble that tries to sell the picture's benign silliness.
Director Tim Story (Ride Along) takes Tom and Jerry to New York, where their long-running rivalry lands them at the posh Royal Gate Hotel, the site of this weekend's lavishing wedding for celebrity couple Ben (Colin Jost) and Preeta (Pallavi Sharda). Unemployed and down on her luck, twenty-something Kayla (Moretz) lies her way into a job as the hotel's assistant events planner, but her fastidious boss Terrance (Pena) orders her to take care of their rat problem — namely, the presence of pesky Jerry. Desperate not to get fired, Kayla recruits Tom to destroy his nemesis.
Tom And Jerry inserts animated animal characters into live-action settings, having Moretz play off her cartoon cohorts. (Coyly, the end credits reveal that Tom and Jerry are playing themselves.) Although Kevin Costello's hit-or-miss screenplay doesn't provide Moretz a steady stream of good one-liners, the actress exudes the perfect playful spirit, and it's a pleasure to see her invest fully in the zany antics. The trick is that she never seems above the film's juvenile, sarcastic comedic sensibility, and she's joined in this regard by her human costars, especially Delaney as foolish hotel manager Mr. Dubros.
Unfortunately, outside of Kayla, the cast isn't very memorable, and Jost and Sharda in particular lack charisma as the high-powered groom and bride-to-be. Kayla, who conned her way into this job by stealing someone else's sterling resume, doesn't just have to catch Jerry — she needs to put out several metaphorical fires as Ben's growing ambitions for the wedding put him at odds with Preeta, who just wants a simple ceremony. But these hijinks — which include frantically tracking down Preeta's missing ring — result in limp comic set pieces, invariably involving Tom and Jerry trashing different parts of the hotel while going to war against one another.
The animation is solid, but the integration of the two worlds proves only occasionally engaging. It's been more than 30 years since Who Framed Roger Rabbit wowed audiences, and so by this point simply combining cartoon and human protagonists isn't novel. And when a side character makes a snarky allusion to a "Mouse House" — a nickname for Disney — and then asks if he'll get sued for using the expression, the meta joke falls flat because it's clear Tom And Jerry doesn't possess the ingenuity or wit of the rival studio's best animated features.
Tom and Jerry compete for screen time with the far more entertaining Kayla, and their familiar back-and-forth battles — with Tom, predictably, receiving the brunt of the punishment — rarely generate much surprise. Neither animal talks, leading to several strained silent references to bygone cinematic touchstones, including Batman, The Matrix and, most bizarrely, Manhattan. If stale gags about selfies and poop emojis are aimed at kids, then mentions of spaghetti westerns, The Silence Of The Lambs and the 1980s hip-hop duo Eric B. & Rakim are meant to trigger nostalgia in the adults watching alongside them.
But although Moretz is a good sport, getting just as animated as the titular cat and mouse, Tom And Jerry can't match her confidence or comedic spark. It's been almost 20 years since the franchise has been on the big screen — this new outing suggests it's probably best to go back to the drawing board.
Production company: Warner Animation Group
Worldwide distribution: Warner Bros.
Producer: Chris deFaria
Screenplay: Kevin Costello, based on characters created by William Hanna and Joseph Barbera
Production design: James Hambidge
Editing: Peter S. Elliot
Cinematography: Alan Stewart
Music: Christopher Lennertz
Main cast: Chloe Grace Moretz, Michael Pena, Colin Jost, Rob Delaney, Pallavi Sharda, Jordan Bolger, Patsy Ferran, Ken Jeong