A poignant look at the making of the musician's ground-breaking solo album, 'Wildflowers', in 1994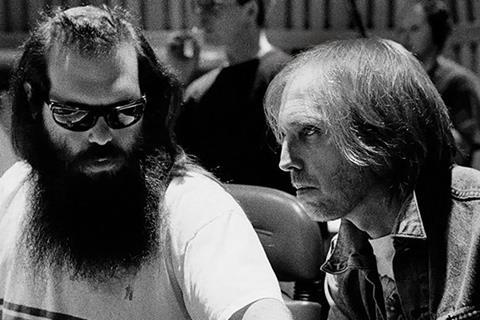 Dir: Mary Wharton. US. 2021. 90mins.
Tom Petty died in 2017 at the age of 66, and since then the musician's legacy has only grown — as has that of his 1994 solo album Wildflowers, which he (and many critics) considered his finest work. Both are celebrated in Tom Petty, Somewhere You Feel Free, a melancholy documentary which chronicles how the record was made through the memories of those who worked with him in the studio. There's an unmistakable promotional slant to the film — an expanded edition of the album, Wildflowers & All The Rest, came out last year — but even if this warm reminiscence sometimes feels like little more than a tie-in to that new collection, it's poignant to observe Petty craft a series of introspective songs about the passage of time and the guarded optimism that some things will last.
Flashing his goofy grin in the archival footage, Petty has a beatific, shaggy grace that can be quite moving
Serving as the Centerpiece Film for the recent SXSW online festival, where it won the top audience prize, Somewhere You Feel Free will be appointment viewing for Petty fans, who will appreciate the in-depth interviews with his bandmates, his daughter Adria and producer Rick Rubin. Drawing extensively from 16mm film shot during the gestation of Wildflowers, director Mary Wharton isn't concerned with making the case for Petty's greatness to anyone who doesn't already believe it. (Peter Bogdanovich's 2007 four-hour rock-doc Runnin' Down A Dream is a far more exhaustive portrait.) But for the millions who loved his music, this glimpse into his process will be welcomed.
While recording Wildflowers, the superstar was enduring personal and professional challenges: his decades-long marriage was disintegrating, and he had just left his longtime label MCA for Warner Bros to pursue a solo album which would represent a sonic break from the uptempo rock he made with his veteran band the Heartbreakers. Somewhere You Feel Free provides that context as we both watch Petty in archival footage working on Wildflowers songs and hear recent interviews from those close to him reflecting back on this period in his life.
The black-and-white 16mm footage was shot by Martyn Atkins and discovered in early 2020. It now serves as the backbone for Somewhere You Feel Free, and while none of it is particularly dramatic, it helps create a sense of the intimate, thoughtful tone of much of the Wildflowers material. Sometimes overtly, Petty was writing songs about the end of a love affair, and rehearsals for 'Only A Broken Heart' and the title track hint at the heartbreak at the centre of the album.
A nagging limitation Wharton (Jimmy Carter: Rock & Roll President) faces throughout is that while Rubin and others share their first-hand experiences, their comments don't shine much light on Petty's creativity. (Being told that Wildflowers was recorded in a more "organic" way in comparison to previous Petty records may be true, but it's not particularly illuminating.) And likewise, the demos and studio rehearsals — while certainly inviting — aren't so radically different to the finished songs that they substantially deepen our appreciation of the album.
Petty was a famously private individual — in the documentary, he confesses that he's just not that interested in talking about himself — and Somewhere You Feel Free doesn't try to dig up new dirt on the artist. (Indeed, since Warner Bros is backing the documentary, the emphasis is understandably on painting him in the most positive light possible.) But that affectionate touch feels appropriate for a singer whose sweet, modest demeanour always left him being a bit underrated as a hitmaker. His death has inspired critics to reevaluate his work, and Wildflowers in particular now seems far more momentous because of its hushed, gentle examination of relationships and the search for contentment. Flashing his goofy grin in the archival footage, Petty has a beatific, shaggy grace that can be quite moving.
As this 90-minute film reaches its closing stretch, Wharton's talking heads connect us to the present and the new expanded edition of Wildflowers, speaking about how Petty had always envisioned the project as a double-album but was forced to trim it down by his anxious label, which worried that such a lengthy record wouldn't sell as well. It's here that Somewhere You Feel Free starts to resemble an ad for Wildflowers & All The Rest, underlining how this documentary is, in part, a way to stoke up interest in the new collection. Thankfully, it's Petty's quiet artistry and enduring songs that you take away from Somewhere You Feel Free — not the hard sell.
Production company: WMG Productions
International sales: Submarine, schwartz@submarine.com
Producer: Peter Afterman
Editing: Mari Keiko Gonzalez
Cinematography: Anne Etheridge