Dir. Cesc Gay. Spain-Canada. 2015. 108 mins.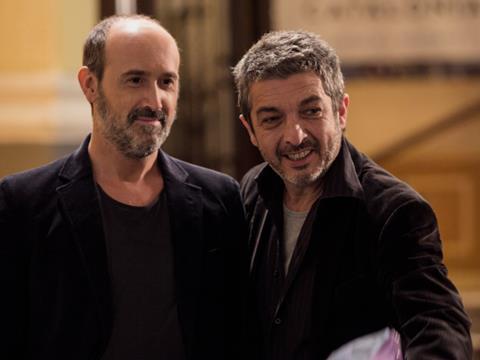 A genuine, likeable, loose-limbed buddy dramedy about impending death, Truman is Catalan director Cesc Gay's first title with true export potential – despite the fact that its big poster draw, the pairing of Argentinian leading man Ricardo Darin with one of Pedro Almodovar's favourite character actors, Javier Camara, will play mostly to Spanish-speaking audiences. The film's one major defect is the fact that in attempting to underplay the schmaltz factor by showing how uncommunicative men deal with emotional trauma, the opposite effect is sometimes achieved – with every close-up on repressed male tearfulness held just a beat too long.
The script explores the issues involved in confronting death with tact, humour and nuance
But that's only an occasional distraction in a film that wins us back as often as it turns us off, thanks mainly to some fine scriptwriting and finer acting in a series of perceptive comedy-tinged scenes that circle around the theme of how friends, family and colleagues deal with the idea that someone they know, like, love or dislike has just a few weeks or months left to live. Playing to an appreciative home crowd at San Sebastian after its Toronto premiere, Truman has already chalked up a raft of sales, with its potential outside of Spain and Latin America flagged by deals with distributors in Australia, German-speaking Europe, Greece and Hungary. In the co-production territory of Argentina, Truman will be released by Disney – and in many ways, with its titular canine co-star, this is a very grown-up take on an old-fashioned Walt Disney live action film, a Greyfriars Bobby for a 21st-century arthouse crowd
Starting off with a dutiful, A to Z travel sequence in which we see uptight teacher Tomas (Camara) travelling from his snowbound home and nuclear family somewhere in Canada to Madrid, where he plans to spend four days in the company of his rakish best friend, theatre actor Julian (Darin), Truman takes a while to engage. The upside of this slow build, though, is the way the film lets the realisation of Julian's diagnosis of inoperable cancer steal up on us in the first fifteen minutes, mostly through the vehicle of the latter's dog, lugrubious, mild-mannered boxer Truman, who Julian is anxious to put up for adoption.
Once the premise is set up – and Julian's hot-tempered female cousin, Paula (Fonzi) is introduced to provide a not entirely credible love interest for the reserved Tomas and a foil for both men's very male reaction to the upcoming curtain-call – it's into a series of scenes, sometimes little more than sketches, which explore not just the pain but also the awkwardness or plain embarrassment that can kick in when we stare death in the face.
How do you go about choosing your own coffin? Or find the right person to take on the ageing dog who will, in all likelihood, survive you by very little? Or sack an actor from a long-running theatrical role because he's dying and it's beginning to affect his performance? The script by Gay and Aragay explores such issues with tact, humour and nuance – standout moments being that scene with the producer in Julian's theatre dressing room (featuring a priceless cameo by veteran Spanish actor Jose Luis Gomez), a sequence set in Amsterdam where Julian goes to attempt to tell his student son Luis (Pla) that he's on the way out, and a fresh, original scene in a restaurant in which Julian is confronted by another actor (popular Spanish actor Eduard Fernandez) whose wife he recently slept with.
Wise about life and death, Truman is let down a little by a lilting, melancholy guitar soundtrack that pushes the already over-used sentiment button rather too insistently. And we never feel that Camara's character Tomas is much more than an emotional sounding board, the repressed, fearful mirror to Julian's brave, or foolhardy, attempt to look death squarely in the face. But he's a believable mirror, at least, and, anyway, Darin delivers a standout performance which is probably best served without too much competition.
Production companies: Imposible Films, Truman Film AIE, BD Cine
International sales: Filmax International, filmaxint@filmax.com
Producers: Marta Esteban, Diego Dubcovsky
Screenplay: Cesc Gay, Tomas Aragay
Cinematography: Andreu Rebes
Editor: Pablo Barbieri
Production designer: Irene Montcada
Music: Nico Cota, Toti Soler
Main cast: Ricardo Darin, Javier Camara, Dolores Fonzi, Oriol Pla