Two lesbian lovers must prepare for their romance to become public in Filippo Meneghetti's sensitive drama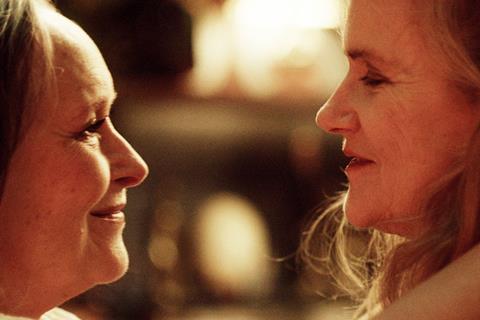 Dir: Filippo Meneghetti. France/Luxembourg/Belgium. 2109. 100mins
Young lovers move over — Barbara Sukowa (Nina) and Martine Chevallier (Mado) bring to life an unforgettable lesbian couple whose sexual flame still burns brightly and whose mutual devotion is quietly thrilling in Two of Us (Deux). Nina, who moved from Germany to France to be with Mado is sure that nowadays nobody could care less about "two old dykes." But discretion dies hard and the only glitch in their on-going idyl is that Mado has never gotten around to telling her grown son and daughter that she's madly in love with a woman; an omission that's putting the brakes on the couple's dream of selling Mado's apartment and moving to Rome together.
Beautifully crafted and perfectly cast
LGBTQ fests will be fighting over this one but the film's potential is broader than any comparatively narrow demographic. A romance this convincingly lived-in is rare indeed. Director Filippo Meneghetti's incredibly deft feature debut is cause for celebration and should be welcome in art houses worldwide.
Mado's daughter Anne (Lea Drucker, excellent), a divorced hairdresser with a smart young son, has always assumed that her mother loved her father so much that she never even thought of embarking on another relationship after he died. The exact maths is left vague, but if Mado hasn't told Anne and her brother about Nina for, say, the last two decades, no wonder it's seemingly insurmountable to spill the beans now. So far as anybody knows, Nina is merely the nice foreign retired lady whose apartment is directly across the landing from respectable widow and doting grandma Mado. They're the only tenants on that floor but who would suspect that they slide across that landing to snuggle, their unapologetically older bodies attuned to each other with undimmed mutual passion?
When Mado's health takes an abrupt turn for the worse, the secret becomes a major liability. Why, exactly, is the across-the-way neighbour so intent on helping out? Nina, of course has a key and starts playing with fire once a live-in carer is assigned to Mado. There's plenty of suspense and chutzpah as Nina endeavors to be with her beloved. The result is an exquisite portrait of longing.
Meneghetti knows precisely what to do with the camera, favouring tight close-ups to give us the full benefit of the central pair's comfortable joy in each other's gaze and complicity in something wonderful. They know how lucky they are to have found each other. Something as basic as the way their feet occupy space as they dance together speaks volumes. Bad or awkward news is conveyed with sly visual mastery that cancels the need for dialogue.
A forested park with a central path near a river drifts in and out of the narrative of this gut-wrenching love story with humorous touches, melded with an unlikely thriller. Beautifully crafted and perfectly cast, the film touches on everything from keeping up appearances and family dynamics between parents and adult children to a critique of retirement homes that over-medicate residents. Nina and Mado's loving intimacy is exquisite as is the care with which the proceedings are lit. The answer to Nina's question, who cares about two old dykes, is that we do.
Production company: Paprika Films, Tarantula, Artémis Productions
International sales: Doc & Film International sales@docandfilm.com
Producers: Pierre-Emmanuel Fleuratntin, Laurent Baujard
Production design: Vincent Canart
Screenplay: Filippo Meneghetti, Malysone Bovorasmy
Editor: Ronan Tronchot
Cinematography: Aurélien Marra
Music: Michele Menini
Main cast: Barbara Sukowa, Martine Chevallier, Léa Drucker, Muriel Benazeraf, Jérôme Varanfrain