A genre-tinged, feminist outing from industrious Kazakh director Adilkhan Yerzhanov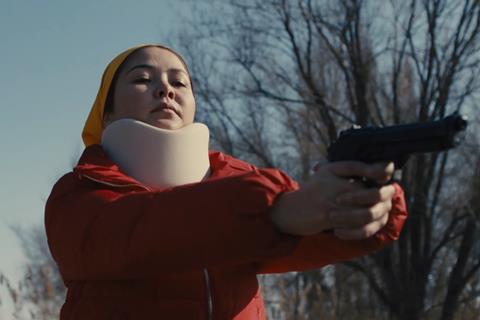 Dir-scr: Adilkhan Yerzhanov. Kazakhstan/France. 2020. 70 mins
The latest film from the prolific Kazakh director Adilkhan Yerzhanov (A Dark, Dark Man, The Gentle Indifference Of The World) is a briskly economic drama which draws multiple battle lines: between the city and the country; tradition and modernity; the patriarchy and one doggedly relentless woman, Ulbolsyn (the steely Assel Sadvakassova). A fixture on the festival circuit, Yerzhanov's latest film premieres in Tallinn just a couple of months after his previous picture, Yellow Cat, showed in Venice, San Sebastian and Busan. Ulbolsyn, which was awarded the main Cinelink work in progress prize at Sarajevo, represents both a foray into genre filmmaking for Yerzhanov and a commentary on the obstacles standing in the way of female emancipation in Kazakhstan.
There's a sense that nothing here ever changes
A current of dark humour adds to the appeal of what could be an attractive proposition for further film festivals and an adventurous arthouse-skewed streaming platform.
Having made a life for herself in the city, Ulbolsyn has returned to her village, Karatas, with the aim of extricating her 16 year-old sister Azhar (Dinara Sagi) and funding her studies abroad. But Azhar has been promised as a second wife to the local healer Urgen (Yerbolat Alkozha), a man who wears an affable grin along with his mantle of power and who thinks nothing of weaponising the goodwill of the locals. But he, like (one suspects) many men, has underestimated Ulbolsyn.
There's a ticking clock momentum to the picture: a series of titles on screen mark the passing of time since Ulbolsyn returned to her car and found that her sister was missing. But even as time moves forward, there's a sense that nothing here ever changes – least of all the minds of the locals which are firmly decided when it comes to Ulbolsyn.
She has achieved a degree of celebrity for appearing in a shampoo commercial and notoriety because she appears to be unclad in it. "It's called a close up", she snaps. "You were naked in it. Everyone saw it", says the school secretary accusingly, when Ulbolsyn asks for her sister's files. Variations of this same conversation play out repeatedly throughout the film. And Ulbolsyn, head held unnaturally aloft because of a neck brace (which is never explained or commented on), shoots eye daggers at her inquisitors.
To the villagers, Ulbolsyn represents everything they fear and distrust about the city. Their assumption is that she is a sex worker, because how else could a women achieve independence? In fact, they may not be wrong – Ulbolsyn certainly knows a lot of extremely dodgy men, all of whom she summons to her aid as the police refuse to take her statement and the situation escalates. Her weeping and emotional sister, who is not entirely averse to the idea of marrying Urgen, reasons that "all the women of the world are prostitutes'', the only difference being that some take money from many men and some from just one.Such attitudes to women are deeply ingrained: Urgen explains that her name means her parents wanted a male child and that her 'problem' is that she wants to be a man. "But it's not bad to be a woman. They are people too," he adds. It becomes clear that what Ulbolsyn is fighting for, what motivates her, is something bigger than her sister's wishes and her future.
The film is shot in striking widescreen which makes atmospheric use of the bitter winter landscape, giving Sadvakassova (who also served as executive producer on the picture) an arresting stage on which to stomp around furiously. A playful musical motif takes its cue from Donna Summer's disco standard 'I Feel Love'. But rather than poppy and frivolous, with Ulbolsyn glowering on screen it suddenly seems like a battle anthem.
Production companies: Short Brothers, Arizona Productions
International sales: Arizona Productions guillaume@arizonafilms.net
Producers: Serik Abishev, Olga Khlasheva
Cinematographer: Azamat Dulatov
Editing: Adilkhan Yerzhanov
Production designer: Yermek Utegenov
Music: Alua Orentai
Main cast: Assel Sadvakassova, Dinara Sagi, Yerbolat Alkozha, Berik Aitzhanov, Daniyar Alshinov