Dir. Aaron Brookner. US/UK, 2016, 96 mins.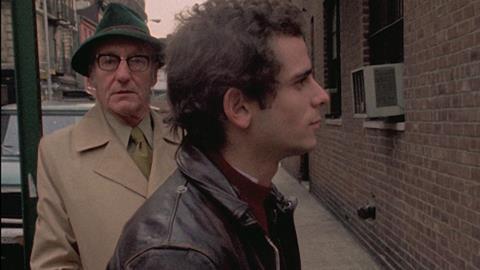 Uncle Howard begins as a slightly tentative film about a nephew's quest to discover more about his adored film-maker uncle, Howard Brookner. But it grows into a perceptive, poignant documentary which looks at many things. 'Uncle Howard' packed a lot into his short life before dying at the age of 34, including a close friendship with, and film about, William S Burroughs, and an all-star Hollywood musical, Bloodhounds of Broadway. The viewer doesn't feel his personality so much as see the hole his killer, AIDS, has left in today's cultural landscape.
The full force of Howard's personality doesn't always come across in the film, but the hole he left in the world is plain to see
Premiering at Sundance before moving on to the Berlinale, Uncle Howard should be greeted by warm reviews and a welcome from the global festival circuit, especially LGBT sidebars. A showcase theatrical outing is possible in upscale markets, especially and primarily New York. Uncle Howard would be indeed proud.
The film starts out with nephew Aaron Brookner trying to unlock some of Brookner's cinematic legacy - physical canisters of film and memorabilia stored in the apartment Burroughs used to call The Bunker in New York's Bowery which is now jealously guarded by the poet John Giorno. These concern his uncle's 1983 documentary, Burroughs: The Movie, about the legendary grandfather of the counter-culture, William S.
The camera mopishly trails Aaron around as the viewer begins to wonder where this shakily-shot documentary, which initially looks slightly like a film-school project, might be going. And as Aaron finally gains access to the Bunker, there's a suspicion that he may end up gorging on some delicious old 80s footage of William S. Burroughs, Allen Ginsberg, Andy Warhol and their compatriots and leave his uncle as a footnote. Far from it, though.
Soon enough Jim Jarmusch, and Tom DiCillo, who worked on Burroughs: The Movie, turn up to talk about their experience, and Uncle Howard begins to come alive – helped, almost eerily, by the fact that his nephew looks uncannily like him. Footage of Burroughs, wandering around the Bowery – always an iconic, paranoid delight – melds into photos and reminiscences of Howard, a man who lived his 34 years to the full and was much loved. To be fair, the full force of Howard's personality doesn't always come across in the film, but it's clear to see the meaning his life had.
Howard wasn't a simple man. He bought heroin for Burroughs, and shot it up for at least a time. He made another film about the theatre impresario Robert Wilson (Robert Wilson And The Civil Wars, 1987), which was loved by critics. He fell in love and lived as an out gay couple at the Chelsea with his boyfriend Brad Gooch, who contributes, but also had at least one love affair with a woman. And he knew that he was HIV positive by the time he started shooting Bloodhounds of Broadway, with Matt Dillon and Madonna.
Few enough people have seen Brookner's documentaries or even Bloodhounds of Broadway (which was recut by the studio after his death), that audiences would immediately place its director or remember his story today. This means that Uncle Howard always feels like a film you don't know, although it is clear from the outset that the man himself is no longer alive and the world he lived in has faded to obscurity. Even St Vincent's Hospital, described as "Ground Zero for the AIDS epidemic" has been torn down. As Aaron reminds us, it's always good to remember.
Archive footage here is a treat, the more composed shots such as offcuts from the set-ups with Burroughs melding well with off-the-cuff blurrier home videos.
Production company: Pinball London
International sales: ICM Partners, pvs@icmpartners.com
Producer: Paula Vaccaro
Executive producer: Jim Jarmusch
Cinematography: Andre Dobert, Gregg de Domenico
Sound: Sound: Diana Sagrista, Alberto Muñoz
Editor: Masahiro Hirakubo