Juan Miguel del Castillo's second feature is a Spanish thriller that critiques the male violence of its genre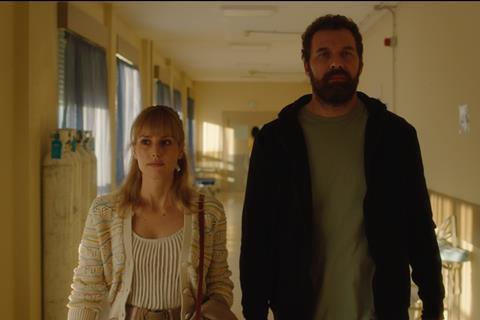 Dir: Juan Miguel del Castillo. Spain. 2022. 103 mins
A hard-boiled thriller that also represents a critique of the machista assumptions underlying hard-boiled thrillers, Juan Miguel del Castillo's second feature Unfinished Affairs sees two lost souls – a victim of domestic abuse and a damaged and dangerous cop, rivetingly played by Fred Tatien - briefly finding an unexpected connection in the Spanish port city of Cádiz. The result is taut, compact and thought provoking, but lacks dramatic flair.
Unfinished Affairs is a film about violence: principally about the violence that men do to women, but also the violence that men do to themselves, and about how society is doing too little to help either.
There is the sense that as a director, del Castillo might be more comfortable in the genre of social criticism, as shown by his widely-praised debut, 2015's Food and Shelter, for which Natalia de Molina, reprising here with the director, took Best Actress at both that year's Málaga festival and the Goya awards. That said, Unfinished Affairs' intriguing channelling of masculine insecurity through the lens of noir should be enough to see it complete some offshore business.
Heavy-drinking and smoking, heavy-bearded and heavy set, Franco-Spanish police inspector Manuel (Fred Tatien) has been transferred to Cádiz in Spain – apparently a great place for a holiday, but a career dead end for a cop – following some serious misconduct in Madrid. (When viewers finally learn what Manuel's been up to, they'll be seriously surprised that he still has a job at all.) Obsessively listening to her final phone message to him before she disappeared, Manuel is still smarting from the murder of his daughter several years before, which has traumatized him to the extent of leaving him hopeless, loveless, friendless, and almost jobless – the perfect candidate, in other words, for a noir detective.
When the body of a Colombian girl is found in a skip in the port, her parents, having been practically ignored by the institutionally corrupt and racist local force come to Manuel seeking help. Ignoring the strong discouragement of his boss, Manuel decides to go it alone, driven, as is so often the case, by personal rather than professional reasons. Particularly since Manuel is basing his work on hunches rather than facts, his investigations will inevitably make things even worse, taking him on a violence-heavy nightmare journey and unveiling secrets that he couldn't have foreseen – though the viewer might.
Running parallel to this is the less developed story of nurse Cristina (Natalia de Molina), who has escaped to Cádiz to flee from the threat of her abusive husband, recently released from jail. But someone, presumably the husband, is leaving dozens of messages on her phone, containing merely the sound of traffic: a chilling strategy for both the audience and Cristina, who spends much of the film being either solicitous to others or a jabbering nervous wreck. Like Manuel, her appeal for help to the authorities meets with no response: the relationship between them remains feather-light, uncertain and interestingly ambiguous.
Unfinished Affairs is a film about violence: principally about the violence that men do to women, but also the violence that men do to themselves, and about how society is doing too little to help either. So extreme is Manuel's suffering, and so extreme his violence – one scene has him single-handed fighting off four attackers - that he almost appears to be playing a role: unable to verbally articulate his pain, it finds expression through his fists.
In his first role as protagonist, Fred Tatien embodies all this compellingly, his bear-like frame seeming to be both a huge receptacle for suffering and capable of explosive violence. Tatien gives a convincing portrayal as a man living just beyond the limits of the morally acceptable: it takes us a while to work out how he came to be this way, but when he does, it feels quite credible.
Molina is a superb character actor, but although she convincingly gets across the awful reality of a life lived in fear, her role feels undeveloped by comparison, largely because of Cristina's status as pure victim. At least Manuel gets to punch someone in the head: all Cristina can do is wait for the next phone call. Some of the secondary performances, by a range of Andalucian talent, are excellent, with Mona Martinez as Morgano, a hard-bitten, world-weary office worker, standing out.
Both sides of Cádiz - sunny tourist town surrounded by economically neglected, drug-peddling pueblos - are faithfully reflected, as they have been in several recent films, most notably Isaki Lacuesta's 2018 Between Two Waters. Crisply shot, shadowed interiors mingle with the occasional drone's-eye view of this spectacularly situated location.
The English language title is criminally bland. The Spanish title is that of the Benito Olmo novel on which it is based, which translates as The Manoeuvre of the Tortoise, perhaps bafflingly in a film which features plenty of manoeuvres but not a single tortoise.
Production Companies: Aralan Films, Aleph Media, A Contracorriente
International Sales: Latido Films juan@latidofilms.com
Producers: Marta Velasco, Adolfo Blanco, Gonzalo Blanco
Screenplay Juan Miguel del Castillo, José Rodríguez
Art Direction: Vanesa de la Haza
Editing: Manuel Terceño
Cinematography: Gina Ferrer
Music: Xavi Font
Main Cast: Fred Tatien, Natalia de Molina, Mona Martínez