Katherine Heigl's turn as a divorced bunny-boiler for first-time director Denise Di Novi is trashy, retro fun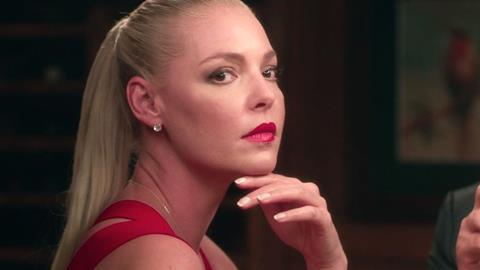 Dir. Denise Di Novi, US, 2017, 100 mins.
Longtime producer Denise Di Novi takes the audience for a gloriously retro ride in The Unforgettable, resurrecting the "from Hell" sub-genre for her directorial debut. After the nanny from hell (The Hand That Rocks The Cradle), the ex-boyfriend (Sleeping With The Enemy) and the mistress (Fatal Attraction), beware the ex-wife as Katherine Heigl plays a vengeful "psycho Barbie" divorcé who is determined to see off Geoff Stults' current fiancé Rosario Dawson by any means necessary. In the background, a rictus-faced Cheryl Ladd waits in the wings as the granny from hell.
Costume designer Marian Toy wraps her two shapely female leads in fashion which is either gaspingly form-fitting or drapingly suggestive.
It's all glossily camped-up nonsense with an amusingly inappropriate title, but luridly – and ludicrously – entertaining nonetheless. With The Fate Of The Furious entering its second weekend and Guardians of the Galaxy Vol. 2 not due to come on line until April 28 in the UK (May 5 in the US), Unforgettable could make a quick killing for Warner Bros as guilty-pleasure counter-programming before wiping up on VOD. Expect a Joe Esztherhas revival should it turn a decent profit.
Rosario Dawson livens up a white suburban world as Julia, a San Francisco-based internet editor with an abusive ex-boyfriend who moves to Los Angeles County and a dappled shabby-chic Spanish villa to marry handsome lug David Connover (Stults). David, who is consistent throughout Unforgetttable as not being the sharpest tool in the kit, used to be a Wall Street banker, but now he's keeping it real as a muscled micro-brewer. We know, however, that trouble awaits the fragile Julia, as a prologue shows her bloodied and confused in a police station.
Enter Katherine Heigl as the reluctantly ex-Mrs Connover, Tessa: channelling Maleficent, this tightly-wound blonde ice-maiden is unhappy – to put it mildly – that Julia has dared to enter her world and make friends with her and David's daughter, the long-suffering tot Lily (Isabella Kai Rice). Controlling Tessa, who manages her frustrations with a quick spot of showjumping, starts by sneakily wearing the same tight white dress as Julia, but, with Cheryl Ladd in the background warning her that "time doesn't exist at your age", the stakes are clearly about to rise. Now, just where did she put that poker?
Katherine Heigl gives it her best shot in the bunny-boiler role, and it's a fun, out-there turn for the actress, who has struggled to make an impact post-Knocked Up. Dawson doesn't have quite so far to go with her character, and makes a nicely sypathetic lead.
Unforgettable is a glossy studio package, professionally shot by Caleb Deschanel and executed by, amongst others, designer Nelson Coates, who papers over the budgetary cracks with Pinterest-style interiors (a salt and pepper shaker chess set proves something of a scene-stealer). Costume designer Marian Toy wraps her two shapely female leads in fashion which is either gaspingly form-fitting or drapingly suggestive. It's fair to say that a studio film in which two sexy women go at each other with a poker isn't the height of enlightened thinking (2016's Catfight sent this trope up with some enthusiasm), but then again, the males in this film are so intensely stupid, from the boyfriend, to the ex-boyfriend, to even the detective investigating the case, it's hard not to chuckle.
Production company: Di Novi Pictures
International distribution: Warner Bros Pictures
Producers: Denise DiNovi, Alison Greenspan, Ravi D. Mehta
Executive producer: Lynn Harris
Screenplay: Christina Hodson
Cinematography: Caleb Deschanel
Production design: Nelson Coates
Editor: Frederic Thoraval
Music: Toby Chu
Main cast: Katherine Heigl, Rosario Dawson, Cheryl Ladd, Geoff Stults, Whitney Cummings, Marissa Morgan, Jayson Blair