Brie Larson makes her directorial debut with a sweet story about growing up and accepting reality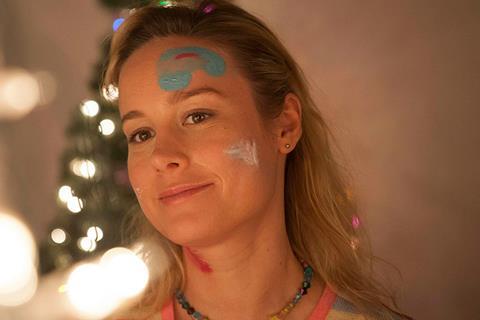 Dir. Brie Larson. US. 2017. 92mins
Both skewering and celebrating its adult protagonist's childlike wonder, Unicorn Store runs the risk of excessive whimsy at every turn, as it follows an emotionally stunted failed artist who is fairly certain she's about to receive the titular magical creature. This tonally tricky material needs just the right touch — sincere but also self-aware — and director-star Brie Larson navigates through a cute story's clear limitations to deliver a film that's often quite funny, even if it sometimes flirts with being cringe-worthy.
Larson manages to mitigate the twee factor thanks to a droll, deadpan perspective that affectionately tweaks the film's premise
This Toronto Film Festival premiere will benefit from Larson's growing celebrity, as well as boasting a supporting turn from her Kong: Skull Island co-star Samuel L. Jackson. Its sights set on the art-house crowd, Unicorn Store also looks like a good fit for streaming services and VOD.
Larson plays Kit, who has just failed at art school and been forced to move back in with her touchy-feely parents (Joan Cusack, Bradley Whitford). Deciding she needs to grow up and abandon her creative dreams, this sheltered, stuffed-animal-loving young woman starts temping in an advertising firm's dreary office. But the real excitement begins after she gets a mysterious invitation to a pop-up store run by a nameless salesman (Jackson), who tells her that, if she proves her worthiness, he'll give her the one thing she's always wanted: her very own unicorn.
From that plot description, most will correctly surmise that Unicorn Store weighs the value of childlike innocence against the needs to face the realities of the adult world. But while this comedy-drama is sometimes achingly precious — is the unicorn offer legitimate or Kit's weird fantasy? — Larson manages to mitigate the twee factor thanks to a droll, deadpan perspective that affectionately tweaks the film's premise.
As director and star, Larson leads by example, mostly shooting Samantha McIntyre's screenplay in a realistic manner. Kit may adore colourful outfits, pastel face paint and mounds of glitter, but Unicorn Store stages her world with blasé indifference, which makes her indomitably ebullient reactions even funnier. Larson plays Kit as an endearing goofball — she's basically a big kid tromping around adulthood pretending that she fits in. Larson's poker-faced confusion is a consistent treat, and the Oscar-winner knows how to convey Kit's disarming naiveté without making her seem dumb or irritating.
Assisting Larson is a cast that understands the importance of comic understatement. Like several in the ensemble, Cusack and Whitford play broad characters whom the actors humanise by delivering their New Age-y, self-help dialogue with utter earnestness. As a result, we begin to recognise that Kit has become this way in part because her doting parents encouraged her to embrace her feelings above all else.
Jackson plays the flamboyant salesman with the same shtick-y brio which has almost become his trademark. But Kit's office is filled with wonderful eccentrics — particularly Hamish Linklater as the pompous Gary, who tries to woo her by casually bragging that he's the vice president of the company. Where Kit's peculiarity has an adolescent impishness, Linklater is a master of the off-kilter line reading, making every bizarre, banal thing that comes out of Gary's mouth hilarious.
But Unicorn Store's real discovery is Mamoudou Athie, who has appeared in Patti Cake$ and the Netflix series The Get Down. Here, he plays Virgil, a lowly employee at a local hardware store whom Kit befriends to help build her unicorn stable. Virgil can't quite figure Kit out, but he's a calm, compassionate presence who slowly encourages her to start putting away childish things and accept adulthood. Their friendship is platonic, but the two actors have such a relaxed rapport that you may root more for them to fall in love than for her to get her mythical horse.
Production companies: Rhea Films, The District, 51 Entertainment, Hive Mind
International sales: William Morris Endeavor Entertainment, gtaylor@wmeentertainment.com a
Producers: David Bernad, Ruben Fleischer, Lynette Howell Taylor, Brie Larson, Paris Kasidokostas-Latsis, Terry Dougas
Executive producers: Jean-Luc De Fanti, Nathan Kelly, Samantha McIntyre, Anne Woodward
Screenplay: Samantha McIntyre
Cinematography: Brett Pawlak
Production design: Matthew Luem
Editor: Jennifer Vecchiarello
Music: Alex Greenwald
Main Cast: Brie Larson, Joan Cusack, Bradley Whitford, Mamoudou Athie, Hamish Linklater, Samuel L. Jackson