Judi Dench reprises the role of Queen Victoria in a heritage film from Stephen Frears
Dir. Stephen Frears. UK, 2017, 110 mins.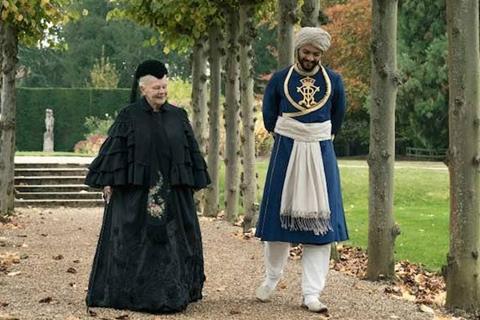 Judi Dench as a weary Queen Victoria whose joie de vivre is restored by the tender attentions of a devoted servant… Yes indeed, we have been there before, in John Madden's 1997 Mrs Brown. Victoria & Abdul is pitched almost as a satirical sequel, and of course admirers of Dame Judi will rush back to see how, two decades later, she builds on the same role as a study of mortality, vulnerability and brittle self-knowledge. Yet ultimately, the film's lavish production values and a comic register more impish than truly acerbic makes this a surprisingly cosy piece of luxury heritage cinema from a director who has cast the monarchy in a bracingly chilly light in The Queen, as well as offering a pioneeringly edgy picture of British Asian culture in My Beautiful Laundrette.
…at best drolly acidic, at worst keeps the reactionary assumptions of heritage cinema entirely, sumptuously, in place
We're in similar thematic terrain to Mrs Brown in this dramedy about the relationship between the elderly monarch and a young Indian Muslim who became her trusted and adored companion. There are agreeably harsh edges in Lee Hall's script, and in the characterisations from a blue-chip support cast. The mix of splendour, wry chuckles and the odd tear - together with Dench's typically rich, mischievous performance – make for imperial status at the box-office, particularly with older viewers. Just don't expect cutting-edge historical revisionism from this affably anachronistic production.
The film deals with Victoria's late-life relationship with Abdul Karim, a young Indian Muslim clerk whose journals were discovered in 2010. A bustling prologue takes place in Agra in 1887, where prison clerk Abdul (Bollywood actor Ali Fazal) is summoned by the governor and told he is to travel to England to present a ceremonial coin to the Queen; he's been chosen, apparently, purely because he's tall.
Arriving in England, Abdul and reluctant travelling companion Mohammed (a nicely peppery Adeel Akhtar) make their presentation at a royal banquet – an extended comic set piece milked for all it's worth, as the new-arrival Indians get caught up in a whirl of pompous etiquette. Against orders, Abdul establishes glances with Her Majesty – and soon, the jaded monarch casually comments to her retinue, "I thought the tall one was terribly handsome." Curious to see more of him, Victoria becomes fascinated with Abdul's stories of Indian culture, and somewhat besotted with the dashing young man, who becomes her personal attendant. His quiet, reverent devotion towards her and his poetic temperament win her heart and she develops a fascination for all things Indian, from the Peacock Throne to that elusive treasure, the mango.
Lest this scenario all seem a little too benign, the outraged snobs and racists in the royal household gradually move from arched-eyebrow disapproval to out-and-out conspiracy. This theme allows some sterling British character actors to bristle and sneer with impeccable nastiness: among them, a brittle Olivia Williams, Michael Gambon as Prime Minister Lord Salisbury, the late Tim Piggott-Smith (to whom the film is dedicated) as the ever-flustered head of household Sir Henry Ponsonby and – gruffly louche, and looking oddly like the old Orson Welles – Eddie Izzard as the Queen's son Bertie, the future Edward VII.
The film offers a tender view of a monarch who, jaded as she is at the start – Victoria is seen eating soup like a blasé tortoise – is nevertheless highly knowing both about the system she inhabits and about herself, as shown in in a show-stopping speech towards the end. However, while the film depicts a blinkered world of prejudice, snobbery and racism, nevertheless its story seems perilously like a variant on the much-critiqued narrative stereotype known as the 'Magical Negro' in which an African-American, usually, functions essentially as a device to trigger the emotional or spiritual awakening of a white character.
That is pretty much what we get here, with the drama increasingly focused on Victoria's experience, while the emphasis on Abdul's devotion comes uncomfortably close to an apologia for servility – not least when he kneels down and kissing the royal foot toe. It's no doubt as a corrective to this that the film has Mohammed hissing angry remarks about Victoria as an oppressor, telling truth to power in an awkward scene with Bertie, and even - in a hugely incongruous line - calling Abdul 'Uncle Tom'. But despite showing the establishment as self-serving and heartless, the film ends on a sentimentally reassuring note.
Fazal's light touch makes Abdul a winningly starry-eyed figure, but he never acquires real substance as a living being, and the film makes an egregious gaffe in neglecting to make Abdul's wife and mother-in-law into characters rather than merely burka-covered props, exotic figures of bewilderment to the aristos. In failing to tell a more complex story from Abdul's perspective, Frears has made a film that at best is drolly acidic, at worst keeps the reactionary assumptions of heritage cinema entirely, sumptuously, in place.
Production companies: Focus Features, Perfect World Pictures, BBC Films, Cross Street Films
International sales: Universal Pictures International Ltd, festivals.mailbox@nbcuni.com
Producers: Tim Bevan,
Eric Fellner, Beeban Kidron, Tracey Seaward
Executive producers: Lee Hall, Amelia Granger, 
Liza Chasin, 
Christine Langan,
 Joe Oppenheimer
Screenplay: Lee Hall, based on the book by Shrabani Basu
Cinematography: Danny Cohen
Production design: Alan Macdonald
Editor: Melanie Ann Oliver
Music: Thomas Newman
Main cast: Judi Dench, Ali Fazal, Tim Pigott-Smith, Eddie Izzard, Adeel Akhtar, Michael Gambon