This bracing debut tracks a woman's betrayal and revenge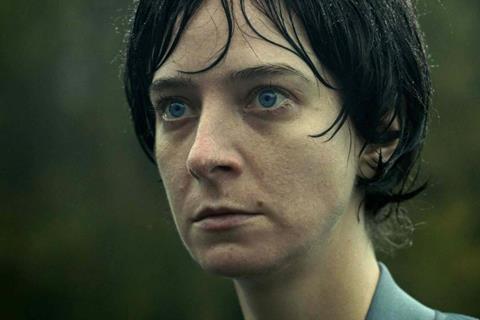 Dirs/scr/prods: Madeline Sims-Fewer, Dusty Mancinelli. Canada. 2020. 107 mins.
Violation is such a deeply, viscerally uncomfortable film, it's quite easy to pin those sensations on its deceitful narrative structure, or its occasional bucolic doldrums. Essentially, you just want this difficult story of consent and revenge to end. And then it haunts your waking dreams, your subconscious prickled into replicating the flashbacks on screen, playing it over, endlessly. This is a midnight film, and it certainly deserves the label, but genre fans will have seen more and felt less.
Violation's key manoeuvre is to repeatedly explode into violence before retreating into pent-up hostility and excruciating tension between its four main characters
Violation is arthouse horror, and while its more blatant elements – exsanguination, cutting up a cadaver – are not new, its deft upending of the male/female genre conventions have not been positioned before in such an effective way. Set in the forest so beloved of the horror film, its adept mix of nature and mental fragility make its spotty narrative blackouts all the more effective. Robust business awaits, fuelled no doubt by tabloid outrage: it's a red rag for the male chauvinist.
Violation is alienating from the outset: this is not a film where the narrative is drip-fed to the audience. It starts with a wolf tenderly licking a dead animal and gazing into the camera, before cutting to a car journey with Miriam (co-director, -writer and -producer Madeline Sims-Fewer) and Caleb (Obi Abili). They're British, but this is Canada. Something is wrong between them. They arrive at a farmhouse where Miriam's English sister Greta (Anna Maguire) lives with Dylan, the film's only local (Jesse LaVercombe). Greta and Dylan are ostentatious in their love for each other; Miriam and Greta have a complicated relationship, defined by Miriam's over-protectiveness and dominance; while Caleb mostly looks on, trying to make the best of what is clearly not a great marriage.
Also, Miram's friendship with Dylan seems to pre-date his relationship with Greta; their easy companionship teeters on the brink of something closer.
Violation's key manoeuvre is to repeatedly explode into violence before retreating into pent-up hostility and excruciating tension between its four main characters. At moments of release, it's almost unwatchable. As nature grates around them, flies circle spider webs and the forest disintegrates into kaleidoscopic rot, we are firmly in Miriam's perspective. It's not a stable place to be; even the fire zig-zags and jumps around her. Does the film's key betrayal need to be avenged because it's a violation of Miriam or her sister? Her immediate responses are both violations too, in one way and, nauseatingly, another. Or is it a desciption of the audience's reaction to this film's violation of our view of women and how they behave?
(Speaking of nausea, Violation features an extended vomiting scene which is bracingly realistic).
All hands were on deck for this film, a first feature from both directors. Sims-Fewer inhabits her role to the point where there's no appreciable division between actress and character, between what is real or not in Miriam's perspective. Adam Crosby's camera captures the disintegration of Miriam's world in a prism of reality, while Andrea Boccadoro's score is in restrained support. Most impressive of all is Gabriella Wallace's editing in a very singular film which moves in staccato bursts throughout.
Production company: One Plus One
International sales: XYZ (North America); Altitude (international)
Producers: Madeline Sims-Fewer, Dusty Mancinelli
Screenplay: Madeline Sims-Fewer, Dusty Mancinelli
Cinematography: Adam Crosby
Production design: Joshua Turpin
Editing: Gabriella Wallace
Music: Andrea Boccadoro
Main cast: Madeline Sims-Fewer, Anna Maguire, Jesse LaVercombe, Obi Abili