Pedro Costa delivers a dark, despairing drama based on the real-life experiences of star Vitalina Varela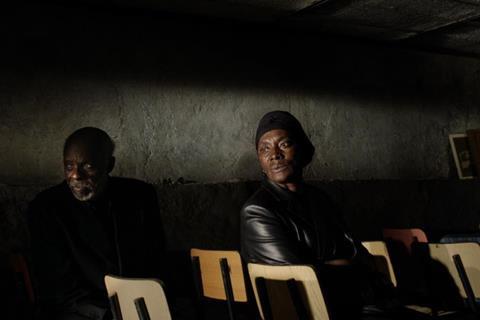 Dir: Pedro Costa. Portugal. 2019. 124mins
Lit like a Rembrandt, acted like a neo-Realist classic and with all the searing social conscience of a new Dardenne brothers film, Vitalina Varela is both richly familiar and profoundly unique; if occasionally a challenge to watch. Its grim story is star Vitalina Varela's own. Thirty years ago, she began her married life in Cape Verde, finally settling down in the house she built, brick by brick, with her husband. Her spouse, like many, later left Africa for better prospects abroad, but swore that as soon as he was settled in Portugal he would send for her. He never did. Now, 30 years later, Varela has finally bought her own plane ticket to Lisbon – not to berate her husband, but to bury him.
Built out of static shots, and long lingering takes, the film is a studious salute to endurance
Reuniting with Varela after his 2014 film Horse Money, director Pedro Costa continues his experiments in docufiction, spinning a sad tale from his star's own life. But while this should delight fans of the Portuguese artist's work – the movie already won the Golden Leopard at Locarno – its uncompromising minimalism and bleak subject are likely to make it a hard sell even to arthouse audiences.
When Varela arrives in Portugal, she finds that her husband's only bequest is a crumbling shanty, filled with empty liquor bottles. He's not the only casualty here, however. The neighbourhood in which he settled is a bleak place, filled with immigrants but devoid of hope. Men scrounge in supermarket dumpsters for cast-off jars of beans, or wheel shopping carts full of roughly salvaged scrap metal. Even the local priest has lost faith, praying in an empty church, prostrating himself before an indifferent God.
It's hardly an upbeat story and Costa approaches it with rigorous formalism. Characters spend entire scenes standing in shadows, staring into space, refusing to make eye contact with each other. No one ever smiles. Locations, mostly concrete hovels, look like some giant's willful child roughly slapped together a toy town and then threw it against the wall.
All of this, of course, is driven by Costa's concept – the European slum as existential hell – but at times the despair is so relentless it almost verges on the parodic. As grinding as poverty can be, in real life desperate people do still laugh, get drunk, have children. They grab at joy, however fleeting it may be. In Valentina Verela, though, they merely stumble stoically on like beasts of burden, so prepared for the next indignity they no longer even flinch when it comes. Like the donkey in Robert Bresson's Au Hasard, Balthazar, they simply go on
That's not to say that Costa isn't completely in control of his material here, or expertly turning it into art. Leonardo Simoes' dark, boxy cinematography finds beauty in shades of black and grey – and then suddenly jolts the screen with a bright flash of primary color. The titular star, whose life unfolds in closeup, has huge haunting eyes, and a capacity for noble suffering that rivals Falconetti's in The Passion of Joan of Arc. Built out of static shots, and long lingering takes, the film is a studious salute to endurance. It's just that, at times, it asks the same of its audience.
Production companies: OPTEC
U.S. distribution: Grasshopper
International rights: TK
Producer: Abel Ribeiro Chaves
Screenplay: Pedro Costa, Vitalina Varela
Editing: Joao Dias, Vítor Carvalho
Cinematography: Leonardo Simoes
Main cast: Vitalina Varela