Strong performances highlight this thriller about a mute and the 11-year-old he's assigned to safeguard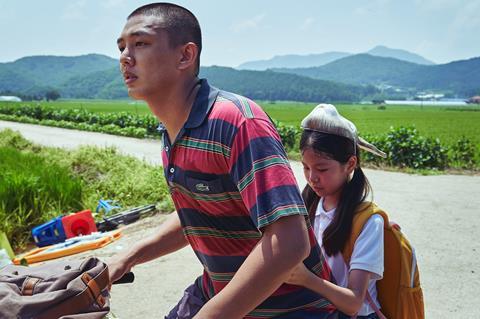 Dir/scr: EuiJeong Hong. South Korea. 2020. 99 mins.

Two hapless South Korean criminals bite off more than they can chew in Voice Of Silence, a beautifully executed thriller which would be an impressive piece of work for any filmmaker, let alone one making her feature debut. Writer/director EuiJeong Hong's screenplay showcases a deft hand for both drama and comedy; the craft on display proves that she has a keen eye for detail and knows how to surround herself with talented collaborators.
A remarkable first feature from a talented new director who, one hopes, is only just beginning to find her own voice
Voice Of Silence makes its North American debut at Fantasia having released in South Korea, Taiwan and Singapore in late 2020. Success here could help the film make further waves internationally, with positive word of mouth attracting an audience keen for more Korean content.
Living in rural South Korea, Chang-bok (Yoo Jae-Myung) and Tae-in (Yoo Ah-in) make a sort-of living by selling eggs at the local market and cleaning up after the messy activities of the local crime lords. While they are diligent and discreet, they are by no means professional gangsters; early scenes in which they tackle a bloody murder are more slapstick than slick. Nevertheless they are tasked with taking charge of the 11-year old Cho-hee (a scene-stealing Moon Seung-ah), who has been kidnapped from her wealthy family in the hopes she will command a hefty ransom.
Despite their reluctance — "we usually look after the bodies," they protest — it falls to Tae-in (who is completely mute, for reasons never explained) to take Cho-hee to the isolated rundown shack he shares with his much younger sister. Yet Cho-hee is no terrified victim. Exuding a calm wisdom beyond her years, Cho-hee takes it upon herself to clean up the home and bring a sense of order to the chaos. Soon, and with her father failing to arrive with the money, she is accompanying Tae-in to work.
A natural bond quickly forms between the voiceless Tae-in and Cho-hee, who understands that, as the daughter of her family, she is nowhere near as valuable as her brother (who, in fact, was the intended kidnap victim). They both diligently accept their lot in life, and get on with the tasks at hand without question.
'Today's honest sweat is tomorrow's happiness' reads a propaganda poster early in the film, and there's a sense that both Tae-in and Cho-hee have been conditioned to believe that if they work hard without dissent — whether it be folding laundry or despatching men with spades — they will somehow be rewarded down the line. That neither are in a position to actually rebel is a point the film makes plain, and is something that draws them further together. Hong handles this relationship with delicacy; it remains firmly platonic, but they come to rely on each other in surprising, sympathetic ways.
Performances are strong across the board. Moon makes Cho-hee bright and quick-witted without every being precocious, cleverly manoeuvring the unwitting Tae-in to her advantage. And, working without dialogue, Yoo Ah-in resists the easy temptation of extreme physical expression; instead, he deploys restraint in his movements, conveying Tae-in's soul-destroying lack of options in his hangdog expression, his downcast eyes, his frantic attempts to cover up bloodstains in the dust. Visual motifs are also well-used emotional signifiers; a handsome tailored jacket, procured by Tae-in from an ill-fated crime boss, takes on poignant significance first as an emblem of his aspirations and, by film's end, as a ragged millstone around his neck.
Exquisite lensing by Jung-hun Park also plays an essential role. Playful moments such as Tae-in riding his bike through the cornfields, or the girls playing with innocent abandon, burst with whimsical bright colours reminiscent of Wes Anderson and, at points, The Wizard of Oz; darker sequences of violence and pain are painted in shadowy noir tones. There's even a hint of Donnie Darko in the exaggerated rabbit mask that Cho-hee wears, and in the story's themes of criminality, manipulation and self-discovery. But the film wears these influences lightly and forges its own path to become a remarkable first feature from a talented new director who, one hopes, is only just beginning to find her own voice.
Production companies: Lewis Pictures, Broedmachine, Broccoli Pictures
International sales: Contents Panda / Next Entertainment World, sales@its-new.co.kr
Producers: Moon-seok Choi, Hyung-ok Kim, Lewis Taewan Kim, Afolabi Kuti
Production design: Minkyung Chung
Editing: Meeyeon Han
Cinematography: Jung-hun Park
Music: Hyukjin Chang, Yong Jin Chang
Main cast: Yoo Ah-in, Moon Seung-ah, Yoo Jae-Myung