Riley Keough makes her co-directorial debut with this measured look at life on a Native American reservation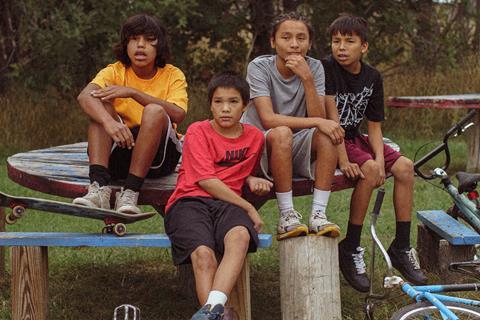 Dirs. Riley Keough, Gina Gammell. US. 2022. 114 mins.
Life is hard on the Pine Ridge Reservation in South Dakota, where Riley Keough and Gina Gammell's directorial debut is set (two of the four credited writers are Native American, and the spontaneity of some of the delivery attests to the film's authenticity). Its young folk — whether they be schoolchildren, or the far-too-young parents of neglected toddlers — make consistently reckless choices with their lives. It's a toss of the coin as to whether no parental supervision (due to endemic incarceration) is better than having a father who's hooked on crystal meth and might kick you out onto the streets of this downtrodden community and into a Fagin-like crackhouse. War Pony, though, has some surprises up its sleeve: it sets the viewer up for the defeat of the tribe but mounts a last-minute rally into a magical moment.
Initially, it seems clear where this film is going but it does outgrow its narrative boundaries
Winner of the top prize at Un Certain Regard in Cannes, War Pony will also attract attention for Riley Keough's name — apart from being an accomplished actress making her directorial debut, she's Elvis's grand-daughter, and his biopic also premiered at the festival. Gammell is her producing partner, and the film came about when Keough met two members of the Lakota Oglala tribe while filming American Honey in the area. It will also recall Chloe Zhao's debut, Songs My Brothers Told Me, and, to a lesser extent, The Rider (all three films have singular non-professional protagonists). It's a festival film, certainly, and possibly beyond: for all the hardships it catalogues, War Pony is never despairing – there's a real pride at play here, and some pungent playfulness.
The film focuses on two young Oglala Lakota growing up on the reservation – a highly challenging, impoverished place, but a community which is lovingly and honestly depicted and shot with warmth by DoP David Gallego. Bill (Jojo Bapteise Whiting) is in his early twenties, a father to two children with two different women (one of whom is in prison), but he's got an entrepreneurial drive to better his circumstances which leads to a bizarre plot involving a pedigree poodle. Those who spend the film trying to figure out where the inciting hound came from will ultimately realise that's a shaggy dog story: the main point is how following his half-baked plan is going to lead the tattooed, hoodie-wearing, initially unsympathetic Bill into a whole world of peril his bravado can't deal with.
Elsewhere, 12 year-old Matho (LaDainian Crazy Thunder) is far too young to realise the consequences of his drive for adulthood, or his desire to please his dangerous father. Stealing his dad's drug stash has terrible consequences for the bright young boy, who, again, puts himself in repeated, unheeding peril.
Initially, it seems clear where this film is going. But it does outgrow its narrative boundaries. Bill and Matho become more than their circumstances, and the Pine Ridge Reservation is not only a place of hopelessness. There's honour here, and it seeps through what initially comes across as reduced circumstances, limited lives and destinies. It manifests itself visually and spiritually, from a tribal dance to wall hangings in trailer homes and a buffalo who appears twice to remind everyone where we are. The making of War Pony was, by all accounts, collaborative film-making, and the result has a definite voice – even when its protagonists struggle to find their own.
Production companies: Caviar, Felix Culpa
International sales: Protagonist, info@protagonistpictures.com
Producers: Willi White, Bert Hamelinck, Ryan Zacarias, Sacha Ben Harroche, Riley Keough, Gina Gammell
Screenplay: Franklin Sioux Bob, Bill Reddy, Gina Gammell, Riley Keough
Cinematography: David Gallego
Production design: Scout Dougan
Editing: Affonso Goncalves, Eduardo Serrano
Music: Christopher Stracey, Mato Wayuhi
Main cast: Robert Stover, LaDainian Crazy Thunder, Jojo Bapteise Whiting