Cracks begin to show in an athlete's perfect life in the third feature from Trey Edward Shults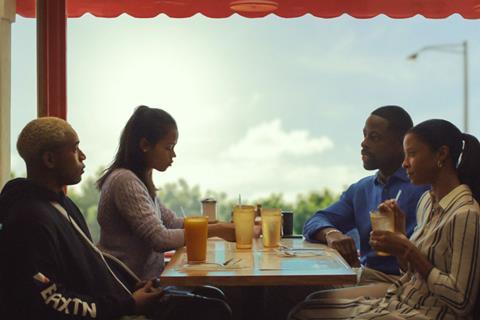 Dir/scr: Trey Edward Shults. US. 2019. 135mins
Writer-director Trey Edward Shults has made a habit of chronicling the perils of family, but Waves proves to be his most sweeping and ambitious effort yet. This portrait of a Florida clan torn asunder by tragedy strives to make grand statements about forgiveness, grief and empathy, and sometimes Shults' reach exceeds his grasp, resulting in a self-conscious epic that wants to hammer home its characters' emotional wreckage. Nevertheless, Waves is also powerfully immersive, investing so passionately in these individuals that it's hard not to do the same.
Shults flexes considerable cinematic skill alongside his regular cinematographer Drew Daniels
Slated for a November 1 release in the US through A24 - with Focus Features picking up international rights at Toronto - Waves should ride strong reviews and festival buzz to solid art-house numbers, with possible awards consideration coming later in the year. More so than Shults' previous films, Krisha and It Comes At Night, Waves has a chance for modest crossover success with mainstream audiences who will appreciate this deep-dish slab of family melodrama.
Kelvin Harrison Jr. plays Tyler, a star high school wrestler with a beautiful girlfriend, Alexis (Alexa Demie), and a demanding father, Ronald (Sterling K. Brown). But his relatively happy life becomes threatened by discouraging news from his doctor about a nagging shoulder injury — and a text from Alexis that could jeopardise his future.
Shults' first two films could very loosely be described as psychological horror movies, but Waves is a bold leap toward an almost novelistic sort of family drama in which different characters will take turns being the story's centre point. (Taylor Russell, who plays Tyler's younger sister Emily, ends up being critical to the film's final chapter.)
Shifting between aspect ratios and dividing the narrative into different segments, Shults flexes considerable cinematic skill alongside his regular cinematographer Drew Daniels, giving us a Florida awash in his teen protagonists' neon-lit nights and ecstatic hopes for the world outside high school. Waves wants to submerge us in the folly and vitality of youth — searching songs from the likes of Radiohead, Frank Ocean and Animal Collective flood the soundtrack, underscoring the hormonal rush — but Shults is also driving, somewhat predictably, to a horrible chain of events that will upend all these people's lives. The payoff can be awfully manipulative — and, indeed, it's Waves' least-convincing sequence — but where it leads, which shouldn't be revealed, is surprising and rewarding, asking heartfelt questions about how families resolve their intractable traumas.
Harrison, who also appeared in It Comes At Night, gives a force-of-nature performance as a golden child who quickly and violently implodes once he faces real adversity. Waves follows Tyler's chaotic descent with unbridled, occasionally self-indulgent gusto, and the young actor sells the character's tumult, even if Shults overdoes the theatrics. Brown is excellent as an African-American father who feels that he must be hard on his son to prepare him for a racist society, not realising how his relentlessness may be Tyler's undoing. Lucas Hedges starts out as a peripheral figure, but soon enters the story as a goofy, kind-hearted love interest to Emily. While at first Waves is dominated by a father-son story, eventually Shults shifts his attention to the daughter, and Russell is superb playing someone who's always been on the margins of her family — but who realises she might actually become their salvation.
Production companies: Bron Studios, JW Films
International sales: A24, jaime@a24films.com
Producers: James Wilson, Kevin Turen, Trey Edward Shults
Production design: Elliott Hostetter
Editing: Isaac Hagy, Trey Edward Shults
Cinematography: Drew Daniels
Music: Trent Reznor & Atticus Ross
Main cast: Kelvin Harrison Jr., Lucas Hedges, Taylor Russell, Alexa Demie, Neal Huff, Clifton Collins Jr., Renée Elise Goldsberry, Sterling K. Brown