Luca Guadagnino delivers a long-form Italian odyssey for HBO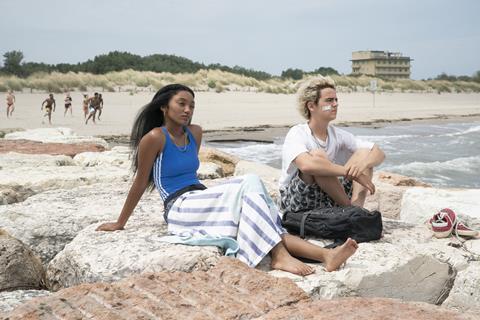 If the question is what would an art-minded film director do with 433 minutes of air time and seemingly unlimited funding, the answer is We Are Who We Are, Luca Guadagnino's drifty 8x60 study for HBO. A timely reminder that TV is not an auteur medium, this loose serial set on an American army base in Italy has everything you might expect from a Guadagnino film, but none of the sense of purpose or momentum that drives long-form TV drama. Streamers have deep pockets, especially now, but this prestige project seems unlikely to deliver either the kind of viewing numbers or rapturous critical reception to justify the network making many more such approaches. Premiering in full at the San Sebastian Film Festval after selected episode previews, this will draw attention, but not enough of it.
This isn't entertainment for the masses, or a TV show with a dynamic which urges momentum to the next episode
That's not to say that Guadagnino's elaborate creation of a US military base isn't enticing. Or the initial set-up, in which a new commander Sarah (Chloe Sevigny) arrives to take control of the site with her Brazilian wife Maggie (Alice Braga) and challenging teenage son Fraser (Jack Dylan Grazer), isn't intriguing. The next eight hours will essentially track Fraser and his next-door neighbour Caitlin (Jordan Kristine Seamon) as they navigate their sexual awakening in such closed-quarters. Fraser, a boy who seems to be on every spectrum, most of them annoying, develops a crush on his mother's adjutant, while the onset of Caitlin/Harper's period leads her to reject her femininity. With footage of Donald Trump's election playing out on the base TV, this leads to hardening feelings between Caitlin's MAGA father and the high-ranking lesbian officers next door, which, let's face it, was probably always going to happen, mis-gendering or not.
Sevigny assumes the role of base commander with appropriate gravitas, although the part – as with much of the writing here – is broadly-sketched and leaves the actor with a lot to fill in. It seems odd that a hard-nosed female warrior would literally lie down and accept the torrent of abuse coming from her indulged clothes-horse teenage son (he admires Balenciaga, which much stretch the finances of a military family). Disrobing in a command centre while gruffly exhorting "we're all soldiers here" looks highly unlikely too. But every supporting character in We Are Who We Are has a one-line note, even as hours are spent watching Caitlin and Fraser roam around the base; it's fatally lop-sided, albeit prettily so, and with a score by Devonte Hynes that comes straight from the Guadagnino strings-and-piano playbook.
There are times when it seems as if Guadagnino is just riffing here within his own well-established style, now nailed into the base. There's a fashion undertow, of course. A lot of nature, no peaches. The issues of sexual identity and fidelity don't just plague the kids either – Caitlin's mother Jenny (character description: Nigerian, misses Chicago) has an urge to be loved, while her son Danny (problems with father, is learning Arabic) fumes in a corner. Fraser's crush (Israeli, enigmatic, hot body) may be urging the child along, or not. Few people are straight, and those characters are mainly active in the fourth episode, which seems to blend Call Me By Your Name with a tamed Gaspar Noe, or even Kechiche. (It's entirely devoted to a wedding and a drunken celebration in which kids from the army base let loose and stage a home invasion on an absent Russian oligarch's home in Jesolo.) In other moments, We Are Who We Are moves towards Ice Storm-like drama as people who live on top of each other become inevitably tangled up in family dramas.
This isn't entertainment for the masses, or a TV show with a dynamic which urges momentum to the next episode. It's more loose and flighty, like its questioning characters. And, much like Fraser, it's defiant and obstinate and occasionally sympathetic and brilliant. What the show does provide, for those with no experience of it, is a clear look at how it is to live in a military base, with its home-from-home desperation, an internal infrastructure including a high school, and essential transience even as it tries to provide a solid underpinning for the troops coming in and out of it - next stop is Afghanistan. Its links with the locals are also shown to be positive and negative forces. It's clearly authentic, even as the characters suffer in translation.
Guadagnino finds a visual rhythm here which is interesting to tap into, even as Trump gains power and the chair on which a lesbian commander sits becomes an increasingly fragile base in itself. As the kids escape to Bologna for a lengthy epilogue, there's freedem, but also a sense of loss of place for the viewer.
Production companies: The Apartment Pictures, Wildside SRL for HBO
International distribution: HBO
Created by: Paolo Giordano, Francesca Manieri, Luca Guadagnino
Executive producers/ screenplay: Paolo Giordano, Francesca Manieri, Luca Guadagnino, Sean Conway
Executive producers: Elena Recchia, Riccardo Neri, Lorenzo Mieli, Francesco Melzi
Director: (8 episodes): Luca Guadagnino
Cinematography: Massimmiliano Kuveiller, Yorick Le Saux, Fredrik Wenzel
Editing: Marco Costa
Music: Devonte Hynes
Main cast: Jack Dylan Grazer, Jordan Kristine Seamon, Chloe Sevigny, Alice Braga, Spence Moore II, Kid Cudi, Faith Alabi, Francesca Scorsese, Ben Taylor, Corey Knight, Tom Mercier, Sebastiano Pigazzi